Cristinia Bustamante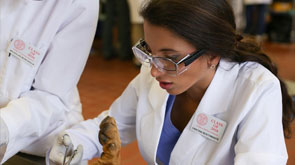 September 18, 2015
Hi everyone! I'm Cristina Bustamante--I was born and raised in Cartagena, Colombia before coming to the US to pursue my childhood dream of becoming a veterinarian. My first step of that journey was to get my undergraduate in Animal Biology at the University of California, Davis, where I gained experience with a variety of animals--from shelter dogs to laboratory animals. From there, I came to Cornell's College of Veterinary Medicine to get my DVM.
As you will see on Nat Geo's 'Vet School', the experience so far has been transformative. When I graduate from Cornell, I plan on going back to Cartagena with the goal of owning my own small animal practice. Someday, I'd love to encourage my future children to pursue education in the United States so they can have access to similar opportunities.
As for being a part of Nat Geo's docu-series, I've really enjoyed being able to participate—it's a privilege to have such an important part of my life recorded. I loved coming to school—it was always fun spending time not only with my classmates--but also with the 'Vet School' production team.   I also enjoyed being able to explain what I was doing with the animals--which I think is great practice for my future as a veterinarian. 
I'm excited to share this experience with the rest of the world!
Share this: