Your Virtual Reunion Toolkit
Make sure you've updated to Zoom 5.0 before Reunion. If you haven't updated, you won't be able to connect to our Zoom events
Zoom office hours for Alumni
Would you like assistance with Zoom or to test your internet connectivity, video cameras, microphones, speakers or any other tech related issues as you prepare to participate in Reunion Weekend on 6/5 & 6/5?  Do you have specific issues or questions and would like to discuss these with a technical support person in real time?
Zoom office hours
May 26 through 29 and June 1 through 5
3:00 PM to 5:00 PM Eastern
Join Zoom Meeting
https://cornell.zoom.us/j/94313576095?pwd=dmV0Q1NoSFpPM3V4SkJyNzZrVFRzdz09
Meeting ID: 943 1357 6095     Password: cvm2020
If you are unable to connect via Zoom, please contact the IT Service Desk at vmithelpdesk@cornell.edu or 607-255-5500. 
Virtual Backgrounds in Zoom
Using Virtual Background
Sign in to Zoom desktop client.
Click Settings.
Click Virtual Background. ...
Click on an image to select the desired virtual background or add your own image by clicking +Add Image. ...
To disable Virtual Background, choose the option None.
Here are some Cornell Veterinary Backgrounds for you to use.  
---
---
---
---
---
---
---
What is Zoom?
Zoom is a tool that allows 2 or more people to connect over the internet to video chat. We will be using Zoom for our 2020 Virtual Reunion. In this page we will list all of the information you need to use Zoom successfully and how we can support you should you have an issue.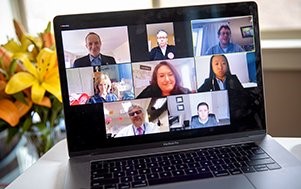 Getting Started with Zoom
To get started, follow this guide provided by Zoom here.
Additionally, Zoom provides video tutorials for your reference here
To ensure a pleasant experience with your first Zoom Meeting, we highly encourage individuals to download and install the Zoom Application beforehand.
Support
If you experience any problems with performing the Zoom Client for Meetings installation, please contact the VMIT Help Desk at vmithelpdesk@cornell.edu, or (607) 255-5500.
Update Zoom
If you already have Zoom, please make sure to update Zoom to the latest version. Here's what you need to know: UPDATE ZOOM
Share this: