Baker Pet Talks: Pet Health Tips from Cornell Experts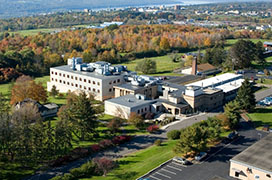 Baker Pet Talks: Pet Health Tips from Cornell Experts, a free public seminar to be held at the Baker Institute for Animal Health Thursday, January 28, 2016 from 6:30 PM to 8:00 PM.
Get useful pet health tips from Cornell's experts in veterinary science and medicine in interactive presentations with opportunities for Q&A. The event will be co-sponsored by the Baker Institute for Animal Health, the research center that brought you the parvo vaccine and other landmark discoveries, and the Cornell Feline Health Center, the first organization dedicated solely to improving the lives of cats. This is an event for animal lovers of all ages and admission is free.
Topics include:
Canine flu - What's the risk? Should my dog get the vaccine?
Feline Heart Disease - Know the risks and arm yourself with knowledge to help keep your cat safe from this common threat.
Allergies in dogs - The how and why, know the signs and symptoms, and ways you can help.
Your cat's DNA - Find out how cat DNA is helping scientists better understand diseases not just in cats, but humans too.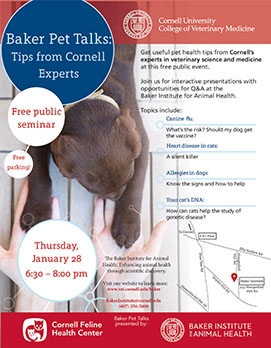 Presenters:
Colin R. Parrish, Ph.D., Director, Baker Institute and Cornell Feline Health Center
Bruce G. Kornreich, DVM, Ph.D., DACVIM, Associate Director for Education and Outreach, Cornell Feline Health Center
Elia Tait Wojno, Ph.D., Associate Professor of Microbiology and Immunology
Rory J. Todhunter, BVSc, Ph.D., Maurice R. and Corinne P. Greenberg Professor of Surgery, Section Chief of Small Animal Surgery
The Baker Institute is located less than five minutes from campus, off of Snyder Hill Road and Ellis Hollow Road and has ample, free parking.
The Baker Institute for Animal Health
235 Hungerford Hill Road
Ithaca, NY 14853
Do not hesitate to contact us by phone (607) 256-5600 or email if you have any questions.