Baker Pet Talks: Tips from Cornell Experts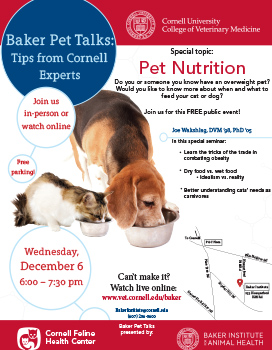 Struggling to keep your pet at a healthy weight?
Join us on December 6th to learn the tricks of the trade in combating pet obesity.
If you can't make it to the Institute, you can watch the demonstration live online, just click the button below to be taken to the live feed.


The event will be co-sponsored by the Baker Institute for Animal Health, the research center that brought you the canine parvo vaccine and the world's first successful litter of puppies born via in vitro fertilization, and the Cornell Feline Health Center, the first organization dedicated solely to improving the lives of cats. This is an event for animal lovers of all ages and admission is free.
Learn the tricks of the trade in combating pet obesity
Dry food vs wet food
Better understand your cat's needs as a carnivore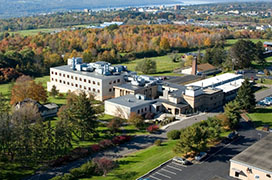 Presenter:
Joseph J. Wakshlag, DVM, PhD, DACVN, DACVSMR
Dr. Wakshlag is an associate professor in clinical  nutrition at the College of Veterinary Medicine and a charter member of the American College of Veterinary Sports Medicine and Rehabilitation. His interests include obesity management and nutritional intervention for the canine athlete.
Wednesday, December 6, 2017
6:00 - 7:30 PM
The Baker Institute is located less than five minutes from campus, off of Snyder Hill Road and Ellis Hollow Road and has ample, free parking.
The Baker Institute for Animal Health
235 Hungerford Hill Road
Ithaca, NY 14853
Do not hesitate to contact us by phone (607) 256-5652 or email if you have any questions.