Cornell's Animal Health Diagnostic Center publishes H3N2 map
Scientists at Cornell's Animal Health Diagnostic Center (AHDC) updated their surveillance maps on May 28, compiling information from new test results from AHDC, IDEXX Laboratories, Inc., and the University of Georgia Veterinary Diagnostic Laboratories. This new information indicates cases of H3N2 canine influenza have now cropped up in Georgia, in addition to Illinois, Massachusetts, New Jersey, Alabama, California, Texas, New York, Iowa, Michigan, Wisconsin and Indiana.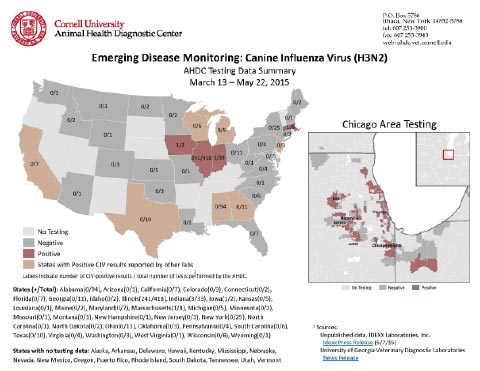 As they did in April, test results from the AHDC indicate the outbreak is still largely contained to Illinois, the state where it first began, but cases have been found in dogs from both the east and west coasts, highlighting the possibility that the outbreak could continue.
Scientists at the AHDC and at the Baker Institute are working to understand more about the virus responsible, investigating how the canine immune system reacts to the virus, and working with other institutions to create models of how the virus passes from dog to dog.
Earlier this month, Drs. Edward Dubovi and Amy Glaser at Cornell's Animal Health Diagnostic Laboratory (AHDC) identified the virus responsible for the outbreak as a strain of H3N2 influenza that had previously only been seen in Korea, China, and Thailand.