Douglas Antczak Honored by SUNY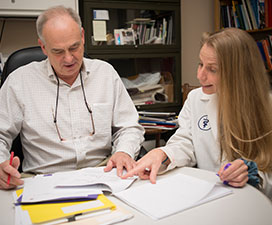 Dr. Douglas Antczak has been awarded with a SUNY Chancellor's Award for Excellence in Scholarship and Creative Activities. He'll be presented with a medal and certificate at the Advisory Council Meeting on September 19, 2014.
The Chancellor's Awards for Excellence are conferred in recognition of "consistently superior professional achievement and to encourage the ongoing pursuit of excellence", according to the SUNY website.
Dr. Antczak has been a faculty member at the Baker Institute since 1978 and served as Director of the Institute from 1994 to 2009. His research program has long focused on equine health and he has earned recognition as an authority in immunological and genetic aspects of the maternal-fetal relationship. Dr. Antczak is also actively researching topics in infectious disease and genomics.
Read more about Dr. Antczak's research program on his profile page.