Hot Off the Press - Check Out Our 2015 Annual Report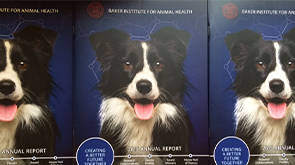 Read all about it! We're pleased to present our 2015 Annual Report, which is now available online. Collaboration is at the core of meaningful scientific inquiry and is the theme of this year's report. By bringing together groups of people with varied expertise, we compound their contributions and provide the greatest opportunity to solve the scientific problems that face our world today.
We're confident that as you read through the publication, you'll agree that we understand the importance of working together to achieve our goals of developing new approaches for diagnosing, treating, and preventing diseases in animals.  
From partnering with veterinarians to help horses suffering from a common tumor to joining forces against mammary cancer, our scientists are working in teams dedicated to making a better future for animals everywhere.  
We hope you enjoy this year's Annual Report and as always, we welcome your feedback! Please email us or call us at (607) 256-5600 we'd love to hear from you.