U.S. Trotting Association partners with Baker Institute in search of the "Iron Horse"
Research out of the Antczak lab at the Baker Institute for Animal Health will focus on understanding the factors that may contribute to the durability and longevity of career harness racehorses, by studying their genes. A recent award through The Harry M. Zweig Memorial Fund for Equine Research at Cornell University has brought the collaboration between the Baker Institute and the United States Trotters Association (USTA) to life.
The goal of the project is to advance the understanding of the genetic factors that could contribute to Standardbred harness horses' career success. Those horses who go on to have successful racing careers of five, six, seven-years in duration, with limited injuries, are the sought-after "Ironman" of the horse racing industry. Studies such as this, revealing if genetics play a role in a horse's pre-disposition to avoiding catastrophic injury suffered in racing or training, could help reduce wastage in the horse racing industry, and allow horses and their owners to have longer, more successful careers. This is good for the horse, good for the owners, and good for the industry as a whole.
A study with this unique focus has not previously been done. Life-threatening injuries suffered by horses while racing or training are tragic for the horse and their rider, owner or trainer. Previous investigations have implicated many factors that may contribute to these types of injuries, including physical fitness, training regimens, track surfaces, use of illegal drugs, and genetics. With so many variables, and relatively few affected horses, it has been difficult to separate the genetic from the environmental factors.
Recently published work does support the premise that genes do play a role in racing career success and durability. In this study, an interdisciplinary team of investigators that include members of the Horse Genome community of geneticists who have worked together for years, along with other veterinary scientists and clinicians will dig deeper.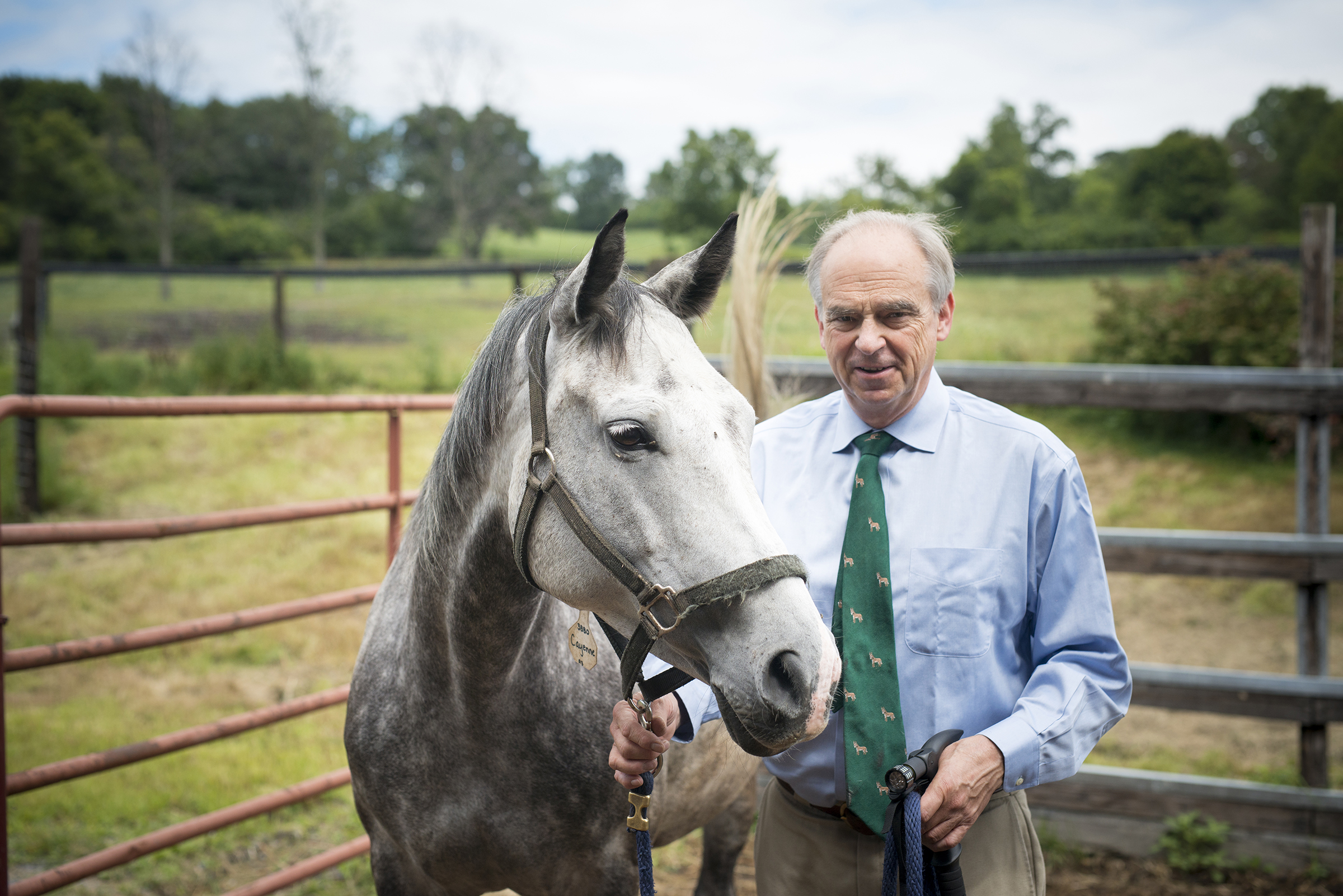 In Doug Antczak's study, "Factors Affecting Durability in Standardbred Racehorses," the focus will remain on racehorses that have demonstrated durability and longevity in their careers, proposing that these horses are predisposed to their success due to their genetics coupled with excellent care and training.  In this project researchers will use genome-scale and epidemiological methods to identify genetic signatures correlated with longevity of racing career. The first aim of the research, using a Genome Wide Association Study (GWAS) and the 670k Equine Single Nucleotide Polymorphism (SNP) array, Antczak's lab will compare three groups of horses including; 100 aged Standardbreds with long racing careers and competitive race records; 100 aged Standardbreds with long racing careers but relatively weak earnings records; and 100 or more control Standardbreds selected from previous studies. They will test the hypothesis that the durable horses will show a GWAS peak on chromosome 7 that has been associated with racing starts in Thoroughbred horses. They may also be able to identify genetic regions that distinguish competitive from non-competitive horses with long racing careers. In the second aim of their research, they will obtain 20 x coverage whole genome sequence from ten selected durable and ten control Standardbreds for fine-scale comparison of regions identified in aim one.
The USTA, an entity that governs Standardbred racing, will play an instrumental role in this study as well, in providing accessibility to data on samples from USTA studies on horses that are still racing at the age of seven years old. The organization is also raising awareness of this important work happening, revealing a better understanding of the durability of the breed, and by helping to deploy a 'citizen science' approach to promoting the collection of more samples from appropriate candidates across the Standardbred racing industry. Researchers will seek out additional genome samples from racehorses, and will be seeking geldings with the appropriate balance of starts and wins throughout their career, while also being of the appropriate age. Those who feel their horses may fit the model and are interested in being involved can contact Don Miller at the Baker Institute for Animal Health.
The study will begin this summer with the examination of samples from previous USTA studies, followed by the study of the new collections gathered via the call for samples.
Read more at U.S. Trotting News
###