FAQ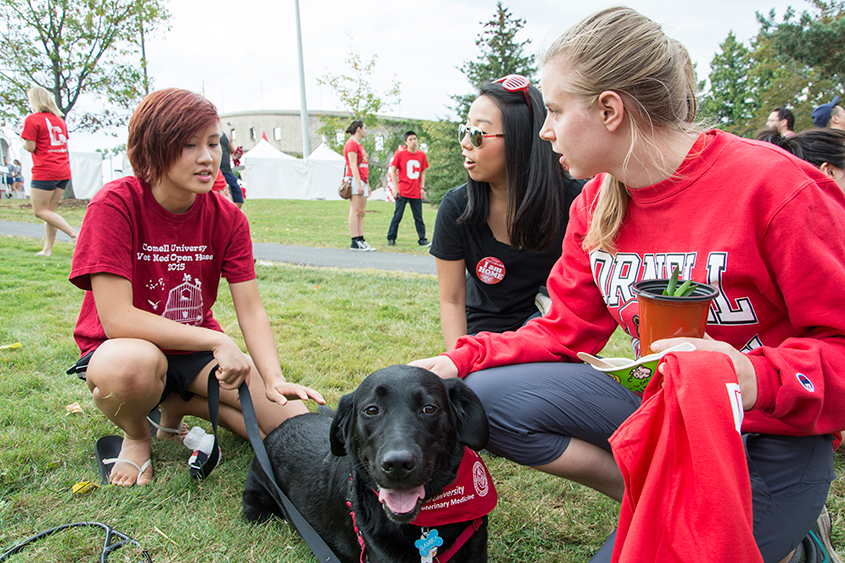 Housing & Transportation
Where do vet students usually live? What kind of housing is available for students?
Most vet students live off-campus within a 5-10 minute drive to campus. You can find apartment complexes and houses within a short drive to campus. Some neighborhoods are more popular with veterinary students than others because they are quieter and allow pets. Veterinary students typically live with other veterinary students or with other graduate or professional students. Some students prefer to live by themselves. 
Will I need a car as a vet student? 
It is not essential to have a car during the first couple of years of vet school.  Students who don't have a car (and even some that do) ride their bikes or take the bus to campus.  You will, however, need access to a car when you enter the clinics in your 3rd year as students will be required to work late and report to work promptly when on call
Is there a bus service on-and off-campus? 
TCAT (Tompkins Consolidated Area Transit) buses serve the Cornell campus as well areas around Ithaca and surrounding communities.  Students can ride TCAT for free after 6pm on weekdays and all day on weekends.  New to Cornell students also get a free TCAT bus pass which allows them allows unlimited access to all TCAT buses in Tompkins Count
Extracurricular Activities
What kind of clubs and organizations do veterinary students at Cornell participate in?
Despite their demanding academic workload, our students are involved in a variety of clubs, organizations and extracurricular activities.  Whether you are interested in enhancing your knowledge regarding a specific species or specialty or looking for opportunities to showcase your artistic or athletic skills you will find a club that's right for you.
Are there opportunities to participate in activities across campus?
The Cornell community is a vibrant intellectual community.   Students are encouraged to participate in the intellectual, cultural and athletic events held on campus.
Do students hold jobs while in vet school?
Approximately 20-25% of our students work part-time while they are in vet school.  Since the veterinary curriculum is extremely demanding those that do work usually limit their work hours to 5-10 hours a week.  Most jobs that vet students hold are within college.  Faculty and staff at the vet college are sensitive to the demands of the curriculum and are more likely to be flexible with work schedules
Support Services
Can students with disabilities receive accommodations in the DVM program?
Yes.  The DVM program provides reasonable accommodations for students with qualifying disabilities.  College and university staff, in consultation with the veterinary faculty, works with the student to determine what is appropriate and fair given the nature of the disability and the requirements of the DVM curriculum.
Is their a mentor/advisor system for new students?
All incoming students are assigned a faculty advisor and a peer mentor who is a 2nd or 3rd year DVM student.  Advisors and peer mentors assist incoming students as they adjust to life at vet school by providing support and guidance.   Of course we are sure you will develop many additional supportive relationships with the faculty, staff and students at the vet college.