AQUAVET® Summer Research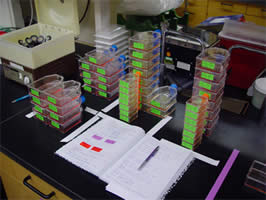 AQUAVET® makes available, on a competitive basis, a limited number of fellowships to pursue research projects for eight weeks during the summer. Over the past several years, there has been sufficient funds to support one fellowship. Successful completion of one of the AQUAVET® courses is a prerequisite to participation in the research experience. The recipient of the fellowship typically enters the fellowship period immediately following the completion of the AQUAVET® course in which they are enrolled. Specific research projects are identified and established once the fellowship recipient has been identified during the AQUAVET® admissions meeting. The work is conducted in laboratories at a collaborating institution that has the necessary infrastructure to support the research effort. In recent years, research projects have had a focus on health issues of interest to commercial aquaculture. This is due to the wishes of the donor providing financial support for the fellowship. All research is under the direct supervision of a cooperating investigator at the institution where the project is carried out. Frequently, scientific publications result from these research experiences.
Students wishing to be considered for an AQUAVET® Research Fellowship should submit the appropriate application form to the directors.