Public Policy to Support Landscape and Seascape Partnerships: Meeting Sustainable Development Goals through Collaborative Territorial Action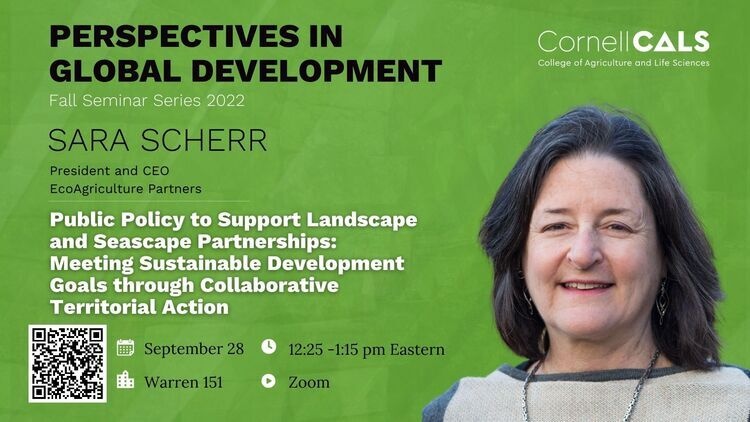 Wednesday, September 28, 2022 - 12:25pm
Perspectives in Global Development: Fall 2022 Seminar Series
Speaker: Sara Scherr
Register Here: https://bit.ly/Perspectives_Scherr
National governments, international organizations and investors are launching major policy initiatives and strategies to address the world's many crises related to land: food and water insecurity, climate change, land degradation, biodiversity loss, COVID-19 and poverty. But it has been challenging to translate these into practical action on the ground. Sectoral programs and policies often conflict with one another or operate in silos. There is weak support for more coherent place-based development, and top-down funding flows commonly ignore priorities and contexts of local landscape stakeholders.
Landscape and seascape partnerships—long-term, voluntary platforms for planning and coordination among stakeholders---are forming around the world to mobilize landscape regeneration that meets local context and priorities. These partnerships are well-positioned to respond to key policy challenges. Their landscape action plans can deliver multiple Sustainable Development Goals (SDGs), because of their scale of action, knowledge of local conditions and platform for negotiating strategies to achieve cross-sector synergies and minimizing trade-offs. But to work most effectively, these partnerships require much stronger policy and institutional support.
This presentation will share key findings from a recently published White Paper on national policies and services needed to support landscape partnerships. Produced by EcoAgriculture Partners, GALLOP initiative, Columbia and Cornell universities, the study draws from global analyses, case studies and consultations with landscape leaders and experts. The analysis describes four major types of public support required: a supportive policy framework, technical services and local capacity development, financial and business support services, and connections for knowledge exchange and learning. Key ingredients for successful policy design and implementation were identified, based on field experience. An organized process for collaborative policy development is proposed to catalyze action.
About the speaker
Dr. Sara J. Scherr, an agricultural and resource economist, is a prominent voice globally in promoting the restoration of degraded lands. She founded the nonprofit EcoAgriculture Partners in 2002 to promote locally-led agricultural landscape transformation for food security, rural livelihoods and ecosystem services.
A leading innovator in agricultural landscape analysis, planning, policy and finance, she has supported landscape partnerships in Africa, Latin America, Asia and the U.S. and advised landscape programs worldwide. In 2011, she co-founded the global network "Landscapes for People, Food and Nature," and in 2019 launched and now chairs the global collaborative "1000 Landscapes for 1 Billion People" to accelerate landscape regeneration worldwide. Sara serves on the Boards of Bioversity International-USA and Solutions from the Land and is a Fellow of the Evergreening Alliance. She also serves on numerous editorial and advisory boards, including those of Commonland and Food Tank, and is a member of the UN Food Systems Summit Action Track on Nature-Positive Production and co-lead for its Governance Action Area. Her research is widely published in scientific and policy literature.
She previously served as director of ecosystem services at the nonprofit Forest Trends, senior researcher at the International Food Policy Research Institute, adjunct professor at the University of Maryland, and principal researcher and later board member of the World Agroforestry Centre. In addition, she served on the Millennium Project's Hunger Task Force to develop strategies to halve the incidence of hunger worldwide. She received her M.S. and Ph.D. degrees in international economics and development from Cornell University and her B.A. in economics from Wellesley College.
About the seminar series
The Perspectives in Global Development seminars are held Wednesdays from 12:25 – 1:15 p.m. eastern time during the semester. The series will be presented in a hybrid format with some speakers on campus and others appearing via Zoom. All seminars are shown in Warren 151. Students, faculty and the general public are welcome to attend. The series is co-sponsored by the Department of Global Development, the Department of Natural Resources and the Environment, the Charles H. Dyson School of Applied Economics and Management, and the School of Integrative Plant Science as part of courses GDEV 4961, AEM 4961, NTRES 4961, GDEV 6960, AEM 6960, and NTRES 6960.