Francisco A. Leal-Yepes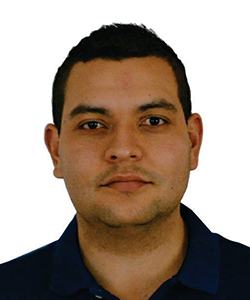 Department of Population Medicine and Diagnostic Sciences
Clinical Instructor of Ambulatory and Production Medicine
---
---
Department of Population Medicine and Diagnostic Sciences
Cornell University College of Veterinary Medicine
Ithaca, NY 14853

Office: 607.253.3140
Office Location: C2-554
Email: fal43@cornell.edu
Research Interest
The increasing global demand for food motivates me to design my research program towards finding innovative and sustainable solutions that have impact for producers and animal's wellbeing in agriculture.
Feeding strategies in dairy calves and cows to reduce incidence of diseases, and therefore, excessive use of antimicrobials during their life.
The development of cloud-based learning management system that allows us to distribute technical information about dairy management in a proficient way.
The development of point-of-care (POC) devices to measure blood metabolites on-farm as important diagnostic and screening tool in the modern dairy industry.
Education
2018 Ph.D., Cornell University – Ithaca, NY USA
2011 MS Animal Production Systems in the Tropics, University of Environmental and Applied Science – Bogotá, Colombia
2008 DVM, University of Environmental and Applied Science – Bogotá, Colombia
Biography/Professional Experience
2018-Present, Clinical Instructor, Ambulatory and Production Medicine Clinic, Cornell University Hospital for Animals, Ithaca, NY
2016- 2018, Resident, Ambulatory and Production Medicine Clinic, Cornell University Hospital for Animals, Ithaca, NY
2011-2013, Research Assistant, Department of Population Medicine and Diagnostic Sciences, College of Veterinary Medicine Cornell University, Ithaca, NY
2008-2010, Herd Veterinarian on commercial dairy farms, Colombia
Publications
Professional/Academic Affiliations
American Dairy Science Association
American Association of Bovine Practitioners
The New York Academy of Sciences
Active Veterinary Medical License, Colombia.
The American College of Preventive Medicine (credentials accepted, pending on final examination)