CUVS Cares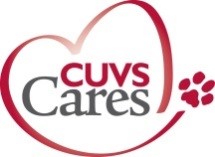 CUVS Cares about your pet, and about you. CUVS is committed to providing the most innovative, compassionate and collaborative for your beloved pet. We are proud to embody the Cornell tradition of excellence in veterinary medicine, education, and discovery.
Cornell University Veterinary Specialists is a unique, mission-driven veterinary hospital. Affiliated with the nation's leading Veterinary College, we integrate the tremendous expertise and scientific resources of Cornell with compassionate and extraordinary patient care.
All profits from Cornell University Veterinary Specialists support education and discovery at Cornell's College of Veterinary Medicine.
We ask that you consider partnering with us to advance animal health and the veterinary profession with an unrestricted gift to the College of Veterinary Medicine. Your gifts will support efforts to teach the next generations of veterinarians and to fuel the discoveries that offer hope – to pet owners dreaming of more time with a beloved family member and to people who are waiting for discoveries to improve their own quality of life. We would also be happy to discuss other giving options.
To make your gift to CUVS Cares online today, please click here for our secure website.
To make a gift by mail, phone, or to show your support in other ways, please see below.
By Mail
Please make checks payable to Cornell University and send to:
Box 39
Cornell University
College of Veterinary Medicine
Ithaca, NY  14853-6401
By Credit Card
To charge your gift using Visa, MasterCard or American Express, call us at 1-607-253-3745.
Gifts of securities or other appreciated assets
Please contact Cornell's Office of Trusts, Estates, and Planned Giving at 1-800-377-2177.
Gift Planning
To explore options for integrating your giving into your overall financial plans, please visit Cornell's Gift Planning web site or contact the Office of Gift Planning at 1-800-481-1865.
For more information on supporting CUVS Cares, call us at 1-607-253-3745 or email us at CUVSCares@cuvs.org.
Thank you for considering a gift to CUVS Cares. You join an impressive group of alumni and friends who share your compassion, caring and hope for the health and well-being of animals.