Helping to Find a Cure for Canine Cancer
Family turns grief into endowment
This article is reprinted from GreenwichTime.com
by Paul Schoot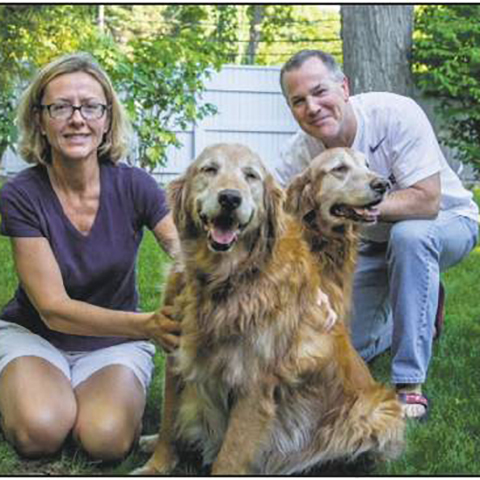 Three months after his untimely death, Clancy the golden retriever's name still resonates in his owner's household — and beyond.
The 9-year-old dog died in June after he was stricken with cancer. His owners, Bill and Barbara Gorgas, were heartbroken by the loss of Clancy, whom they adopted, along with his older brother, Chase, after reading last year in Greenwich Time that the duo were up for adoption.
Amid their sadness, the Gorgases were determined to make sure that Clancy would not be forgotten. The result of that pledge is ClancysCure, a new endowment that the couple has started for canine cancer research at the Cornell University College of Veterinary Medicine.
"We liked the idea of an endowment because it will allow us to raise money so it will forever support cancer research in memory of Clancy," said Bill Gorgas. "Cornell already has the charitable organizational infrastructure in place. There would have been a lot of complexity and cost had we done something on our own like starting a foundation."
Neither of the Gorgases have direct links to Cornell, but they said they were impressed by the university's commitment to veterinary medicine. They also appreciated the university's local link: Cornell owns and runs an animal hospital in Stamford, although Clancy was not treated there.
The Gorgas said they hope that the endowment will help others to avoid the grief they suffered.
Although he had a tumor on his backside removed a few weeks before his death, Clancy appeared to have been in good health and spirits until a couple days before the end, when the Gorgases were wakened one night in early June by the sound of the dog breathing heavily.
He became lethargic the next day. The day after, the Gorgases took him to a veterinarian who said it was too late to save him. An aggressive form of cancer, Hemangiosarcoma, had started in his liver and spleen and spread – undetected in tests taken just a few weeks before. He was put to sleep the same day.
Dr. Lindsay Thalheim, a veterinary oncologist at Cornell's Stamford center, said the endowment would not only help dogs but that it would also fund research that could lead to advances in treating human cancer. Researching cancer in dogs who already have the disease is preferable to doing so by experimenting with mice, she said.
"Assuming there is a newer drug that would benefit human side as well, that process through the pipeline is going to be much shorter and less expensive, starting with dogs, than if you follow the same procedure for FDA approval starting from testing with mice," Thalheim said.
Before they were adopted by the Gorgases, Clancy and his brothers were a fixture for years on the front lawn of St. Mary Parish on Greenwich Avenue.
The Gorgases took them in the spring of 2014 because their then-owner, the late Rev. Frank Wissel of St. Mary Parish, was retiring and moving into the Nathaniel Witherell nursing home, which could not take the dogs.
The brothers immediately became part of the Gorgas family. The Gorgas-es spent several hours with them every day, taking them on walks around town and on trips to the family summer home in Stone Harbor, N.J.
"Maybe Clancy was given to us only for a year so we could found ClancysCure," Bill Gorgas said. "This means a lot to me because we're taking a really unfortunate circumstance and trying to turn it into a positive. Something good can come out of it. Cornell University is doing such wonderful things with canine cancer research. It makes me proud that we set this up." pschott@scni.com; 203-625-4439; twitter: @paulschott
For more information about ClancysCure, visit www.clancyscure.org
Bill Gorgas will volunteer at a stand run by Cornell University Veterinary Specialists at the Puttin' on the Dog festival, which is set for 10 a.m. to 4:30 p.m. Sunday in Roger Sherman Baldwin Park. The stand will include a ClancysCure banner and postcards about the endowment.