Sammy's Story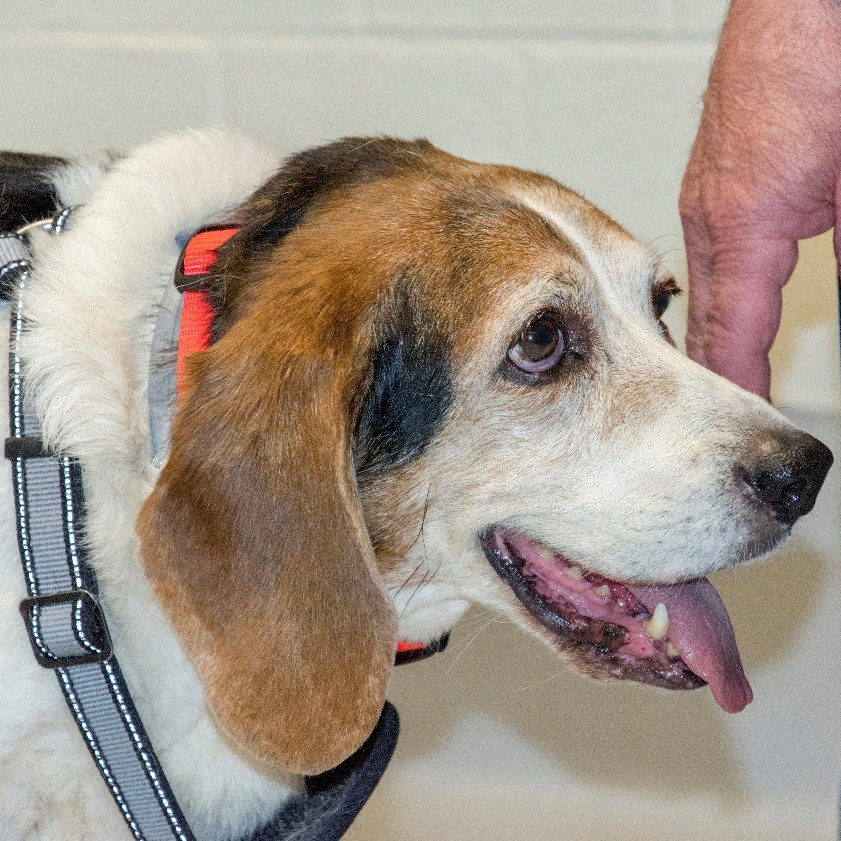 Sammy the beagle did not get a great start in life.
He wasn't easy to train, and his original owners "corrected" him by kicking and throwing shoes at him. When that didn't work they decided to get rid of him. Enter Rose and Harold Fries, who rescued Sammy and brought him home.
"Oh boy, did he have bad habits!" Rose says now. "I decided to work with him so he knew this was my house and not his to do whatever he wanted, and within two weeks he was a totally different dog. He knew we loved him but he also learned to listen, too."
The Fries took their other three dogs to the Community Practice Service (CPS), which is run by fourth-year students and overseen by two faculty veterinarians. The service offers primary care—including regular examinations, vaccinations and spay and neuter surgery-- to dogs and cats in the Ithaca area.
Sammy went to the CPS for a check-up and vaccinations shortly after he joined the Fries pack. He still goes to the CPS for routine care.
"We would not think of taking him to any other veterinarian," says Rose. "We have always promoted education and we love to help the vet students learn."
As practitioners at the Cornell University Hospital for Animals, CPS students work in a collaborative setting: If a serious medical problem arises, they can consult with veterinarians in specialized fields to ensure that patients receive the most comprehensive care possible. The CPS also provides routine care and spay/neuter surgery for animals at local shelters.
"Sammy and all our other dogs have always received excellent care at Cornell, no matter what their diagnoses were," she adds. "Sammy loves to go to Cornell to see his friends," especially a certain licensed veterinary technician "who always has treats for him."
At 15, Sammy is a different dog from the unruly rescue the Fries adopted in 2002. "You have to go slow with rescues and show them a lot of love, but it is so worth it. Sammy has become a very special dog," says Rose. Her husband recently had a total knee replacement, and Sammy "hasn't left Harold's side since he has had surgery. He is a very loyal dog and we have a lot of love for him.
"We know his time with us is short, and that will be a sad day," she says, "so we enjoy every minute we have with him now!"