Save the date: DeeDee Arrison Concert for the Animals
Wednesday, October 1, 2014 - 12:00am
Save the date for this lunch time performance, which honors our animals and features rising stars of the Stradivari Society Tim Fain and Ben Beilman, accompanied by pianist Robert Koenig. Well-socialized animals are welcome to attend.
Saturday, October 11, 2014
12 Noon to 1:10 PM
James Law Auditorium, Schurman Hall
Free and open to the public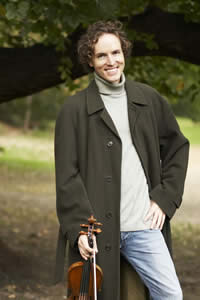 With his adventuresome spirit and vast musical gifts, violinist Tim Fain has emerged as a mesmerizing new presence on the music scene. The "charismatic young violinist with a matinee idol profile, strong musical instincts, and first rate chops" (Boston Globe) was featured as the sound of Richard Gere's violin in Bee Season. Selected as one of Symphony magazine's "Up-and-Coming Young Musicians of 2006," and a StradMagazine 2007 "Pick of Up and Coming Musicians," Fain has recently captured the Avery Fisher Career Grant and a Young Concert Artists International Award. As The Washington Post recently raved, "Fain has everything he needs for a first-rate career."
Violinist Benjamin Beilman's "handsome technique, burnished sound and quiet confidence showed why he has come so far so fast" (New York Times). He is the recipient of both a 2012 Avery Fisher Career Grant and a 2012 London Music Masters Award. This season, Mr. Beilman makes his Carnegie Hall concerto debut with the New York Youth Symphony in Stern Auditorium; additional concerto debuts this season include appearances with the London Philharmonic at Royal Festival Hall, the Los Angeles and Indianapolis Chamber Orchestras, the Buffalo and Chicago Philharmonics, and the Fort Worth and Greenville Symphonies.
Pianist Robert Koenig has quickly established a reputation as a much sought-after collaborative pianist and chamber musician. He performs regularly in major centers throughout the world with many of this generation's most renowned musicians. Engagements have included performances at Carnegie Hall in New York, The Kennedy Center in Washington, DC, Suntory Hall in Tokyo, The Concertgebuow in Amsterdam, and the Louvre Museum in Paris. He has performed with many of today's leading artists including Sarah Chang, Hilary Hahn, Pamela Frank, Roberto Diaz, Elmar Oliveira, and Aaron Rosand.
Cornell University extends its gratitude to Clement and Karen Arrison for their sponsorship of this annual performance.