Julie Menard, DVM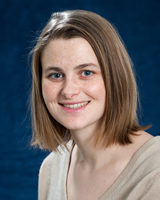 Diplomate - American College of Veterinary Emergency and Critical Care
Lecturer, Section of Emergency and Critical Care
---
Department of Clinical Sciences
Cornell University College of Veterinary Medicine
930 Campus Road, Box 31
Ithaca, NY 14853

Email: jmm539@cornell.edu
Research/Clinical Interest
My areas of interest are antimicrobial resistance, antimicrobial stewardship and pharmacokinetics/ dynamic approach for antimicrobials in critically ill patients, microcirculation in sepsis, nutrition in sepsis.
Education and Training
2008-2011     Cornell University, Residency in Small Animal Emergency and Critical Care
2007-2008     Cornell University, Fellowship in Small Animal Emergency and Critical Care
2006-2007     Faculté de Médecine Vétérinaire de Montréal, Quebec, Canada, Rotating Internship in Small Animal
2006     Ecole Nationale Vétérinaire d'Alfort, France, Docteur en Médecine Vétérinaire
Biography
Publications
V. Chetboul, J.-L. Pouchelon, J. Menard, J. Blanc, L. Desquilbet, A. Petit, S. Rougier, L. Lucats, F. Woehrle, Comparative short-Term Efficacy and Safety of Torasemide and furosemide in 366 dogs with congestive heart failure caused by degenerative mitral valve disease: the TEST study. Submitted to JVIM April 2016.
J.Roy, J.Caldwell, J.Hare, J.Menard, M.Schneider, F.Woehrlé. Evaluation of the renal effects of cimicoxib in mature dogs submitted to a hypotensive challenge during anesthesia. Submitted to Acta Scandinavia February 2016.
J.Menard, G.Schoeffler, Colonic, ureteral and vascular injuries secondary to a stick impalement in a dog. Journal of Veterinary Emergency and Critical Care, 2011, 21 (4) 384-397.
Honors and Awards
2011     Diplomate, American College of Veterinary Emergency and Critical Care
Professional/Academic Affiliations
American College of Veterinary Emergency and Critical Care
European Veterinary Emergency and Critical Care Society, Member of the Public Relation committee
Frontiers in Veterinary Science, Associate editor
Veterinary Emergency and Critical Care Society
Share this: