Michael P. Reichel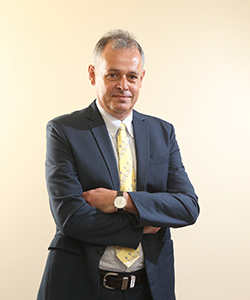 Research Interest
My research interests include Veterinary Public Health in the classical sense of zoonoses where I have been involved in echinococcosis, bovine tuberculosis and brucellosis research. My interest in Population medicine has extended from disease eradication programmes in the Falkland Islands (there, successful Br ovis eradication) to the diagnosis, control and economic aspects of
Neospora caninum
abortions and the impact and diagnosis of Bovine Diarrhoea Virus in cattle.
Education
"Tierarzt" (Veterinary Surgeon) – Free University (FU) Berlin
 Diploma of Veterinary Public Health (Massey) 1988
Diploma of Veterinary Tropical Medicine (FU Berlin) 1994 
Master of Veterinary Science (Massey) 1993
Master of Business Administration (Macquarie, Sydney) 2007 
Dr med vet (Hannover) 1994 
PhD (UTS, Sydney) 2003
Biography/Professional Experience
I graduated with a veterinary degree from the Free University of Berlin, Germany. Since then I have spent most of my professional life in the Southern hemisphere, working in New Zealand, the Falkland Islands and Australia, but also East Africa and Switzerland. I have experience in both, government service and private industry and have been closely associated with universities in Australasia. Now Foundation Dean of the first veterinary school in Hong Kong, also to first to be successfully seeking international accreditation in Asia.
Publications
1.    Reichel MP; Ayanegui-Alcérreca MA; Gondim LFP and Ellis JT (2013)
What is the global economic impact of Neospora caninum in cattle – the billion dollar question.
International Journal for Parasitology 43, 133 – 142;
https://www.sciencedirect.com/science/article/pii/S0020751912003098?via%...
 
2.    Moore D; Reichel M; Späth E and Campero C (2013)
Neospora caninum causes severe economic losses in cattle in the humid pampa region of Argentina.
Tropical Animal Health and Production 45, 1237-41;
https://link.springer.com/article/10.1007%2Fs11250-013-0353-z
 
3.    Nasir A; Avais, M; Khan MS; Khan JA; Hameed S and Reichel MP (2013)
Treating Cryptosporidium parvum infection in calves.
Journal of Parasitology 99, 715-717;
http://www.bioone.org/doi/abs/10.1645/12-42.1
 
4.    Lanyon SR and Reichel MP (2013)
Understanding the impact and control of Bovine Viral Diarrhoea in cattle populations.
Springer Science Reviews, 1, 85-93;
https://link.springer.com/article/10.1007%2Fs40362-013-0007-6
 
5.    Lanyon SR; Hill FI; Reichel MP and Brownlie J (2014)
Bovine viral diarrhoea: Pathogenesis and diagnosis.
The Veterinary Journal 199, 201 – 209;
https://www.sciencedirect.com/science/article/pii/S1090023313003614?via%...
 
6.    Lanyon SR; McCoy R, Bergman E and Reichel MP (2014)
Milk as a diagnostic sample for the identification of bovine viral diarrhoea (BVD) infected dairy herds using a commercially available antibody ELISA.
Australian Veterinary Journal 92, 269 - 273;
https://onlinelibrary.wiley.com/doi/abs/10.1111/avj.12188
 
7.    Lanyon SR and Reichel MP (2014)
Bovine viral diarrhoea virus ("pestivirus") in Australia: to control or not to control?
Australian Veterinary Journal 92, 277 – 282;
https://onlinelibrary.wiley.com/doi/abs/10.1111/avj.12208
 
8.    Reichel MP; McAllister MM; Pomroy WE; Campero C; Ortega-Mora LM and Ellis JT (2014)
Control option for Neospora caninum – is there anything new or are we going backwards?
Parasitology 141, 1455 - 1470;
https://www.cambridge.org/core/journals/parasitology/article/control-opt...
 
9.    Nasir A, Ashraf M, Shakoor A, Adil M, Abbas T, Kashif M, Rana MY and Reichel MP (2014)
Co-infection of water buffaloes in Punjab, Pakistan with Neospora caninum and Brucella abortus.
Turkish Journal of Veterinary and Animal Sciences 38, 572 - 576;
http://journals.tubitak.gov.tr/veterinary/issues/vet-14-38-5/vet-38-5-17...
 
10.    Lanyon SR, M Anderson ML and Reichel MP (2014)
Pooling serum to identify cohorts of non-milking cattle likely to be infected with Bovine Viral Diarrhoea Virus by testing for specific antibodies.
Journal of Veterinary Diagnostic Investigation 26, 346 – 353;
http://journals.sagepub.com/doi/10.1177/1040638714526596
 
11.    Jenvey CJ, van Wettere WH, Reichel MP, Peter D Cockcroft PD (2014)
Investigation of the impact of oral rennet supplementation on the serum globulin concentration in neonatal piglets.
Journal of Swine Health and Production 22, 282-286
 
12.    Moore DP, Konrad JL, San Martino S, Reichel MP, Cano DB, Méndez S, Spath EJL, Odeón AC, Crudeli G, Campero CM (2014)
Neospora caninum serostatus is affected by age and species variables in cohabiting water buffaloes and beef cattle.
Veterinary Parasitology 203, 259 - 263;
https://www.sciencedirect.com/science/article/pii/S0304401714002209?via%...
 
13.    Lanyon SR, Sims S, Cockcroft PD and Reichel MP (2014)
Comparison of serum, ear notches, nasal and saliva swabs for bovine viral diarrhoea virus (BVDV) antigen detection in colostrum-fed persistently infected (PI) calves and non-PI calves.
Journal of Veterinary Diagnostic Investigation 26, 783-787;
http://journals.sagepub.com/doi/10.1177/1040638714550181
 
14.    Cockcroft PD, Jenvey CJ and Reichel MP (2014)
Role for colostrum and whey in testing for bovine TB and Johne's disease?
Veterinary Record 175, 597;
http://veterinaryrecord.bmj.com/content/175/23/597.1
 
15.    Jenvey CJ, Reichel MP and Cockcroft PD (2015)
Investigations of the comparative sensitivity of serum, colostrum and whey for detection of specific antibodies in sheep vaccinated against Johne's disease.
Journal of Small Ruminant Research 123, 193 – 195;
https://linkinghub.elsevier.com/retrieve/pii/S0921448814002788
 
16.    Nugroho W, Cargill CF, Putra IM, Kirkwood RN, Trott D, Salasia SIO and Reichel MP (2015)
Traditional Pig Farming practices and Productivity in Jayawijaya Region, Papua Province, Indonesia.
Tropical Animal Health and Production; 47, 495 – 502;
https://link.springer.com/article/10.1007%2Fs11250-014-0748-5
 
17.    Jenvey CJ, Reichel MP and Cockcroft PD (2015)
Erysipelothrix rhusiopathiae and Mycoplasma hyopneumoniae: the sensitivities of ELISA for detecting vaccinated sows of unknown disease status using serum and colostrum, and the correlation of sow serum, colostrum and piglet serum ELISA OD.
Journal of Veterinary Diagnostic Investigation 27, 211 – 216;
http://journals.sagepub.com/doi/10.1177/1040638714568111
 
18.    Evans CA, Lanyon SR, Manning SK and Reichel MP (2015)
Reproductive performance in experimentally BVDV infected ewes and sero-conversion rates in sheep co-mingled with BVDV PI calves.
Journal of Small Ruminant Research 123, 314 – 319;
http://www.smallruminantresearch.com/article/S0921-4488(14)00343-5/fulltext
 
19.    Reichel MP, Moore DP, Hemphill A, Ortega-Mora, LM, Dubey JP and Ellis JT (2015)
A live vaccine against Neospora caninum abortions in cattle.
Vaccine (Commentary) 33, 1299 - 1301;
https://www.sciencedirect.com/science/article/pii/S0264410X15001218?via%...
 
20.    Jenvey CJ, Weir AM, Reichel MP and Cockcroft PD (2015)
Performance characteristics of ELISA to detect Bovine Viral Diarrhoea Virus (BVDV) antibodies when using bovine colostrum.
Open Journal of Veterinary Medicine 5, 35 - 41;
http://file.scirp.org/Html/4-2280205_54067.htm
 
21.    Lanyon SR, M Anderson ML and Reichel MP (2015)
A survey of farmer attitudes to endemic disease management in South Australia, with a focus on Bovine Viral Diarrhoea (Bovine Pestivirus).
Australian Veterinary Journal 93, 157 - 163;
https://onlinelibrary.wiley.com/doi/abs/10.1111/avj.12316
 
22.    Jenvey CJ, Reichel MP, Lanyon SR and Cockcroft PD (2015)
Optimizing the Measurement of Colostrum Antibody Concentrations for identifying BVDV Persistently Infected Calves.
veterinary sciences, 2¸26 - 31;
http://www.mdpi.com/2306-7381/2/1/26
 
23.    Neverauskas CE, Nasir A and Reichel MP (2015)
Prevalence and distribution of Neospora caninum in water buffalo (Bubalus bubalis) and cattle in the Northern Territory of Australia.
Parasitology International 64, 392 - 396;
https://www.sciencedirect.com/science/article/pii/S1383576915000781?via%...
 
24.    Cockcroft P, Dornin LE, Lambert RC, Perry J and MP Reichel (2015)
Serological survey for antibodies against Bovine Viral Diarrhoea Virus and Neospora caninum in a population of South Australian alpacas (Vicugna pacos).
Australian Veterinary Journal 93, 476 – 478;
https://onlinelibrary.wiley.com/doi/abs/10.1111/avj.12374
 
25.    Reichel MP, McAllister MM, Nasir A and Moore DP (2015)
A review of Neospora caninum in water buffalo (Bubalus bubalis).
Veterinary Parasitology 212, 75-79;
https://www.sciencedirect.com/science/article/pii/S030440171500391X?via%...
 
26.    Jenvey CJ, Cockcroft PD and Reichel MP (2015)
Production Animal Diseases: The Diagnostic Utility of Colostrum.
Springer Science Reviews 3, 141 – 151;
https://link.springer.com/article/10.1007%2Fs40362-015-0036-4
 
27.    Jenvey CJ, Reichel MP and Cockcroft PD (2016)
The diagnostic performance of an antibody enzyme linked immunosorbent assay using serum and colostrum to determine the disease status of a Victorian Jersey dairy herd infected with Mycobacterium avium subspecies paratuberculosis.
Journal of Veterinary Diagnostic Investigation 28, 50-53;
http://journals.sagepub.com/doi/10.1177/1040638715612873
 
28.    Cockcroft PD, Maguran-Pivas I, Perry J, Caraguel C and Reichel MP (2016)
A cross-sectional survey of serum biochemistry values in adult South Australian alpacas (Vicugna pacos).
Australian Veterinary Journal 94, 125-126;
https://onlinelibrary.wiley.com/doi/abs/10.1111/avj.12421
 
29.    Nugroho W, Cargill CF, Putra IM, Kirkwood RN, Trott DJ, Salasia SIO, Slipranata M and Reichel MP (2016)
Investigations of selected pathogens among village pigs in Central Papua, Indonesia.
Tropical Animal Health and Production 48, 29-36;
https://link.springer.com/article/10.1007%2Fs11250-015-0913-5
 
30.    Lanyon SR and Reichel MP (2016)
Pretreatment of serum samples to reduce interference of colostrum-derived specific antibodies with detection of Bovine viral diarrhea virus antigen by ELISA in young calves.
Journal of Veterinary Diagnostic Investigation 28, 345 – 349;
http://journals.sagepub.com/doi/10.1177/1040638716633496
 
31.    Nugroho W, Hemmatzadeh F, Artanto S and Reichel MP (2016)
Complete Genome Characteristics of Porcine circovirus Type 2 (PCV2) Isolates from Papuan pigs, Indonesia.
International Journal of Advanced Veterinary Science and Technology 5, 239-247;
http://scientific.cloud-journals.com/index.php/IJAVST/article/view/Sci-377
 
32.    Evans CA, Cockcroft PD and Reichel MP (2016)
Antibodies to bovine viral diarrhoea virus (BVDV) in water buffalo (Bubalus bubalis) and cattle from the Northern Territory of Australia.
Australian Veterinary Journal 94, 423 – 426;
https://onlinelibrary.wiley.com/doi/abs/10.1111/avj.12517
 
33.    Nugroho W, Kirkwood RN and Reichel MP (2016)
Pig diseases in Papua Province, Indonesia; Aetiology, Eco-epidemiology and Control Options.
Springer Science Reviews 4, 25 – 48
https://link.springer.com/article/10.1007%2Fs40362-016-0039-9
 
34.    Reichel MP, Lanyon SR and Hill FI (2016)
Moving past serology: diagnostic options without serum.
2016 Special Issue on Recent Developments in Veterinary Diagnostics
The Veterinary Journal 215, 76 - 81
https://linkinghub.elsevier.com/retrieve/articleSelectSinglePerm?Redirec...
 
35.    Evans CA, Lanyon SR and Reichel MP (2017)
Investigation of AGID and two commercial ELISAs for the detection of Bovine viral diarrhea virus–specific antibodies in sheep serum.
Journal of Veterinary Diagnostic Investigation, 29, 181 - 185
http://journals.sagepub.com/doi/10.1177/1040638716687003
 
36.    Evans C, Reichel MP, Hemmatzadeh F and Cockcroft PD (2017)
Clinical responses and reproductive outcomes in pregnant ewes experimentally infected with bovine viral diarrhoea virus (Type 1-c) between days 59 and 69 of gestation.
Small Ruminant Research 149, 121 – 127
http://www.smallruminantresearch.com/article/S0921-4488(17)30020-2/fulltext
 
37.    Olmo L, Dye CT, Reichel MP, Young JR, Nampanya S, Khounsy S, Thomson PC, Windsor PA and Bush RD (2018)
Investigation of infectious reproductive pathogens of large ruminants: are neosporosis, brucellosis, leptospirosis and BVD of relevance in Lao PDR?
Acta Tropica 177, 118 - 126https://www.sciencedirect.com/science/article/pii/S0001706X17308483?via%3Dihub
Awards and Honors
Fellow of the Royal College of Veterinary Surgeons (London) for Meritorious contributions to Learning
Professional/Academic Affiliations
Fellow of the Australian College of Veterinary Scientists
Diplomate of the European College of Veterinary Public Health
Registered veterinary specialist in HK, UK, Europe and Australia and New Zealand