DeeDee Arrison Concert for the Animals
October 2nd, 2021
5:30 PM to 6:30 PM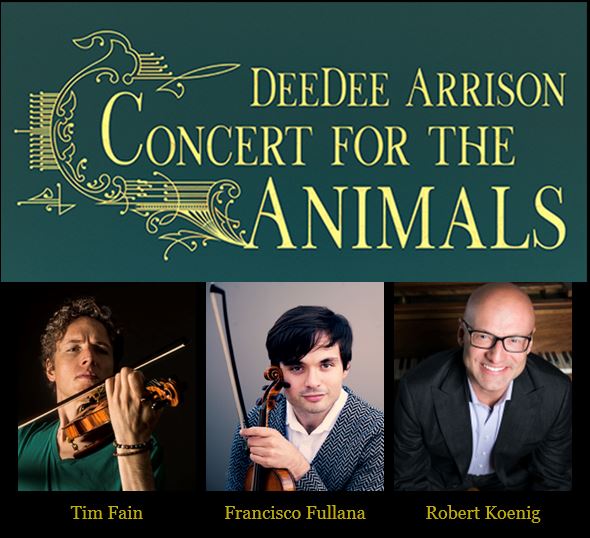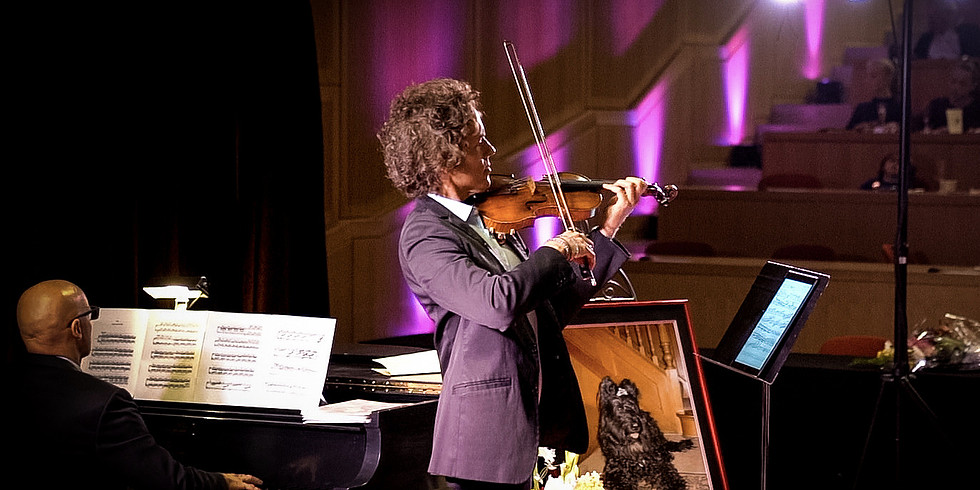 Tim Fain
With his adventuresome spirit and vast musical gifts, violinist Tim Fain has emerged as a mesmerizing presence on the music scene. The "charismatic young violinist with a matinee idol profile, strong musical instincts, and first rate chops" (Boston Globe) is seen and heard in the film Black Swan, and gives "voice" to the violin of the lead actor in the hit film 12 Years a Slave, as he did with Richard Gere's violin in Fox Searchlight's feature film Bee Season. Most recently, Fain collaborates with Google on a virtual reality (VR) music and film project RESONANCE that introduces VR capability for YouTube to the world. In addition, he was the featured soloist with the Philip Glass Ensemble at Carnegie Hall in a concert version of Einstein on the Beach, which he performed again this season in South Korea, and he continues to tour the US and Europe in a duo-recital program with Philip Glass. His multi-media evening Portals premiered to sold-out audiences in New York, Los Angeles, at its mid-western debut at Omaha's KANEKO, and at Australia's Melbourne Festival and Le Lieu Unique in France, with continued interest and success world-wide. The centerpiece of the evening is Partita for Solo Violin, a new work written especially for him by Philip Glass; the production also features collaborations with Benjamin Millepied, Leonard Cohen, and filmmaker Kate Hackett, with radio personality Fred Child appearing on screen.
Francisco Fullana
A native of Mallorca, violinist Francisco Fullana has received international praise as an "amazing talent" and a "paragon of delicacy". He graduated from the Royal Conservatory of Madrid and holds degrees from The Julliard School as well. Francisco is the recipient of the 2015 Pro Musicis International Award and the 2018 Avery Fisher Career Grant, among other honors. He is a renowned innovator, leading new institutions of musical education for young people, including the Fortissimo Youth Initiative, which he founded.
Robert Koenig
Pianist Robert Koenig has established a reputation as a much sought-after collaborative pianist and chamber musician. He performs regularly in major centers throughout the world with many of this generation's most renowned musicians. Recent engagements have included performances at Carnegie Hall in New York, The Kennedy Center in Washington DC, Suntory Hall in Tokyo, The Concertgebuow in Amsterdam, The Louvre Museum in Paris, and Royal Festival Hall in London. He has performed with many of today's leading artists including Sarah Chang, Hilary Hahn, Pamela Frank, Augustin Hadelich, Zuill Bailey, Sara Sant'Ambrogio, Roberto Diaz, Elmar Oliveira, Aaron Rosand, The Miro String Quartet, and The St. Lawrence String Quartet.
| | |
| --- | --- |
| | Mr. Fain plays the Francesco Gobetti, Venice 1717 "Moller" violin and Mr. Fullana plays the 1735 "Mary Portman" Guarneri Del Jesu violin, both on loan from Clement & Karen Arrison through the Stradivari Society of Chicago. |
Music and Animals: A Special Connection by Sharon Romm, MD
The DeeDee Arrison Concert for the Animals inspired Dr. Sharon Romm to explore the connection between animals and music in this special guest essay.
Introduction: Music touches everyone. We respond to melody and tone, repetition and rhythm. Music has the power to calm and to energize. It raises mood and lowers blood pressure. Music can slow a racing heart and lessen the stress of medical events. Music therapy makes pain easier to bear and music-assisted relaxation aids in achieving restful sleep. So, if music can benefit humans, why not animals as well?
Animals and humans enjoy musical connections. Animals inspire composers; researchers explore animals' response to music; we wonder if animals are musical; and we appreciate how humans offer their music to enrich the existence of our fellow creatures.
History: Music's effect on animals was noted as early as the 19th century. London's Exeter Exchange, in the heart of London, was designed as a shopping arcade. The upper floor housed the royal menagerie of exotic animals from 1773 to 1829 when the building was demolished. A piano was installed and played for "Chunee," the elephant. He was said to have attended to notes in the lower register while he appeared to ignore  high-pitched sound. The resident lion was excited by high notes but turned ferocious when hearing flat ones and calmed only when the music ceased.
What kind of music do animals like best? The effect of music on animals is often species specific and depends on the nature of the music offered and the personality of the listener. Mozart played for laboratory rats lowers their blood pressure; lab rodents learn better when exposed to music; gorillas in a zoo prefer nature sounds to either classical or rock. Music is also used in agricultural settings. Dairy cows hearing classical music more readily approach their stalls in a milking parlor They show less stress and produce more milk.
Dogs, popular as pets, are a focus of study. Researchers conclude that classical music with its regular rhythm and melodies calm dogs in stressful environments. Vivaldi's Four Seasons was found to be particularly beneficial.
In 2015, a psychology professor and a cellist/composer captured media attention. They found that while cats are happy to ignore "human" music, they are responsive to music composed especially for felines. "Music for Cats" features bird chirps, crescendos of purring and the sucking sound that accompanies feeding and elicits enthusiastic (for a cat) responses.
Do animals create music? Humans appreciate animal sounds, whether or not recognized as music. Humpback whales produce a variety of sounds:  moans, cries, groans and snores. Whales string these together to form "songs," melodic at times and lasting up to half an hour.  These songs, haunting and otherworldly, vary among pods  in different regions and undergo gradual change from year to year. 
Music inspired by animal sounds: 19th-century Romantic composer, Camille Saint-Saëns composed The Carnival of the Animals, a piece he acknowledged as written "for fun" when he should have been working on his symphony. Scored for a dozen instruments, he offers colorful musical pictures of fourteen creatures including a tortoise and a kangaroo.
Composers have imitated animal sounds in compositions. Vivaldi's flute concerto, The Goldfinch, Handel's The Cuckoo and the Nightingale and Beethoven's Piano Sonata No.25 (Cuckoo) are just a few classical compositions quoting bird song.
Humans and animals share: The "Animal Band" is a group of four volunteer musicians in Madrid. They play monthly concerts exclusively for animal audiences in Spain's capital, in the countryside around the city, in farms and in animal sanctuaries. Performing where animals are offered for adoption is also an important venue.
One band member describes having played for donkeys, cows, meerkats and bulls, and says that each animal's reaction is unique. He observes that mammals seem to have an affinity for stringed instruments while birds might react to wind sounds like the saxophone. Animals will come close during a performance to sniff the instruments or, lacking interest, simply walk away. They acknowledge that there's no way of knowing what the animals feel but the band presents music with the hope of giving pleasure.
Veterinarians: Many veterinarians played music in youth and now this activity is an adjunct to professional life. They perform as individuals, in chamber groups and, like  several dozen students and practitioners, have formed the Australian Veterinary Orchestra, an ensemble that plays nationally recognized concerts.
Music is widely available. Commercial music services offer curated musical "soundscapes" to calm clients in the veterinarians' waiting room, operatory or kennel. The nonprofit Rescue Animal Mp3 Project, begun by a holistic veterinarian in Ohio, sponsors music in 1350 shelters in 50 states and report 100% less barking when music fill the kennels. Dogs – and staff -- seem to respond with a new sense of serenity.
There are stories of how music has touched an animal. A composer in Seattle knew that his elderly and ailing cat was approaching end of life. One afternoon the musician greeted his dozing cat then sat at his piano to work on a composition. As he began to play, the cat rose, appeared to listen to the music then returned to his basket where his life slipped away.
Music surely has meaning for all…