DeeDee Arrison Concert for the Animals
We invite you to join us for a one hour Concert for the Animals featuring rising stars of the Stradivari Society.
The DeeDee Arrison Holistic & Integrative Wellness Seminar Series was endowed in 2010 by Clement and Karen Arrison in memory of their beloved ten-year old Briard to strengthen understanding of integrated medicine, which brings together the best of holistic and medical care.
An afternoon Concert for the Animals featuring rising stars of the Stradivari Society will be held from 4:30 – 5:30 pm in Veterinary College Lecture Halls 4/5 to complement the DeeDee Arrison Holistic & Integrative Wellness Seminar offerings.
This afternoon performance honors our animals and features rising stars of the Stradivari Society Tim Fain and Francisco Fullana, accompanied by pianist Robert Koenig. Well socialized animals are welcome.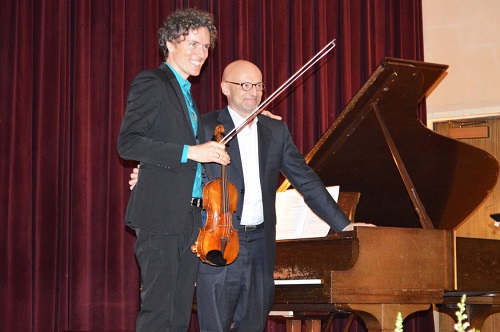 With his adventuresome spirit and vast musical gifts, violinist Tim Fain has emerged as a mesmerizing presence on the music scene. The "charismatic young violinist with a matinee idol profile, strong musical instincts, and first rate chops" (Boston Globe) is seen and heard in the film Black Swan, and gives "voice" to the violin of the lead actor in the hit film 12 Years a Slave, as he did with Richard Gere's violin in Fox Searchlight's feature film Bee Season. Most recently, Fain collaborates with Google on a virtual reality (VR) music and film project RESONANCE that introduces VR capability for YouTube to the world. In addition, he was the featured soloist with the Philip Glass Ensemble at Carnegie Hall in a concert version of Einstein on the Beach, which he performed again this season in South Korea, and he continues to tour the US and Europe in a duo-recital program with Philip Glass. His multi-media evening Portals premiered to sold-out audiences in New York, Los Angeles, at its mid-western debut at Omaha's KANEKO, and at Australia's Melbourne Festival and Le Lieu Unique in France, with continued interest and success world-wide. The centerpiece of the evening is Partita for Solo Violin, a new work written especially for him by Philip Glass; the production also features collaborations with Benjamin Millepied, Leonard Cohen, and filmmaker Kate Hackett, with radio personality Fred Child appearing on screen.
Acclaimed for his performances in both Europe and the US, Spanish violinist Francisco Fullana is enjoying a diverse international career of concerto and recital appearances, as well as a wide array of collaborations as a chamber musician. Praised by Gustavo Dudamel as a "remarkable talent," The Boston Globe called him "a very special violinist." Performance highlights include Brahms Concerto under Gustavo Dudamel and his recital at Carnegie's Weill Recital Hall as the winner of the 2015 Pro Musicis International Award. Francisco has also recently made his concerto debuts with Alabama, Dana Point, Guanajuato, Irvine, Maryland, and Pacific Symphonies, and the State Chapella of Saint Petersburg, Russia.
Pianist Robert Koenig has established a reputation as a much sought-after collaborative pianist and chamber musician. He performs regularly in major centers throughout the world with many of this generation's most renowned musicians. Recent engagements have included performances at Carnegie Hall in New York, The Kennedy Center in Washington DC, Suntory Hall in Tokyo, The Concertgebuow in Amsterdam, The Louvre Museum in Paris, and Royal Festival Hall in London. He has performed with many of today's leading artists including Sarah Chang, Hilary Hahn, Pamela Frank, Augustin Hadelich, Zuill Bailey, Sara Sant'Ambrogio, Roberto Diaz, Elmar Oliveira, Aaron Rosand, The Miro String Quartet, and The St. Lawrence String Quartet.
Share this: