How to heal veterinary student debt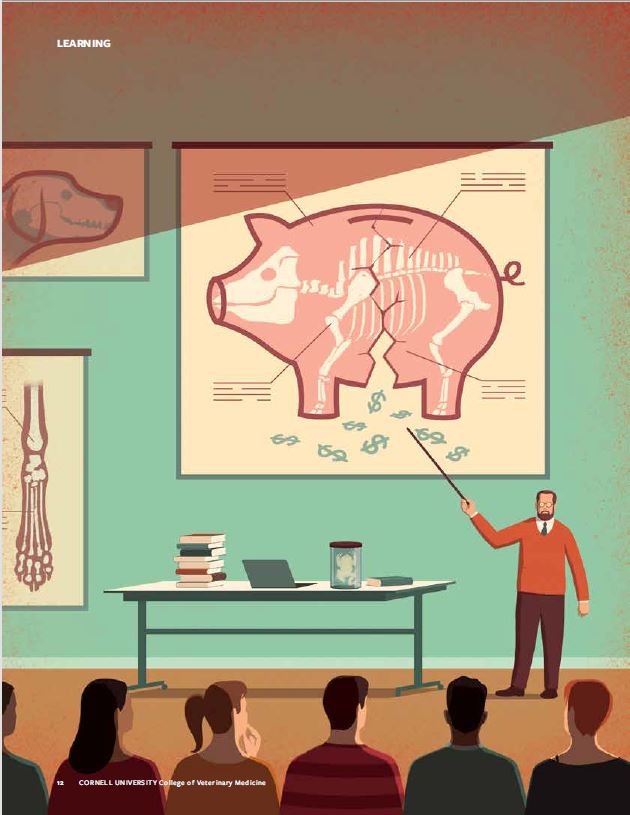 Veterinarians are necessary. This isn't news to pet owners, animal lovers, or farmers who rely on these professionals to maintain animal health and well-being. But their necessity doesn't end there. The veterinarian is a key player in public health policy and research—bringing crucial understanding to zoonotic and infectious disease, as well as food safety and security. Veterinarian scientists make vital discoveries on dangerous diseases and life-saving drugs, and reveal new insights to basic biology. In sum, we need vets. Yet, many young and aspiring DVMs are finding the financial side of the career to be increasingly challenging.
Along with other U.S. veterinary schools, the Cornell University College of Veterinary Medicine has experienced the crunch from outside economic pressures. While the Cornell veterinary graduates enjoy better employment rates, higher salaries, and lower median debt than the national average, many face daunting statistics: the median debt-load of a CVM graduate in the Class of 2016 totaled around $152,000. At the same time, starting salaries for graduates entering private practice have not kept pace, hovering around $73,000. The result is a debt-to-income ratio of roughly 2:1. Dr. Lorin Warnick, Austin O. Hooey Dean of Veterinary Medicine, has named the problem one his top strategic priorities. "We're taking this issue very seriously, and looking closely at the practical ways to improve it," he says.

Between a rock and a hard place
Debt is a large portion of the financial challenge for many graduates. Since 1989, mean educational debt for all CVM students, including those without debt, rose at an average annual rate of about 7%. Fortunately, the increase has slowed, holding steady or with a slight decline over the past five years.
Government support for higher education and loan programs has waned over the years, shifting the burden of payment onto students and families. Additionally, personal debt overall increased both during the easy-lending days before the recession beginning in 2008, and in the years following as private resources declined. On top of this, veterinary education is expensive. "Veterinarians are educated to work with a wide variety of species," says Warnick. "It takes a lot of resources to provide of veterinary education, including specimens and surgical labs, which are costly to provide and maintain."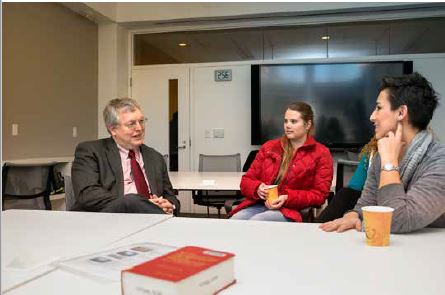 Nevertheless, tuition covers only 14% of the entire CVM operating budget. "It doesn't come close to covering the cost of the education," says Dr. Marnie FitzMaurice, director of veterinary curriculum. "It's important to note that our tuition is increasing at a slower pace than that of the University as a whole; it isn't just veterinary school that's expensive, it's systemic to higher education in general." According to the U.S. Department of Education, tuition at four-year colleges has more than doubled over the past three decades—even after adjusting for inflation. The total student loan debt is now over $1.3 trillion, with average outstanding balances (adjusted for inflation) increasing by roughly 25 to 30% between fiscal years 2009 and 2015 alone. Since 2000, tuition at non-profit colleges increased by roughly 30%, whileroom and board increased by 23%.

Dr. Paul Pion '83, president and co-founder of Veterinary Information Network (VIN), and a vocal advocate for addressing veterinary economics, believes it's the trend of higher raising tuition and class size. "I'm a big believer in supporting basic research and advanced diagnostics, but students should not be asked to pay for these," he says. "The expansion in administration, infrastructure, faculty and research has raised the cost of operating a veterinary school." Pion also takes issue with the current approach in veterinary education. "We're still trying to train everybody to do everything when the current reality is that the vast majority focus upon one or a few species," he says. "All this effort and money goes into preparing students for a test [the NAVLE] that's not really that selective, and it's become more of a business than a standard that tells us anything. I understand it is hard to rollback programs and that every professor thinks the details of their domain are essential knowledge for every veterinary graduate, but if we don't make the needs and best interests of the consumer (student) the primary driving force in curriculum choices, we will never succeed in designing efficient and effective curricula or controlling education costs."
Warnick recognizes Pion's point, but notes that a "comprehensive, comparative scientific foundation," is integral to Cornell's sterling veterinary education, and that some portion of the cost of that training does have to be paid for through tuition, "Schools are certainly looking at more ways to focus curriculum and ensure training is economical," he says. "But we don't want to lose sight of the value scientific and medical advances have made over the last few decades. Additionally, a broad curriculum prepares graduates for a wider variety of career options and opportunities in life."
While educational debt is a reality for most professional-school graduates, veterinarians have an extra challenge: most starting salaries are comparatively low. "We take on a physician's debt, if not more—but we make the equivalent of someone with an undergraduate engineering degree," says Dr. Tony Bartels, debt educational director at VIN. "The cost of education has greatly outpaced the starting salaries of veterinarians."
"I think the income is a bigger deal," says Dr. Kerry Ryan, an associate veterinarian at Mendon Village Animal Hospital in Mendon, N.Y. "Honestly, the student debt would be fine if we were making more money. But as it is, the salary is not sufficient for the amount of work you do and the amount of education you have." This sentiment is a fairly universal one among DVM graduates who are dealing with the reality that veterinary care is a service that some clients will forgo when finances feel tight.
"The economics of animal health care is a big factor," says Warnick. "People are willing to pay more for human health care than for animals', plus third-party payment is typical in humanhealth." Nevertheless, certain career choices can lead to higher incomes for veterinarians. Owning a private practice can be a more profitable option, as is going into certain board-certified specialties, such as radiology, surgery, and ophthalmology. Industry jobs within pharmaceutical companies can also be highly lucrative. "I don't think any of us would advise students to choose their career path based entirely on money," says Warnick. "But we do want them to be able to meet their financial goals and be entrepreneurial when thinking about their work."
Different finances, different futures
Few veterinary students decide on the career for financial reasons—but the economic realities after graduation have been on many CVM graduate's minds, no matter what career path they're on.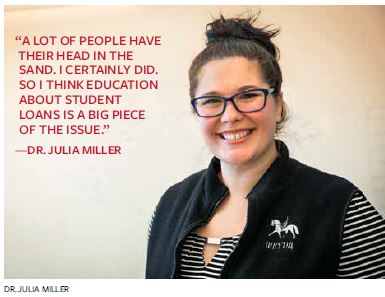 Dr. Julia Miller '12 is in a post-doctoral position at the College, with plans to pursue a career in veterinary academia. While lucky enough to get in-state tuition and have no undergraduate debt, she now has $215,000 worth of loans from her four years of veterinary education, the cost of living, and deferred payments from her year-long internship.

This amount has grown from her original $164,000 owed when she first left veterinary school. "I'm in the middle of the pack in terms of debt load," she says, noting that the size of her debt load is due in part to a lack of financial savvy during veterinary school. "I just didn't think about how it all adds up," she says. Her subsequent internship added to the
debt load. "Economically it will never benefit you to do an internship, as you will spend that year deferring your loans and accruing more interest—that's a huge amount of money," Miller says. But from an educational and medical view, Miller says an internship is valuable. "For me, I'm interested in teaching and specializing," she says. "I'm not driven by the monetary aspect." To help manage the monthly payments, Miller is now on an income-based repayment plan, which caps payments at a defined percentage of a borrower's income. Fortunately, Miller and others who choose a career in academia will qualify for loan forgiveness.

Dr. Kerry Ryan '12, the associate veterinarian at Mendon Village Animal Hospital mentioned above, has always been mindful of her money. "I remember as a teenager, a vet in his mid-forties—who I thought very highly of and who worked very hard—told me he was finally done paying off his student loans," says Ryan. "I was struck by how long it took to pay that off." So Ryan worked diligently for two years before going to veterinary school, which allowed her to take out loans for tuition costs only. During veterinary school, she worked a number of part-time jobs—an approach that she admits isn't for everyone. "There were a lot of times where I would work overnight at the hospital and then went straight to class the next day. Thankfully I can function of fairly small amounts of sleep—I know everyone can't do that."

While just four years out of veterinary school, Ryan has managed to pay off half of her student loans. She has done this through cost-efficient living—driving a fuel-efficient car, keeping home energy costs to a minimum—and careful attention to her debt. While she is on the income-based repayment plan, she makes two or three payments per month—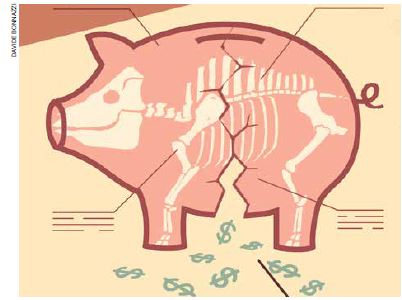 and is always assessing if she can pay more towards it. "I make my full payment at the first of the month, and then half-way through the month I look at my budget to determine if I can afford to pay some more," she explains. "In my mind, having any kind of debt is an emergency. It's a top priority for me."

Dr. Ingrid Rhinehart '11, has just purchased her own practice—Briar Patch Veterinary Hospital, in Ithaca, N.Y. She views it as the best way to maximize her earnings while doing what she loves. "I didn't become a veterinarian for financial reasons," she says. "It was the lifestyle and career I wanted." Originally trained as an economist, Rhinehart went into veterinary school knowing she wanted to own her own practice. She attended practice-buying seminars at conferences, networked with accountants and lawyers who specialize in the transaction, and, upon graduation, sent letters to existing practices asking them if they would be willing to sell. The hard work paid off. "I see young DVMs saying that because of all the debt they've already incurred, they'll never be able to buy a practice—but that's a misconception," she says. "Even with a lot of existing debt, if you have good credit, you can buy a practice." Rhinehart is less than a year into owning Briar Patch but sees it as the ultimate solution to her debt. "You are taking on more debt, and you are certainly banking on yourself," she says. "But I feel like I've finally settled into my true career, and I do feel it will pay itself off. I'm glad I did it—even though right now I have scary numbers that come in the mail every month." 
CVM Solutions: getting heads out of the sand
No matter who you talk to about student debt, the consensus is clear—more needs to be done. 
According to Miller, the first action to take is educating students. "A lot of people have their head in the sand," she says, stressing that students need a strong dose of reality early on "to get them thinking about being as frugal as possible so they can leave with the least amount of debt as possible."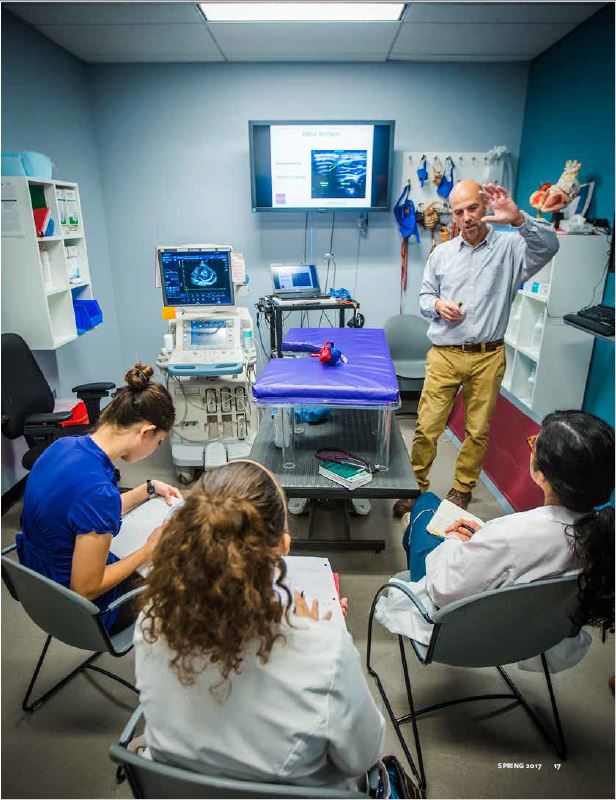 The College is on it. Currently, first year DVM students have a mandatory class meeting that encourages them to think strategically about their career goals, personal finances, and loans, with the goal of helping them limit or reduce borrowing. Students are asked to go through the CVM student loan scenario calculator—an online tool that allows them to manipulate variables such as the size of their loans, length of time until payoff and associated interest rates, and their projected salaries at different points in their career. It shows exactly how much they will owe and what their monthly payments will be. It also allows them to compare that information, which is based on standard loan repayment assumptions, with the various income-based repayment plans, including a calculation of the projected taxes that would apply to any funds that would be forgiven. Each year, students receive a report summarizing their cumulative debt totals for loans administered by the College. "We advise them to live like a student now so they can live like a doctor later," says Dr. Kathy Edmondson, assistant dean for learning already living frugally." Warnick agrees, noting that while educating students about budgeting is a necessary part of the solution, it only addresses a part of the overall issue. "It doesn't solve the larger problem—but for the individual student, it can be very impactful."

Each year, the College also hosts presentations by Heather Jarvis, a national expert in student loan repayment plans, who presents an overview of the various options, current terms, and interest rates. Members of the College administration and student services staff also meet with Jarvis to discuss recent and potential changes to student loan programs in greater depth. Rhinehart would like to see more mandatory business education for DVM students, including information on practice ownership. "We should really be helping people understand that, not only can you own a practice with this level of debt—maybe you should," she says. "It's an avenue that isn't as heavily focused on compared to preparing for internships or residencies."

The College will be increasing its focus towards business education; Warnick plans to incorporate new coursework on entrepreneurship and veterinary business management. Additionally, in January, it co-hosted the world's first Animal Health Hackathon, which united business, engineering, and veterinary students at Cornell with alumni mentors to generate novel solutions in animal health. "The event parked creative, entrepreneurial thinking in our veterinary students, and allowed them to network with innovators and leaders in the field," says event manager Len Johnson, assistant dean for marketing and communications.
CVM Solutions: lightening the load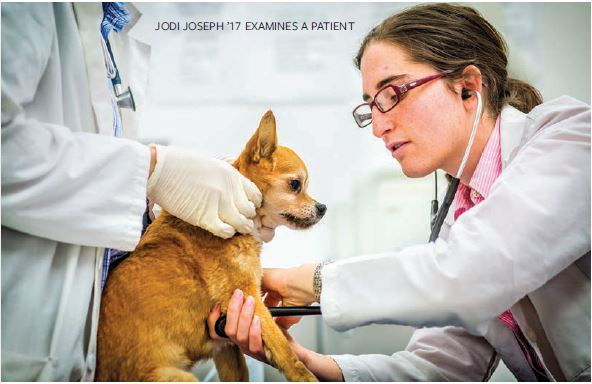 The College also aims to attack debt through reducing the cost of the overall education for individual students. One method will be through formalizing a seven-year, joint Bachelor's/DVM program for Cornell undergraduates who can go straight to veterinary school after completing their junior year. Another major effort includes scholarship aid. "We're making scholarships for DVM students a priority for our philanthropy," Warnick says. "And we'll continue to do our best to provide scholarship aid where we can to help people most in need." Currently, 82% of CVM students receive scholarship aid—a percentage the CVM administration aims to maintain even after the class size increases from 100 students to 120 later this year, with the Class of 2021. The total scholarship dollars awarded to College students in the last three years averaged over $2.2 million, but there is still unmet need, and the College is committed to doing more.

Jodie Joseph '17 is making sure to take advantage of both the funding available from the College and from external sources—noting that even smaller awards can add up and make a difference. "I was able to reduce my fourth year loans by half because of all of these "little" scholarships," says Joseph.
Michele Cestone, whose family foundation funds annual scholarships to vet students all four years, notes that gifts like these have broad impact. "When you help a vet student, you're really helping animals in an exponential manner—for each vet we help, we are able to help countless animals for many years to come," he says, noting that some of the
students his scholarship has supported have gone on to treat his own pets. "You really get to see the fruits of your donation come back in so many different ways."
Indeed, scholarships often determine whether a student will become a veterinarian at all. "I can promise you that without the grant and scholarship programs available to me as an undergraduate and veterinary student here [at the College], I would still be out there scrubbing kennels," says Shanna Landry '13 DVM '17. "I appreciate my scholarships more than words can express."
Getting government involved
The College is working to increase scholarship support, loan counseling, and business education, and students and graduates are carefully managing finances and making savvy career decisions—yet a significant portion of the problem will remain untouched by these efforts as long as higher education prices and loans remain high.

"We need to go to the government to address this issue," says Miller. "If theywant people with this level of training, the government needs to help. I would like to see them adjust the student loan interest rates."

The American Veterinary Medical Association (AVMA) takes an active role in advocating for legislation that addresses student debt solutions. This past year, AVMA advocated for solutions such as abolishing fees on federal student loans, lowering interest rates on federal student loans and expanding the student loan interest deduction. "Our collective goal is to reduce the debt-to-income ratio, which presently is about 2:1, to about 1.4:1," says Gina Luke, AVMA assistant director of governmental relations and advocacy & policy. Luke encourages veterinarians to join the AVMA Congressional Advocacy Network and to sign up for the AVMA Advocate in order to become actively involved in combating educational debt at the federal level.

A pathway still worth walking

Veterinary medicine is a profession offering rewarding career opportunities and a chance to make a real difference in the world, but also comes with financial challenges for many new graduates. Preparing veterinarians for financial pressures will continue to be a complex challenge. "These are big problems; they're multifactorial and have evolved over years and decades,"says Pion. "There's not going to be one single solution—there's going to be several little pieces that collectively move towards it." As more players in the veterinary world actively work to address the issue, this rate of progress looks to pick up. For Warnick, there's hope that this trend will help the profession thrive again. "I still think investing in a veterinary medical education in the United States is a good thing to do," says Warnick. "This is a single degree that gives you entry into many career paths—many of which allow for challenging intellectual work, is often service oriented, and can be very emotionally rewarding. I'll continue to work to ensure that people from all walks of life and socioeconomic backgrounds can find a pathway to afford a veterinary medicine career."
Note: a slightly different version of this story first appeared in the Spring 2017 issue of 'Scopes magazine