Beth Licitra, DVM, Ph.D.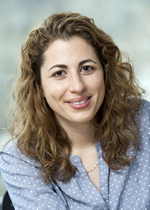 Beth Licitra 

Faculty Mentor: Dr. Gary Whittaker 
Current Position: Emergency Room Veterinarian, Cornell University Hospital for Animals

 
Brief Biography
Beth Licitra is from the Hudson Valley region of New York State. She became interested in research as a teenager while volunteering at her local health department. Her experience trapping mosquitoes for a West Nile Virus surveillance initiated her life-long interest in infectious diseases and public health. Currently, she is a DVM/PhD student in the laboratory of Dr. Gary Whittaker. Her previous work experiences include a fellowship in Emerging Infectious Diseases at the Centers for Disease Control and Prevention. She is an alumna of the Cornell Veterinary Leadership Program.
Education
DVM, Veterinary Medicine, Cornell University, 2016
PhD, Comparative Biomedical Sciences, Cornell University, 2015
BS in Biology, Cornell University
Research Interests
Beth is currently researching coronaviruses with the goal of understanding how these pathogens extend their tropism to infect new cells and new species.  Her ongoing projects include a long-term study of the viral factors involved in the development of Feline Infectious Peritonitis – a fatal coronavirus infection that is characterized by the virus's acquisition of macrophage tropism.  Through collaborations with the Cornell Department of Biomedical Sciences and the Animal Health Diagnostic Center, Beth has had the opportunity to characterize fatal cases of coronavirus infection in dogs.  She is beginning work on an exciting new project aimed at determining the viral factors associated with the ability of some human coronaviruses to infect the brain.   
Publications and Presentations
Licitra BN, Duhamel GE, Whittaker GR. Canine enteric coronaviruses: emerging viral pathogens with distinct recombinant spike proteins. Viruses. 2014 Aug 22;6(8):3363-76. PMCID: PMC4147700
Licitra BN, Whittaker GR, Dubovi EJ, Duhamel GE. Genotypic characterization of canine coronaviruses associated with fatal canine neonatal enteritis in the United States. J Clin Microbiol. 2014 Dec;52(12):4230-8. PMCID: PMC4313292
Licitra, B.N., Millet, J.K., Regan, A.D., Hamilton, B.S., Rinaldi, V.D., Duhamel, G.E., Whittaker, G.R. Mutation in spike protein cleavage site and pathogenesis of feline coronavirus. Emerg Infect Dis. 2013 Jul; 19(7): 1066-1073. PMCID: PMC3713968.
Belouzard S., Millet J.K., Licitra B.N., Whittaker G.R. Mechanisms of Coronavirus Cell Entry Mediated by the Viral Spike Protein. Viruses. 2012: 4(6):1011-1033.
Regan A.D., Millet J.K., Tse L.P., Chillag Z., Rinaldi V., Licitra B.N., Dubovi E.J., Town C.D., Whittaker G.R. Characterization of a recombinant canine coronavirus with a distinct receptor-binding (S1) domain. Virology. 2012: 430(2): 90-99.
Licitra B., Chambers E.W., Kelly R., Burkot T.R. Detection of Dirofilaria immitis (Nematoda: Filarioidea) by polymerase chain reaction in Aedes albopictus, Anopheles punctipennis, and Anopheles crucians (Diptera: Culicidae) from Georgia, USA. Journal of Medical Entomology. 2010: 47(4):634-638.