David Russell, PhD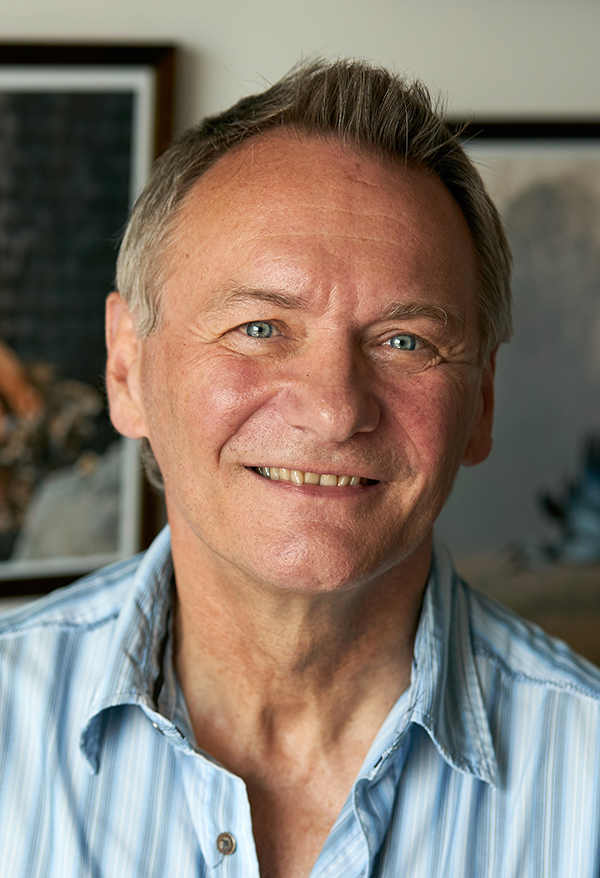 Research Interest
Dr. Russell's laboratory's research focuses on the interplay between the macrophage and the intracellular pathogens Mycobacterium tuberculosis (Mtb) and Human Immunodeficiency Virus (HIV). 
Tuberculosis: The success of Mtb as a pathogen depends on the ability of the bacterium to survive and persist within the host macrophage.  We are actively engaged in studying the behavior of both partners in this intimate relationship. We have developed real-time fluorescent readouts of bacterial fitness and replication and have been exploiting these to identify those host cells most able to limit bacterial growth, and those host cells most permissive for bacterial growth.  We have used these reporter strains to probe experimental murine infections to functionally-define the host phagocyte subsets present in the infected lung tissue.  These data are used to inform ongoing collaborations looking at cells and tissue from human tuberculosis patents at the Malawi-Liverpool-Wellcome Clinical Research Program in Blantyre, Malawi, and the African Health Research Institute, Durban South Africa. 
In addition, we have developed an array of fluorescence-based phenotypic screens for drug discovery.  We have a high-throughput screening platform in our BSL3 lab that enables us to interrogate extensive compound libraries against intracellular Mtb.  We have already performed extensive screening and have identified novel bacterial targets and candidate lead compounds active against this bacterium.  This work is conducted in collaboration with the California Institute for Biomedical Research (Calibr), San Diego.    
HIV: In addition to infecting CD4 lymphocytes, HIV also infects macrophages, where it sets up a chronic, long-lived infection capable of generating infectious virus. The lab is studying how human alveolar macrophages respond to HIV and how HIV infection of the macrophage directly influences the ability of the body to control other infections, such as tuberculosis.  These human studies are pursued through a collaboration with the Malawi-Liverpool-Wellcome Trust Research Laboratories, Blantyre, Malawi. 
The research is supported by grants from the NIAID Institute of the National Institutes of Health, DARPA, and by the Bill and Melinda Gates Foundation.
Education
PhD (Imperial College, London University)
Biography/Professional Experience
Dr. Russell assumed his position as Professor and Chair of the Department of Microbiology and Immunology in July 2000.  He stepped down from his Chair's position in 2010 and now concentrates on his research work. His previous experience was as professor in the Department of Molecular Microbiology at Washington University School of Medicine, in St. Louis, where he had worked since 1990. He received a B.Sc. degree in Zoology from St. Andrews University in Scotland in 1979 and was awarded a Ph.D. from Imperial College, London University in 1982. He has held positions at the University of Kent, the Max-Planck-Institute in Tuebingen, and NYU School of Medicine prior to moving to St. Louis. His research program continues to be supported by funding from the National Institutes of Health for research into the biology of Mycobacterium and the role of the macrophage in infection. 
Publications
Gludish, D.W., Boliar, S., Caldwell, S., Tembo, D.L., Chimbayo, E., Jambo, K.C., Mwandumba, H,C., and Russell, D.G. (2020). TZM-gfp cells: a tractable fluorescent tool for analysis of rare and early HIV-1 infection.  Scientific Reports. 10: 19900. PMCID: PMC7670428
Pisu, D., Huang, L., Lee, B.N.R., Grenier, J.K., and Russell, D.G. (2020) Dual RNA-sequencing of Mycobacterium tuberculosis-infected cells from a murine infection model. Cell Star Protocols.  DOI: 10.1016/j.xpro.2020.100123
Pisu, D., Huang, L. Grenier, J.K., and Russell, D.G. (2020) Dual RNA-seq analysis of Mycobacterium tuberculosis-infected lung macrophages in vivo reveals ontologically-distinct host-pathogen interactions. Cell Reports. 30: 335-350. PMCID: PMC7032562
Boliar S, Gludish DW, Jambo KC, Kamng'ona R, Mvaya L, Mwandumba HC, Russell DG. (2019). Inhibition of the lncRNA SAF drives activation of apoptotic effector caspases in HIV-1 infected human macrophages.  Proc. Natl. Acad. Sci. USA.  116: 7431-7438. PMCID: PMC6462110
Russell, D.G., Huang, L., and VanderVen, B.C. (2019) Immunometabolism at the interface between macrophages and pathogens. Nature Reviews Immunology. 19: 291- 304. PMCID: PMC7032560
Huang L, Nazarova EV, Tan D, Liu Y, Russell DG. (2018). Growth of Mycobacterium tuberculosis in vivo segregates with host macrophage metabolism and ontogeny.  J Exp Med.  215(4): 1135-1152. PMCID: PMC5881470
Awards and Honors
Burroughs Wellcome Scholar Award for Molecular Parasitology 1994.  
American Society For Microbiology Foundation Lecturer, 1999.
Elected Fellow of the American Association for Advancement of Sciences (AAAS), 2007.
Chair, "Mycobacteriology" Division U.  American Society For Microbiology. 2009.
Appointed William Kaplan Professor of Infection Biology at Cornell University, 2011.
Honorary Professor of Immunology, Biomedical Sciences, College of Medicine, Malawi, 2016.
Professional/Academic Affiliations
Dr. Russell is a member of the following Graduate Fields: