Allergies in Pets Infographic - Just Released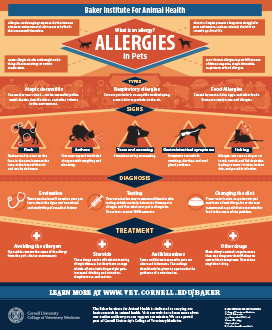 Just like in humans, allergies can have a dramatic impact on the quality of life of our pets. As a service to pet owners, we've developed an Allergies in Pets infographic that includes:
Information on the types of allergic disease pets typically suffer from,
Common signs of allergic disease,
Information about diagnosing and testing for allergies, and
Basic information on treatment options.
 
Print version for Clinic Memorial Program participants
We've also provided poster size printed versions of the infographic to veterinary clinics that participate in our Clinic Memorial Giving Program. Learn how your clinic can join the program and receive the Allergies in Pets infographic and other infographic posters we're currently developing.
Please take a moment to fill out a brief survey, we're always looking for new topics for our infographic series, and we'd love to hear from  you.