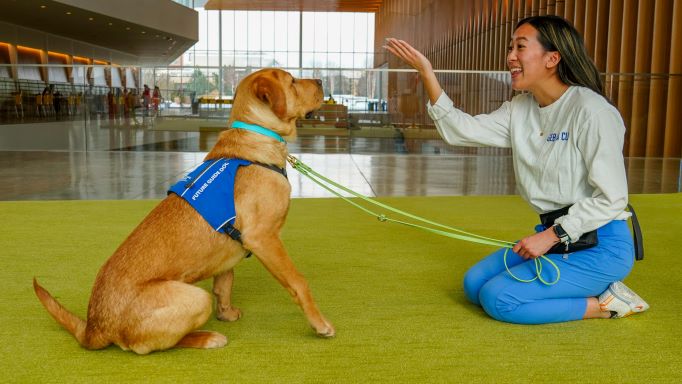 Thanks to a new $12.1 million gift from the Dave & Cheryl Duffield Foundation, the College of Veterinary Medicine is launching a new institute focused on companion animal behavior that will serve as a one-of-a-kind resource for veterinarians and pet owners nationwide.
The Duffield Institute for Animal Behavior will build on the college's globally recognized academic, research, clinical and outreach programs to advance understanding of animal behavior and well-being – with the ultimate goal of improving the lives of companion animals and their caretakers.
In addition to endowing the Duffield Institute, the Duffield Foundation will create the Dave & Cheryl Duffield Professorship to provide critical leadership for its work. The foundation will also support the creation of a summer program for service-dog trainers that will establish and share best practices in the training and care of service dogs, to help address the nationwide shortage of both trainers and dogs to assist veterans and others in need. Finally, the Duffield Institute endowment will provide for faculty leadership, clinical residencies and research gifts for discoveries related to animal behavior.
Behavioral issues are a leading cause of U.S. pet owners relinquishing their dogs and cats to animal shelters. The new Duffield Institute for Animal Behavior will serve as a trusted resource for veterinarians, service dog organizations and pet owners through furthering the study, diagnosis, prevention and treatment of behavior disorders in companion and service animals through teaching, research, service and outreach.