Anatomic/Laboratory Animal/Zoo Pathology Residency
To view a guided video tour of the Anatomic and Clinical Pathology Facilities at Cornell University's College of Veterinary Medicine, please watch the video below:

Cornell has one of the oldest pathology training programs in the country. Cornell trained pathologists can be found working in academia, industry, the government, and diagnostic labs throughout the world. Training consists of an intense 3 year course of study designed to prepare competitively selected veterinarians for careers in veterinary diagnostic pathology, industrial and pharmaceutical pathology, comparative pathology, or to provide a foundation for graduate studies leading to a career in biomedical research.
The training consists of rotational exposure to extensive case material available through the necropsy and surgical pathology services. The caseload consists of a variety of species including food and fiber animals, horses, dogs and cats, exotics, lab animals and wildlife. The service sees over 10,000 surgical biopsies and 1,400 necropsies per year. Cases include a wide variety of domestic small and large animals, exotics, wildlife and lab animals. Through interaction with the faculty, listed on the Anatomic Pathology page, the trainee develops skills in recognition and description of lesions, formulation of morphologic diagnoses, correlation of functional changes with tissue structural alterations, and an understanding of the pathogenesis of lesions, thus cultivating a sound conceptual approach to understanding the pathologic expression of a wide variety of disease processes in common animal species.
This training schedule is supplemented by slide seminars, lectures, rounds, diagnostic journal clubs, and research projects.
View information about applying to the Residency Program in Pathology in Anatomic Pathology.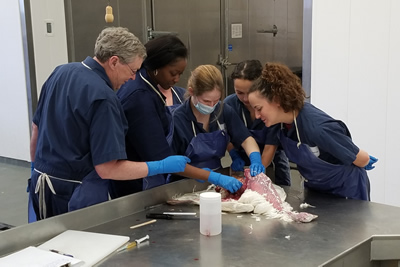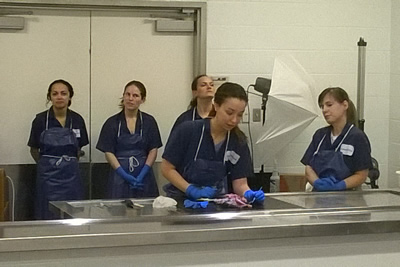 Minimum Living and Housing Costs
The Office of Global Learning (OGL) has determined that living expenses in Ithaca for one Graduate student for 12 months is estimated at $34,086 ($2,840.50 per month). This calculation does take into consideration the yearly cost of one year's health insurance at $3,912 which would vary depending on selected plans. Additional family expenses for 12 months are as follows: $13,674 ($1,139.50 per month) for a spouse and $8,562 ($713.50 per month) for the first child plus $3,450 per each additional child. For more information and calculation breakdowns, please consult the OGL website. For further information contact Pilar Thompson (pav37@cornell.edu).
Location
Ithaca, New York, home of Cornell University, is located in the heart of the Finger Lakes region at the southern tip of Cayuga Lake, about 250 miles from New York City. The spectacular natural beauty of this area is characterized by gorges, valleys, lakes streams, waterfalls, and rolling farmland.
The University
An internationally known research university, Cornell has seven undergraduate colleges; a graduate school; professional-degree schools in business management, medicine, law, and veterinary medicine; and affiliated faculty units. Founded in 1865, Cornell is the youngest member of the Ivy League and is New York State's land-grant institution. Cornell faculty members are leaders in their fields, and many have been honored as Nobel laureates, Pulitzer Prize winners, and members of the National Academy of Sciences. Cornell awarded the nation's first university degree in veterinary medicine. According to information compiled by Cornell's Institutional Research & Planning office, there were approximately 14,566 undergraduates and 7,753 graduate and professional students enrolled at Cornell in October of 2016.
Cornell University is an Affirmative Action/Equal Opportunity Employer and Educator.