Development News
Give a Little, Get a Lot: The Clinic Memorial Program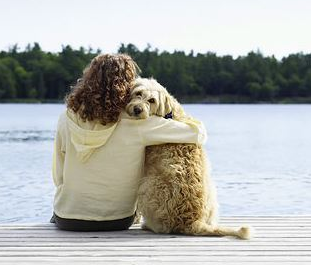 Join a growing number of alumni and referring veterinarians who are giving to the Clinic Memorial Program at the College, which both sends a warm and personal message to grieving clients and also supports the College, the Baker Institute for Animal Health and/or the Feline Health Center (FHC).  The process is simple: just send us the address and name of your client and their beloved pet, along with a small donation ($10-$15 per pet), and we send a heartfelt letter to your client.
Clinics often give to FHC in memory of cats and to Baker or  the CVM in memory of dogs and other animals. These donations are tax deductible for your practice.
Dr. Brett Tillou, owner of Tillou Veterinary Hospital in Hamburg, NY, joined the program a little over a year ago, and cannot say enough about it. He has been overwhelmed by the positive response from clients, and receives a hand-written note of appreciation at least once a week. His practice did not send sympathy cards, and after hearing about this program at an CVM Alumni Association Executive Board meeting, he soon began making memorial gifts online using the link below. He has never regretted it, and sees it as a way to simultaneously let his clients know he cares, and to support the College that gave him the start in the profession he so loves. He also appreciates the way we at the College take the burden from his practice manager by sending letters to his clients on his behalf.
In turn, the College often receives support from those and other clinics' clients, who learn about our work through this connection. A very large proportion of the philanthropic support the College receives every year comes from non-alumni "friends"; many of them clients of vets who make memorial gifts for their pets. These donors may never step foot on our campus, but they love animals and their veterinarians, and they believe in the mission and work of the Baker Institute, the Feline Health Center, or the College. This program is a vital way to introduce those friends to Cornell.
There's more information here, as well as the links you can use to begin making your gifts. 
https://www2.vet.cornell.edu/giving/clinic-memorial-giving-program
Please contact Sheila Reakes, Director, Annual Giving, at 607-253-4310, or smr45@cornell.edu to learn more.
Share this: