Daniel Paushter , DVM, Ph.D.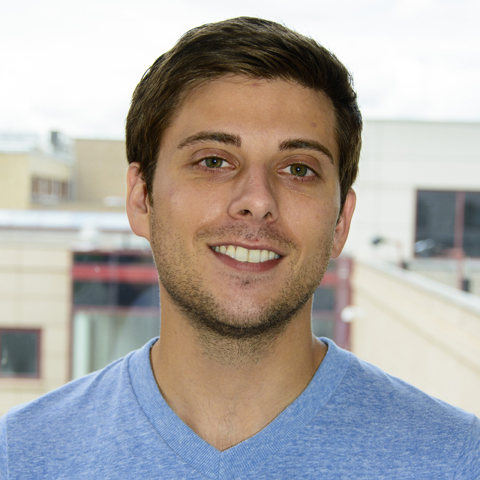 Daniel Paushter

Faculty Mentor: Dr. Fenghua Hu
Current Position: Staff Scientist at Fred Hutchinson Cancer Research Center

Brief Biography
Daniel grew up outside Chicago and attended the University of Illinois at Urbana-Champaign. With the many reptiles, amphibians, and small mammals that he kept, it was no surprise when he decided on a career in veterinary medicine. Clinically, he is interested in small animal, exotics, and wildlife medicine. In the lab, Daniel is interested in understanding the molecular mechanisms of human neurodegeneration. His current research focuses on the relationship between the protein, progranulin, and the diseases, frontotemporal lobar degeneration (FTLD) and neuronal ceroid lipofuscinosis (NCL).
Education
DVM, Veterinary Medicine, Cornell University, 2020
Ph.D., Comparative Biomedical Sciences, Cornell University, 2018
B.S.  in Psychology, University of Illinois - Urbana 2008

Publications
Sullivan PM, Zhou X, Robins AM, Paushter DH, Kim D, Smolka MB, Hu F. The ALS/FTLD associated protein C9orf72 associates with SMCR8 and WDR41 to regulate the autophagy-lysosome pathway. Acta Neuropathol Commun. 2016 May 18;4(1):51. doi: 10.1186/s40478-016-0324-5.
Wang Y, Danielson K, Ropski A, Harvat T, Barbaro B, Paushter D, Qi M, Oberholzer J. Systematic analysis of donor and isolation factor's impact on human islet yield and size distribution. Cell Transplant. 2013;22(12):2323-33.
Paushter DH, Qi M, Danielson K, Harvat T, Kinzer K, Barbaro B, Patel S, Hassan S, Oberholzer J, Wang Y. Histidine-tryptophan-ketoglutarate and university of wisconsin solution demonstrate equal effectiveness in the preservation of human pancreata intended for islet isolation: A large-scale, single-center experience. Cell Transplant. 2013;22(7):1113-21.
Wang Y, Mendoz-Elias J, Harvat T, Ahn S, Lee D, Jeon H, Paushter D, Oberholzer J. Implication of mitochondrial cytoprotection in human islet isolation and transplantation. Biochem Res. Int. 2012;2012:395974.
Qi M, Lacik I, Kolláriková G, Strand B, Formo K, Wang Y, Marchese E, Mendoza-Elias J, Kinzer K, Gatti F, Paushter D, Patel S, Oberholzer J. A recommended laparoscopic procedure for implantation of microcapsules in the peritoneal cavity of non-human primates. J Surg Res. 2011;168(1):e117-23.
Wang Y, Paushter D, Wang S, Barbaro B, Harvat T, Danielson D, Kinzer K, Zhang L, Qi M, Oberholzer M. Highly purified versus filtered crude collagenase: comparable human islet isolation outcomes. Cell Transplant. 2011;20:1817-1825.
Oral Presentations
Mele A, Patel S, Paushter D, Mertelotto J, George L, Smith D, Benedetti E, Oberholzer J. Extended daclizumab and sirolimus withdrawal in long-term islet transplant recipients. American Transplant Congress; 2010.
Wang Y, Vega R, Harvat T, Adewola A, Lee D, Paushter D, Patel S, Oberholzer J. The development of gold nanoparticles as a functional delivery system for islet transplant. Nanoparticles; 2010.

Scientific Posters
Paushter D, Qi M, Danielson K, Patel S, Hansen M, Wang Y. A large-scale, retrospective analysis of the efficacy of histidine-tryptophan-ketoglutarate versus university of wisconsin solution in the prevention of cellular edema. American Transplant Congress; 2011.
Qi M, Lacik I, Strand B, Wang S, Wang Y, Formo K, Kolláriková G, Paushter D, Patel S, Mele A, Gatti F, Marchese E, Barbaro B, Braek S, Hunkeler D, Oberholzer J. Prevention of aggregation of microencapsulated pancreatic islets in the peritoneal cavity of non-human primates by laparoscopic implantation and use of pmcg. University of Illinois at Chicago Poster Exhibit; 2009.