Open House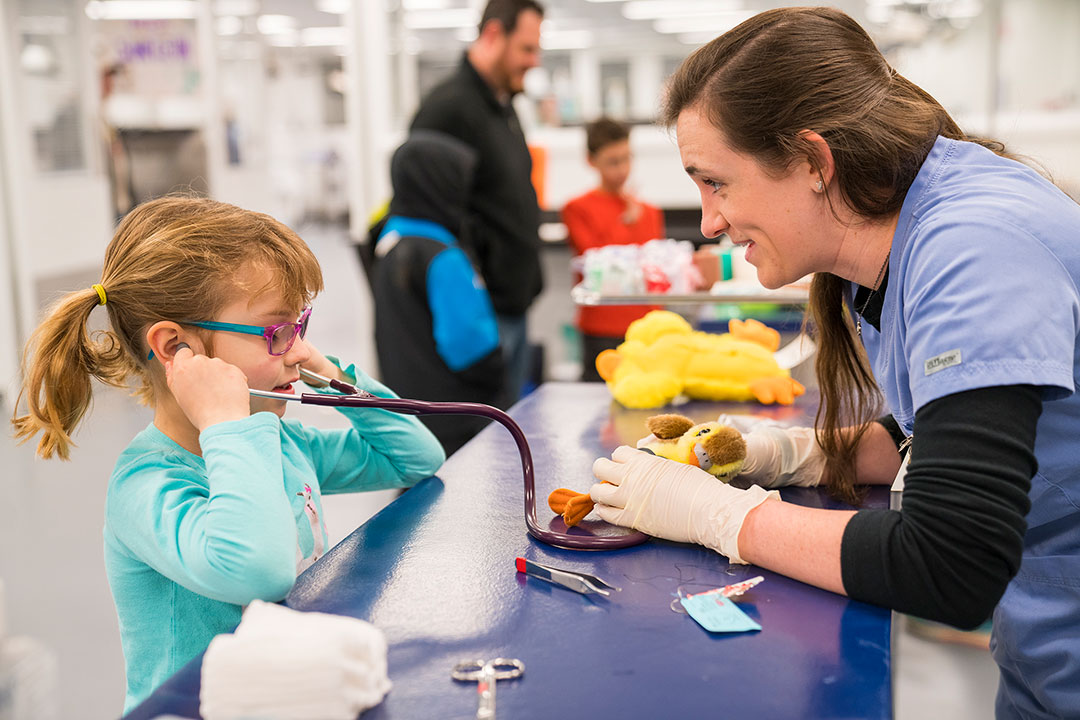 Cornell University College of Veterinary Medicine's Open House 
April 15, 2023
Doors open to the public from 10 a.m. - 4 p.m.
Open House is our opportunity to share the joys of our profession with the community. Veterinary students and members of the faculty and staff host this annual event that provides a chance for those interested to get a closer look at veterinary medicine. We invite you to tour our college and learn more about our facilities, our equipment and what we do every day.
Students, faculty members and staff will be on hand to answer your questions about a career as a veterinarian, a veterinary technician or an animal care specialist. Careers in veterinary medicine have traditionally involved working with dogs, cats, cows, horses, sheep and pigs. However, this rapidly growing field also provides opportunities to work in the animal health industry, government, armed forces and with many other species in zoos, wildlife refuges and developing countries.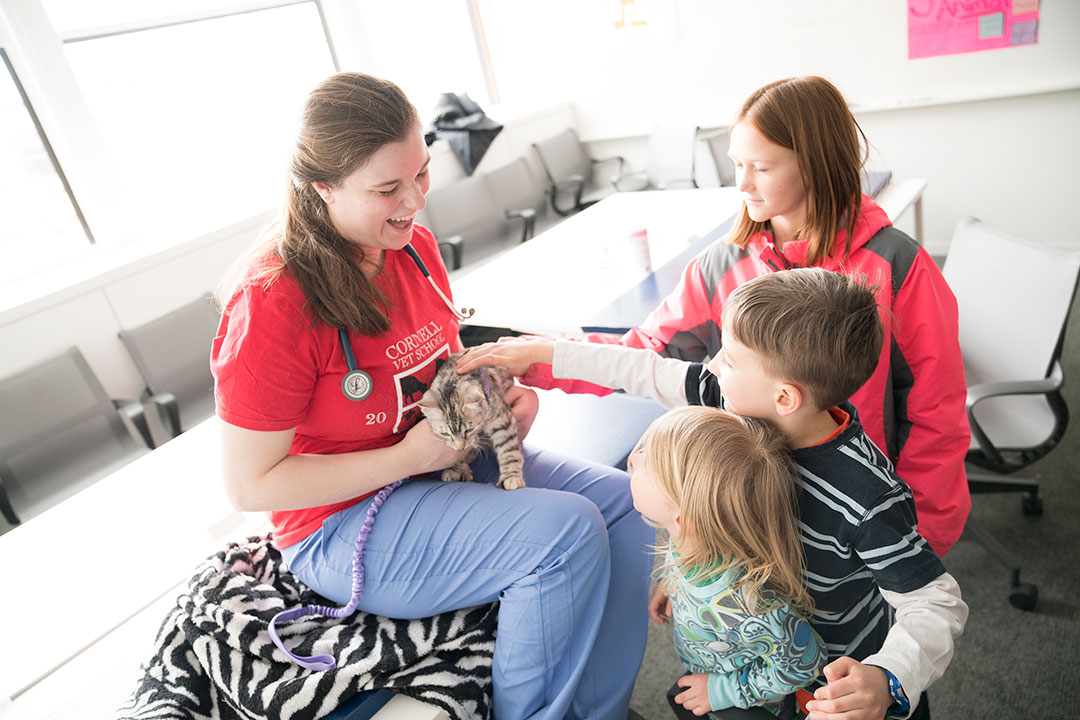 Please note: Personal pets are NOT allowed at Open House. Admission to the event is free. Donations are welcome! Registration is not required.
Schedule of Activities 
Events, Demos and Tours 2023 (Times to be determined)
K9 Officer Demonstration: See our canine police officers in action - first come, first serve!
Ithaca Dog Sports Club Canine Agility Demonstration: Watch canine athletes run through an obstacle course and learn more about this fun owner-dog team sport - first come, first serve! 
Raptor Flight Demo: The Raptor Program will give their annual talk on our birds and get to meet them firsthand.  
Teaching Dairy Barn tours every half hour. Tours are approximately 50 minutes.
Virtual Hospital and Animal Health Diagnostic Center tours
Ultrasound demos throughout the day
Canine water treadmill demo: throughout the day 
Equine treadmill demo: throughout the day
MRC Tours: Get a sneak peek of the models the veterinary students use
Lecture Schedule 2023
Admissions Information and Veterinary Career Sessions
For those interested in applying to the Cornell University College of Veterinary Medicine, as well as for those who just want to know more about veterinary education and careers in veterinary medicine, there will be admissions and veterinary career information sessions throughout the day:
Admission Presentations and Student Panels
In LH4 with Jennifer Mailey, Director of Admissions 
(get there early as it fills up fast) 
Toxicology 
In LH1
Poultry 
In LH2
Dentistry 
In LH2
Beekeeping
In LH2
Shelter Medicine 
In LH1
Interactive/Educational Exhibits 2023
We will have a wide range of exhibits for you to enjoy, many back by popular demand!
Acupuncture
Dentistry - learn about tooth health in your dogs and cats
Cardiology - learn all about animal CPR with our lifelike animal models 
Canine Water Treadmill - watch a dog use a water-filled treadmill and learn about rehabilitation
Imaging (ultrasound and radiology) - see the inside like the veterinarians do! Discover more about the anatomy of your pets
Pathology Club's Gross Science - all kinds of weird, creepy and downright nifty specimens
Small Animal Physical Exam - get your hands on a pup or a cat and learn how the veterinarians do it
Camelids - meet a camel
Equine treadmill - see a HORSE. On a TREADMILL. See a demonstration of our state-of-the-art performance treadmill used to study orthopedic and cardiovascular diseases of horses
Painted horse - get a beautiful image of a horse's insides
Milking cow - learn how to milk a cow
Hole-y cow - Blossom, our famous fistulated cow, will once again be showing off her rumen! Learn how cows digest their food
Petting zoo - come and meet a variety of farmyard friends
Pocket pets - chinchillas and rats can be awful sweet, come see
Herptiles - snakes and lizards to meet
Wildlife health - identify skulls, learn how to wrap an injured wing, dart a wild beast and learn about our Wildlife Health Center
Dress like a surgeon - get on all the gear you'll need for your future
Teddy Bear ER - got a busted bear? Let the Cornell Vet Students fix it up. Vet Students will surgically repair your wounded stuffed animals* with TLC.
*PLEASE BRING YOUR OWN INJURED STUFFED ANIMAL FOR TEDDY BEAR ER. WE ARE UNABLE TO PROVIDE YOU WITH STUFFED ANIMALS FOR SURGERY.
Face painting - Get your face painted with your favorite animal ($1.00 minimum donation)
Watch as our expert farrier fabricate horse shoes throughout the day
Booths 2023
Local Non-Profits - These groups are animal shelters and other animal-focused organizations within our community. Many bring animals along with them, and they're all ready to answer questions and fill you in on what they do!
Cornell Companions
Cornell Herpetological Society
Finger Lakes Adopt-A-Grey
Golden Retriever Rescue of CNY
Guiding Eyes for the Blind 
House Rabbit Society
Humane Society of Schuyler County
Oxbow Animal Health 
Purpose Farm
SPCA of Tompkins County
Southside Healthy Pet Clinic
Standardbred Retirement Foundation
Tompkins County Dairy Princess
Corporate Sponsors, Government Agencies, Technician Schools - Come learn about some of the other aspects of animal health, from public health with the Health Department, to how to become a veterinary technician. We'll also have a few sponsors with information on their pet products!
Royal Canin
The Farmer's Dog
Purina
Banfield
Hill's
IDEXX Laboratories
Boehringer Ingelheim
Nutramax Laboratories, Inc. 
Blue Pearl
Blue Buffalo
HyTec
Trupanion
Other features
Annual SAVMA Sale of Cornell Apparel
The Cornell Dairy Bar, just a 5 minute walk from the veterinary school, sells an array of food items including sandwiches, snacks, and Cornell's very own ice cream! Just follow the signs placed outside of the vet school to find the dairy bar.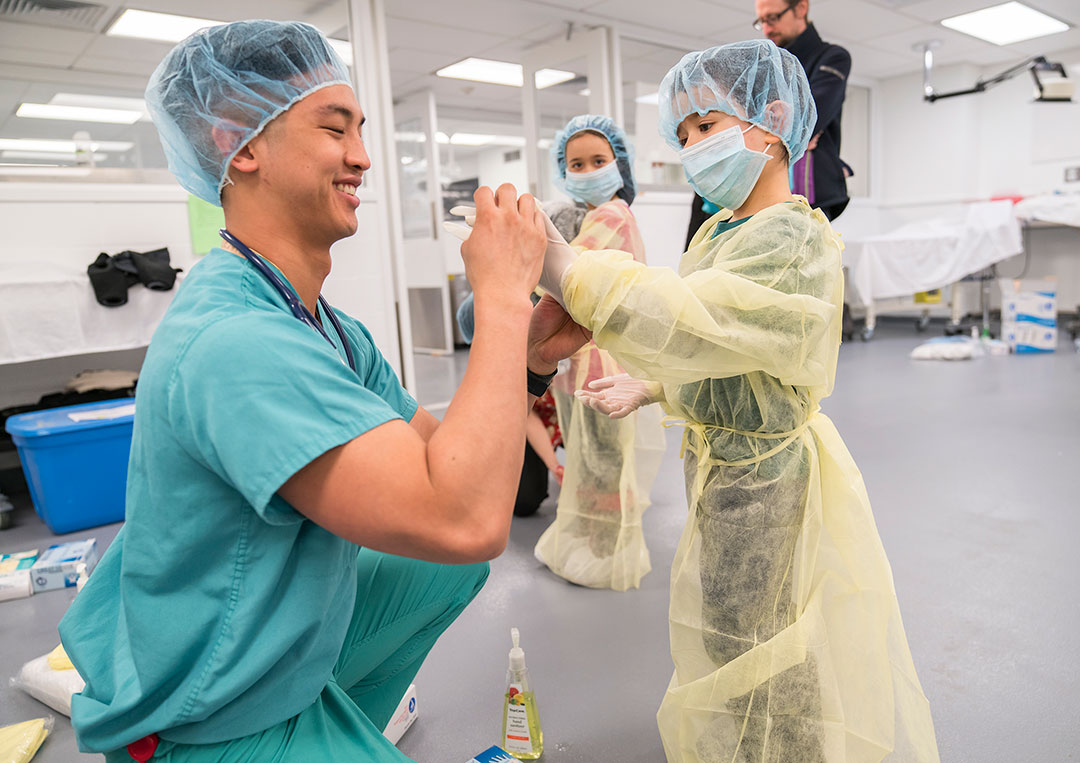 Directions
Our doors will open at 10 am. Open House lasts until 4 pm. Parking and admission are free. Donations are accepted.
For your GPS use: 930 Campus Road, Ithaca, NY 14853
The Cornell University College of Veterinary Medicine is at the intersection of Route 366 and Tower Road in Ithaca, New York. Open House visitors should park in the large "O" parking lot just off Tower Road and enter the college through the Veterinary Medical Center Public Entrance. The doors are under the open house banner in the Veterinary Education Center.
From the north: Take Route 34 South to Route 13 South to Ithaca; turn onto Buffalo Street; turn right onto Albany Street; turn left onto Green Street; turn left onto Route 366; at the Y intersection, bear right; turn left on to Tower Road across from Cornell Orchards.
From the northeast: Take Route 13 South toward Ithaca; turn left onto Route 366 (by NYSEG); turn right onto Tower Road across from Cornell Orchards.
From the south: Take Route 13 North to Ithaca; turn right onto Green Street; turn left onto Route 366; at the Y intersection, bear right; turn left on to Tower Road across from Cornell Orchards.
From the east: Take Route 79 West to Ithaca; turn right onto Pine Tree Road; continue until 4-way stop sign; turn right onto Route 366; turn left on to Tower Road across from Cornell Orchards.
From the west: Take Route 79 East, Route 96 South, or Route 89 South to Ithaca; after you cross the inlet bridge, turn right onto Fulton (one-way street); at the Route 13/Meadow Street intersection, continue straight across onto Clinton Street; turn left onto Albany Street; turn right onto Green Street; Green Street turns into State Street and continues to be Route 79 East; continue up State Street; bear left onto Mitchell Street; bear left onto Ithaca Street; turn right onto Route 366; turn left onto Tower Road across from Cornell Orchards.
For more information
Contact the Office of Student and Academic Services
Phone: 607-253-3700
Email: vet_sas@cornell.edu