Curriculum
Our innovative program provides all students with a broad biomedical and clinical foundation in the comparative aspects of each discipline.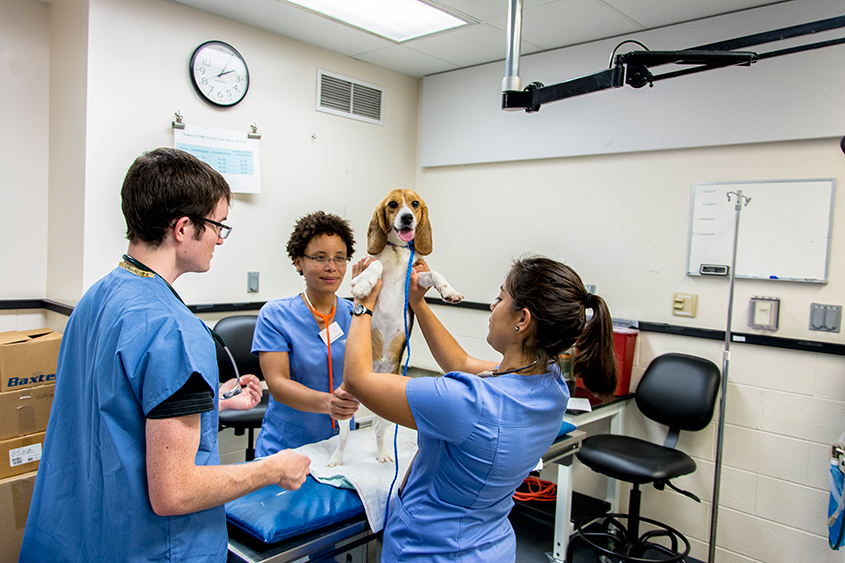 The veterinary curriculum is presented in a variety of formats that include small- and large-group exercises, lectures, laboratory exercises, and discussion.
 It allows students to develop clinical skills, and work with live animals beginning in the first week. Students have ample opportunities to pursue individual interests in depth, and to tailor their learning to meet specific needs.
Cooperation is stressed over competition, and learning for understanding is emphasized over rote memorization. Students are viewed as future colleagues, and are encouraged to consult often with faculty experts and to explore a range of educational resources.
Faculty members work together to offer the interdisciplinary Foundation courses that comprise the majority (70%) of the veterinary curriculum. Frequent interactions between faculty and students create a rich educational environment that is stimulating and intellectually vibrant.
Employment
Cornell students are highly successful in securing employment, and most accept offers prior to graduating.
The average percentage of students in the past five years who had accepted employment at the time of graduation is 94%.
While long-term career goals vary, most of our students enter clinical practice immediately following graduation, either through an internship, residency, or private practice experience.
Some of our graduates pursue doctoral degrees, some enter military service, and some accept positions in private industry or with the federal government.
National Boards (NAVLE)
Licensing
The national licensing examination for veterinary medicine is the North American Veterinary Licensing Examination, or NAVLE. Historically, Cornell students have performed very well on this exam, and they continue to pass at a high rate. Results for the past five years for Cornell students at the time of graduation are below:
Pass rates for licensing based on Cornell class years

| Year | Cornell Pass Rate |
| --- | --- |
| Class of 2022 | 97% |
| Class of 2021 | 98% |
| Class of 2020 | 97% |
| Class of 2019 | 98% |
| Class of 2018 | 100% |
Accreditation
The College of Veterinary Medicine is fully accredited by the American Veterinary Medical Association's Council on Education.The next scheduled accreditation review will be in 2024.