SynDaver Surgical Training Models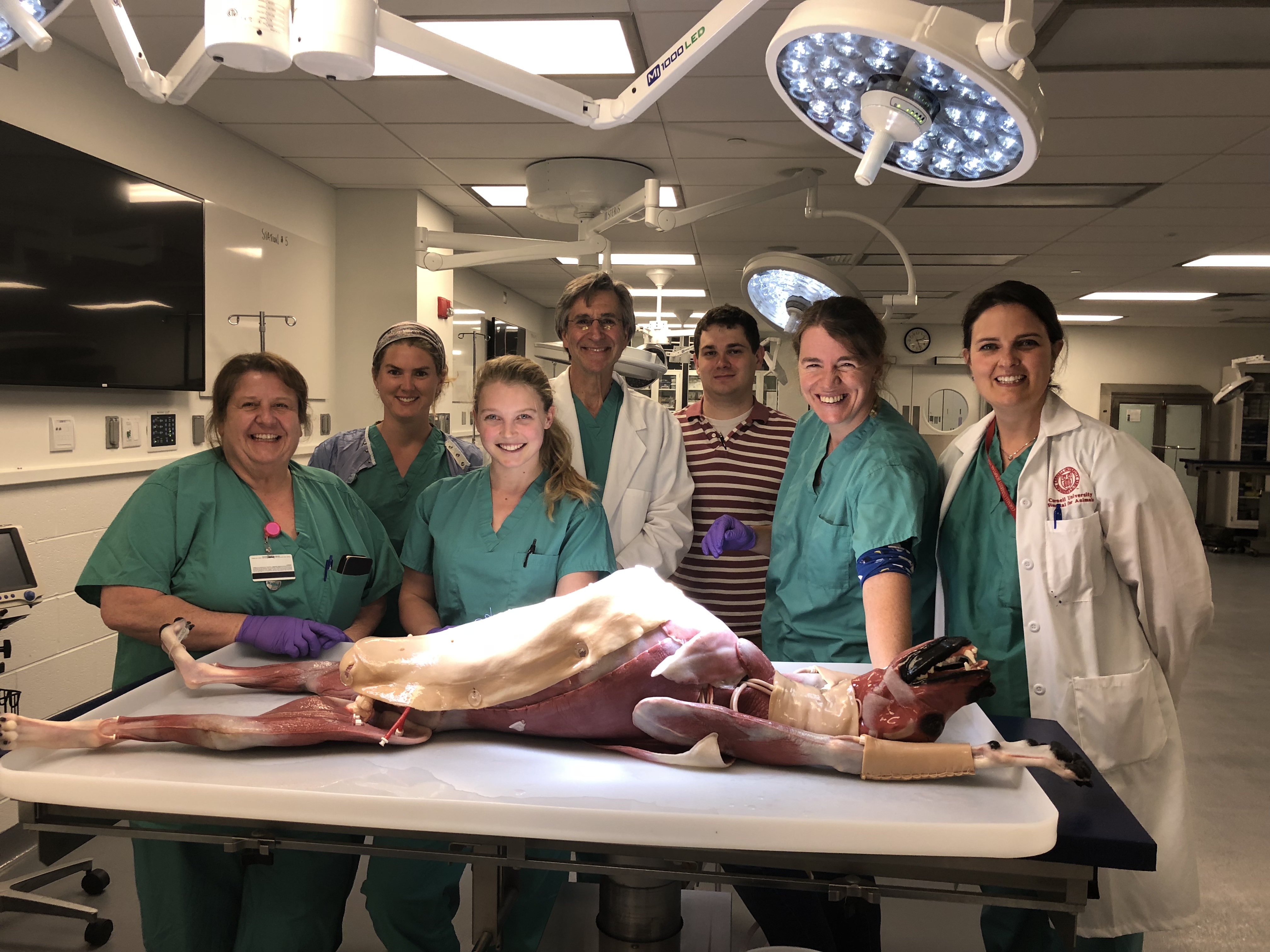 "Dr. Galina Hayes and her colleagues at the Cornell University Hospital for Animals use a team-based approach to integrate the SynDaver training experience within the Soft Tissue Surgery rotation."
Project Overview
SynDaver canine models are high fidelity surgical simulators that provide a realistic and tactile training experience; under the direct supervision of boarded surgeons and senior surgical residents, students perform surgeries and receive individualized feedback to hone their technique. In 2018, the Soft Tissue Surgery Section began using SynDaver Surgical Training Models to teach students surgical competency.  This project, led by Dr. Galina Hayes, was born out of a need to produce practice-ready veterinarians who are capable and confident performing common general practice level abdominal procedures such as gastrotomies, gastropexies, enterotomies, intestinal resection and anastomoses, cystotomies, and retrieving and ligating dropped and hemorrhaging ovarian pedicles.
To ensure students learn as much as possible from the hands-on component, the ESS team worked with Dr. Hayes to produce a series of narrated videos showing each procedure, with close-up shots detailing each step.  Students access the videos as well as extensive notes and learning materials within the learning management system as part of their soft-tissue surgery rotation.
Faculty Vision
This innovative educational experience has been fully integrated into the DVM Curriculum and provides students ongoing opportunities to learn and practice basic abdominal procedures.  The hands-on SynDaver lab runs every week and the learning materials are available to students throughout their fourth year and into their early career years.
"Good surgeons are not born that way- they acquire their skill in an iterative process of error and revision. Learning can not progress without error, and surgical trainees make mistakes just like trainees in any other field. However, surgical errors in a live patient setting can have severe consequences both for the patient and for trainee confidence. This lab is groundbreaking in that it maintains the veracity of the surgical environment while allowing us to transfer those errors to a simulator. The result is that practitioners are starting their surgical careers with the steep part of their learning curves already behind them."
-  Galina M. Hayes, BVSc, MRCVS, PhD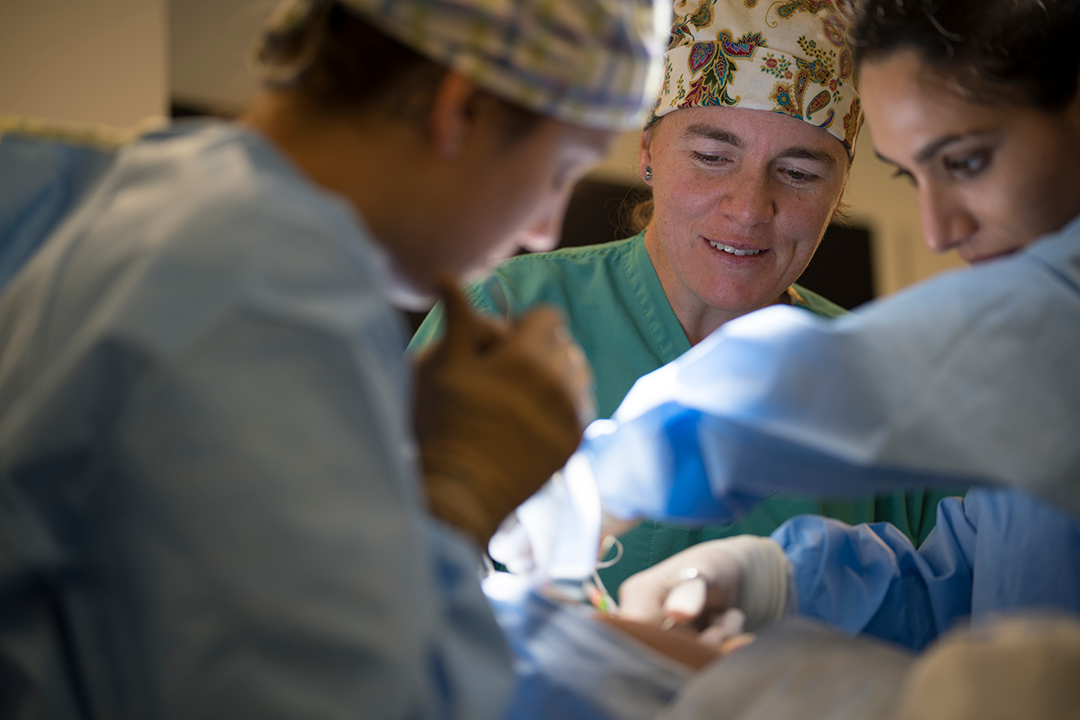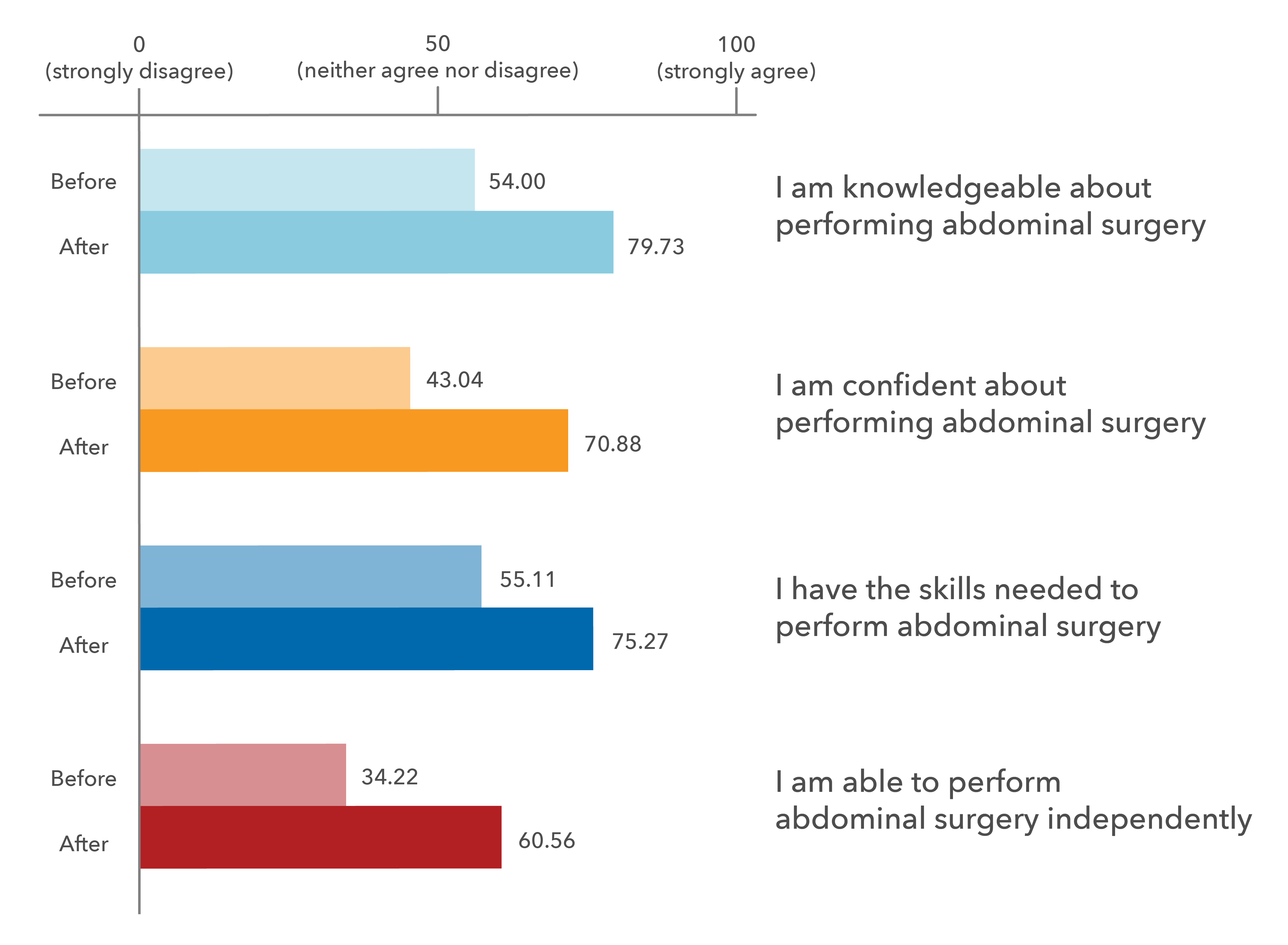 Student Results
The SynDaver models are improving student confidence. Students are asked to rate their degree of agreement with four statements measuring self-efficacy both one week prior to the start of their Small Animal Surgery rotation and again upon completion.
Student Reflections
"Such a great tool. I can't imagine going out into practice without having this lab."
"One of the most valuable teaching methods I have experienced here or elsewhere."
"I really like the simulator. It gave us the opportunity to practice procedures that we would likely not ever have performed before leaving vet school. I think it is a very valuable tool."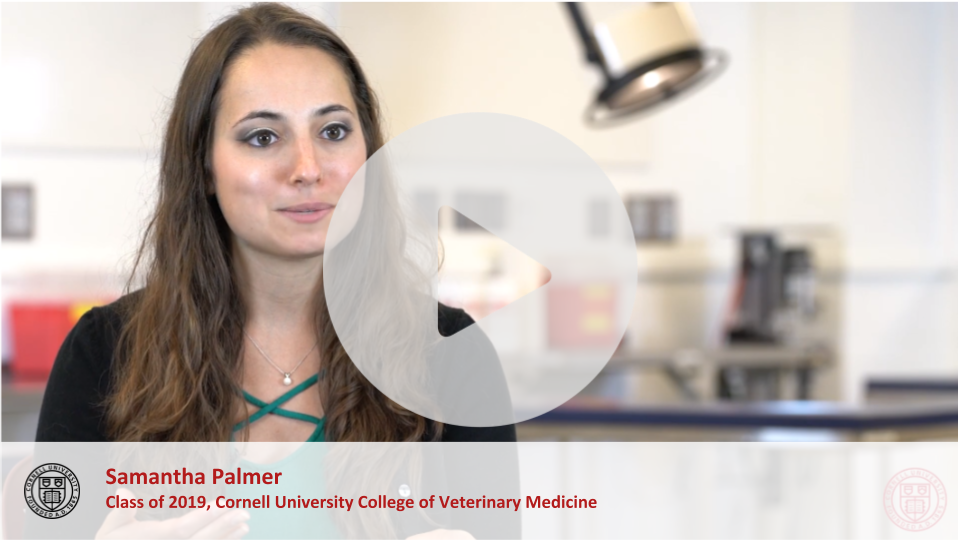 View Samantha's Student Reflection video 

"Zip Rivas inspired the donation to purchase the first SynDaver"
Project Support
Projects like this would not be possible without early private support from our most generous and loyal friends and alumni who seek to improve the tools for teaching the next generations of skilled veterinarians.
David '80 and Joyce Rivas were early supporters of Dr. Hayes and her vision. Their border collie named Zip is a very active agility competitor, so when it was time for her spay, they chose Cornell. When they learned about the SynDaver program, they were anxious to help and provided the seed funding for the first synthetic canine which they appropriately named after Zip.
When board-certified surgeon and alumnus Tom Scavelli DVM '82 heard of the SynDaver program, he too was an early supporter, as he sees first-hand how early surgical training builds confidence in veterinary students. Dr. Scavelli recruits Cornell-trained students and residents to Garden State Veterinary Specialists and sees the benefits that the skills and confidence gained from these types of innovative tools and training can have on their careers.
The program is in need of additional SynDaver trainers as well as annual organ replacement for existing trainers. Investments of all sizes can be made to the program. Contact Amy Robinson at amy.robinson@cornell.edu or 607.253.3742 for more information.
This investment will have a tremendous impact on the confidence and surgical skills of Cornell's students.
Additional Applications
With the successful addition of SynDaver models to the DVM curriculum, we are exploring other ways that they may be used to improve veterinarians' surgical skills and quality of care. Look for General Abdominal Surgical Skills as well as Advanced Abdominal Surgical Skills Syndaver Laboratories at upcoming continuing education events.