Food for all: International organizations and the transformation of agriculture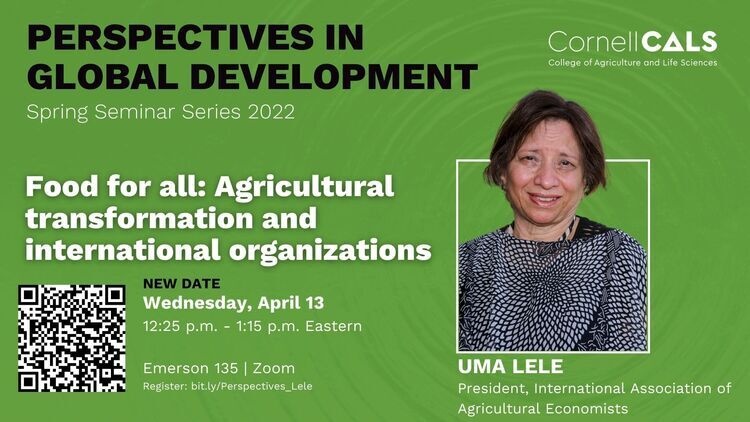 Wednesday, April 13, 2022 - 12:25pm
Perspectives in Global Development Seminar
Speaker: Uma Lele, president of the International Association of Agricultural Economists (IAAE)
Note: The original seminar date has change. The seminar will now be held April 13 
Location: Emerson 135 and Zoom
 
The Sustainable Development Goals are off track. The prospects of the SDGs being realized by 2030 are bleak. The rapid pace of consistent decline in poverty and hunger until 2015 had slowed even before COVID-19. Often overlooked is the fact that much of that reduction in poverty and hunger occurred in China and Southeast Asia. A once-in-a-century global tragedy, COVID has been particularly hard on the world's poor, compounded by severe impacts of climate change. collectively their resources are now miniscule compared to the trillions of dollars needed annually in investments to achieve transformational change in food and agriculture to reduce poverty and hunger. While developing-countries' own resources are increasingly important, they are also nowhere near sufficient for such transformational change. In her talk Uma Lele will identify transformative changes needed at multiple levels to achieve the worthy goal of healthy  food for all.
About the speaker
Uma Lele was the first woman to be awarded a PhD in Applied Economics by Cornell University, at age 24. She has decades of experience in research, operations, policy analysis, and evaluation. A significant part of her experience was acquired in developing regions, from a base at the World Bank, as well as in US universities and other international organizations. Currently she is affiliated with the Institute of Economic Growth, University of Delhi, India. Since August 31, 2021, she is President of the International Association of Agricultural Economists (IAAE). The first woman to be elected to this position in IAAE's 92-year history, she was responsible for planning the first-ever, all virtual 31st International Conference of Agricultural Economists held August 17 and August 31, 2021.
Her co-authored book, Food for All: International Organizations and the Transformation of Agriculture, was published by Oxford University Press in October 2021.  She served on the Science Advisory Committee of the UN Food Systems Summit. She has published extensively on agriculture and rural development, including independent evaluation reports from the World Bank, contributing well over 130 book chapters, papers, articles, and other writings on food and agriculture, the environment, public health, science and technology, aid and finance, and evaluation in Asia, Africa, and Latin America. In 2016, she co-chaired an inter-agency Food Security Information Network (FSIN) report with Professor William Masters on Measuring Food and Nutrition Security, and in 2000–2002, she co-chaired (with Professor Shen Gao Fang of the Chinese Academy of Engineering)  the Task Force on Forests and Grasslands in the Development of the West, commissioned by the China Council for International Cooperation on Environment and Development (CCICED).
Her honors include: Fellow of India's National Academy of Agricultural Sciences (NAAS); American Agricultural & Applied Economic Association (AAEA, 1999); a Distinguished Alumnus of Cornell University (2008); Lifetime Achievement Award of the Indian Society of Agricultural Economics (ISAE 2017); "Honorary Life Member" of the International Association of Agricultural Economists (IAAE);  B. P. Pal Award (2015–2016) of India's National Academy of Agricultural Sciences; the M. S. Swaminathan Award of the Trust for the Advancement of Agricultural Sciences, India (2017); the Clifton Wharton Award (Emerging Markets Program, Cornell University, 2018); Honorary Fellow by the African Association of Agricultural Economists in 2019; and an honorary Doctor of Agricultural Sciences at Stellenbosch University in South Africa, as "the leading rural development scholar of her generation."
She has established three Mentorship Programs at the Agricultural & Applied Economic Association (AAEA) for students from developing countries, and an award for Best Research on Gender at the International Association of Agricultural Economists (IAAE). At the IAEA, she is actively promoting women in the agricultural economics profession and expanding opportunities for their professional advancement.
About the seminar series
The Perspectives in Global Development seminars are held Wednesdays from 12:25 – 1:15 p.m. eastern time during the semester. The series will be presented in a hybrid format with some speakers on campus and others appearing via Zoom. Students, faculty and the general public are welcome to attend. The series is co-sponsored by the Department of Global Development, the Department of Natural Resources and the Environment, the Charles H. Dyson School of Applied Economics and Management, and the School of Integrative Plant Science as part of courses IARD 6960, NTRES 6960, PLSCS 6960 and AEM 6960.