Hector Aguilar-Carreno, PhD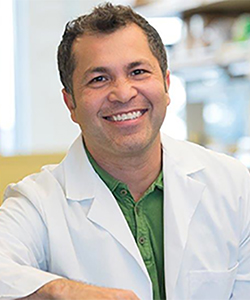 Research Interest
1] Viral entry. Within theParamyxoviridaefamily, Nipah virus (NiV) and Hendra virus (HeV) cause the highest mortality rates (40-100%) in humans. This viral family includes important human and veterinary pathogens, such as measles, mumps, human parainfluenza, canine distemper, and Newcastle disease viruses. There are many questions regarding paramyxoviral infections that remain elusive. Our recent studies identified several novel domains in the viral glycoproteins G and F that are important for modulating the viral-cell membrane fusion process during viral entry, as well as cell-cell fusion upon viral infection of a host cell. We aim to understand the steps in the viral entry process these glycoprotein domains modulate. We use novel approaches that allow us to study the steps of viral entry, such as receptor binding, fusion triggering, hemifusion, fusion pore formation, and syncytia formation on cells and on virions. Novel approaches include Flow Virometry and Raman Spectroscopy. Coronaviral entry into host cells is also of high interest.
2] Viral egress. Using multi-omics approaches, we recently identified cellular factors involved in viral entry, assembly, and budding out of infected cells. We are using this knowledge to study the mechanisms by which viral and cellular factors interact to modulate viral assembly and egress from infected host cells. Importantly, we connect this knowledge to the study of viral pathogenesis via BSL-3 and established biosafety level 4 collaborations. 
3] Immune responses and vaccine development. Viral-like particles are non-replication-competent units that resemble the respective actual viruses. Our data has shown that NiV and HeV viral-like particles are useful to generate highly-neutralizing conformational antibodies to NiV and HeV. We investigate whether NiV and HeV viral-like particles and pseudotyped viral particles can be useful vaccine platforms to protect against NiV, HeV, and other emerging paramyxoviruses and other enveloped viruses such as the coronaviruses and influenza viruses. We investigate broadly applicable new technologies to advance vaccine development. 
4] Antivirals. We take both empirical and targeted approaches. Our main interests include the search for antiviral agents with broad antiviral applications, with a special interest in those to be used against enveloped viruses. Our membrane fusion studies foster the discovery of broad-spectrum antivirals that target enveloped viruses or their host cellular factors. We characterize the mechanisms of action of several families of broad-spectrum antiviral compounds. 
Education
BS       Biochemical Engineering                   Institito Tecnologico de Tepic
MS      Biology                                            California State University, Los Angeles
PhD     Biochemistry and Mol. Biol.               University of Southern California
Biography/Professional Experience
Dr. Aguilar-Carreno (publication name Hector C. Aguilar) is a Professor of Virology in the Department of Microbiology and Immunology at Cornell University. He received a B.S. degree in Biochemical Engineering from Instituto Tecnologico de Tepic, Mexico before immigrating to the USA. He obtained a M.S. degree in Biology from California State University, Los Angeles, and a PhD degree in Biochemistry and Molecular Biology from University of Southern California, where he was introduced to viruses. He received post-doctoral training in Virology at University of California, Los Angeles, under the mentoring of Dr. Benhur Lee, and then became an Assistant Professor at the Paul G. Allen School for Global Animal Health at Washington State University (WSU). At UCLA he pioneered the identification of cell receptors for Nipah virus (NiV) and Hendra virus (HeV) and began to establish important tools to study NiV and HeV entry into mammalian host cells, as well as viral assembly/exit from infected cells. He has adopted technologies previously foreign to the field of Virology to the study of enveloped viruses, including Raman Spectroscopy, Super-resolution Microscopy, and Flow Virometry. His studies on viral glycoproteins and their roles in host cell entry and viral assembly inform novel ways to develop vaccines and antivirals. Dr. Aguilar-Carreno has served in many important scientific committees, including: Director of Graduate Studies of the WSU Immunology and Infectious Diseases PhD program; member of the WSU CVM Research Council; member of the WSU Internal Governance Board for NIH T32 post-doctoral program; member of the American Society for Virology (ASV) Education Committee; Ad-hoc member of ~20 NIH study sections; Standing Member of VIR-A NIH study section; Chair of the American Society of Microbiology Committee for Minority Education; Chair of the American Society of Virology Diversity, Equity, and Inclusion committee; Chair of the Cornell CVM Diversity Committee; member of the Cornell CVM Research Council; member of the Cornell presidential postdoctoral fellowship committee; member of the BBS PhD Admissions committee, Director of the Cornell Program for Achieving Career Excellence, Chair of 16 PhD student thesis committees; member of >30 PhD student committees; and most recently President Elect of the American Society of Virology, among other service roles.
Publications