History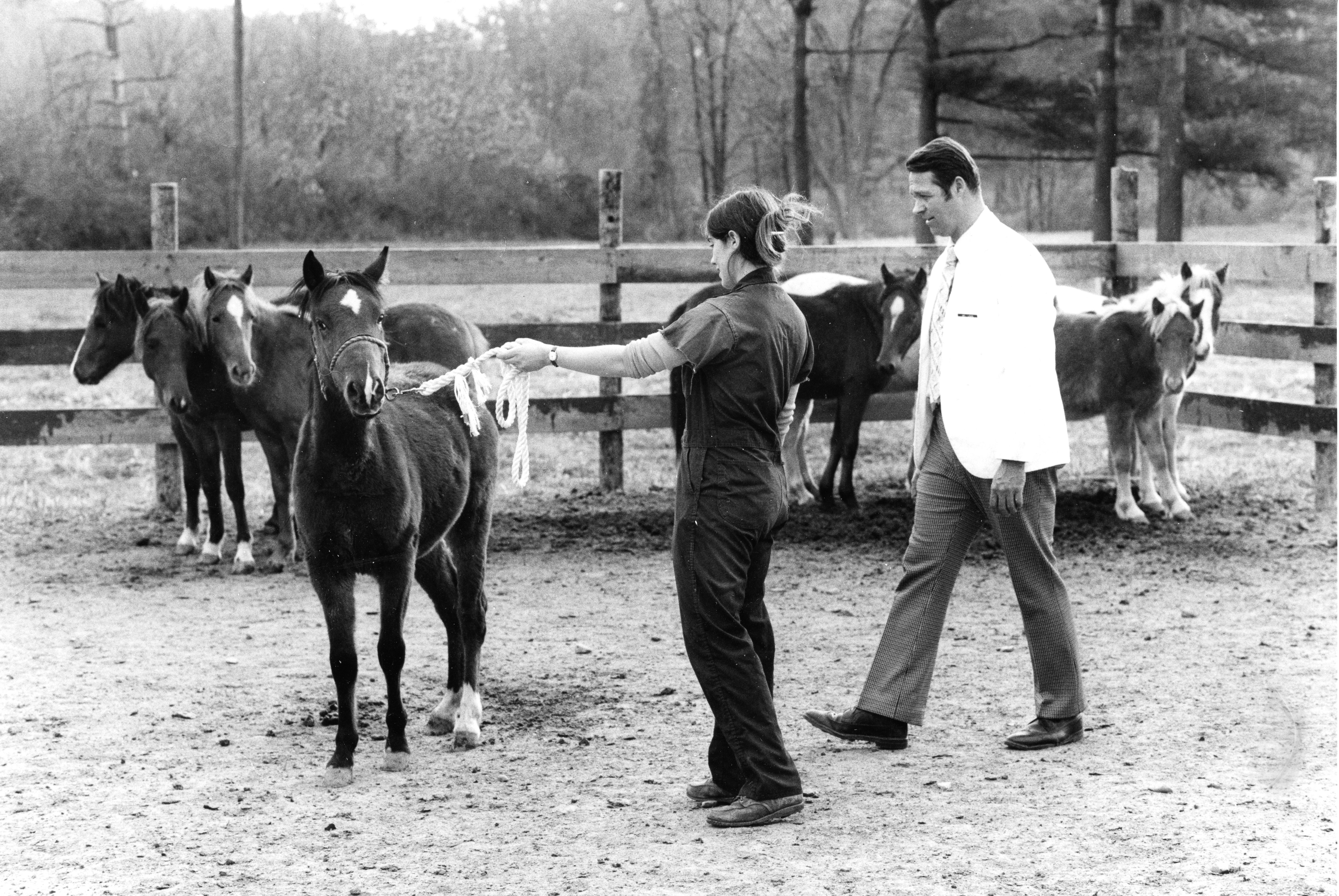 From cow barn to quarantine facility
The Park started in 1974 as a research facility for equine nutrition, drug testing, reproduction, and infectious disease. Originally a dairy farm, the main barn required significant remodeling to make it suitable for horses. Dr. Jack Lowe, professor emeritus of large animal surgery and former director of the Park, recalls personally jack-hammering the cement milking stanchions to get the facility ready, along with a team of willing students and employees. Their first herd of horses came from a wealthy donor, Dwight Winkelman of Skaneateles, N.Y. "He gave us a good stallion and twenty mares," says Lowe, "and it grew from there—people continued to donate their horses. This made the Park a great place for equine research, and a great place for teaching too," says Lowe.
Lowe also arranged for the Park to be a quarantine facility for contagious equine metritis (CEM), a serious and highly transmissible venereal disease in horses. For decades, thanks in part to its closeness to the Animal Health Diagnostic Center, Cornell had the only equine metritis quarantine facility in the Northeast; all horses of breeding age entering the country from Europe and Japan through this region had to first stay at the Park for screening. In its heyday, the CEM facility saw 2000 mares and 150 stallions.
Revolutionary research
Park-based discoveries have fundamentally changed equine health and husbandry; groundbreaking nutritional research conducted by Lowe, Dr. Harold F. Hintz, professor of animal science, and Dr. Herbert Schryver, professor of veterinary nutrition, resulted in equine nutritional requirements now used by the USDA and vast improvements in equine health. "In the past, we considered a twenty-year-old horse as really old," says Park Director Dr. Lisa Fortier. "Now, we consider thirty-five years to be old. And the reason for that, primarily, is greater understanding of equine nutrition—understanding that was primarily developed here at the Park." The Park was also the home to the development of all new diagnostics for equine post-race drug testing in New York State, and was the site of testing some of the most commonplace equine drugs on the market today, including the anti-inflammatory drug flunixin, and the sedative analgesics xylazine and detomidine. "After testing detomidine at the Park, I was sure every equine practitioner would have this drug in their grip," says Lowe.
Beyond foundational drug discoveries, the Park hosted the research of Dr. Katherine Houpt, James Law Professor of Behavior Medicine, emeritus, which outlined key aspects of horse behavior, including mare-foal relationships, stallion behavior, and best practices in feeding and equine welfare.