Careers and Internships
Careers
As part of the College of Veterinary Medicine, Cornell Ruffian Equine Specialists' (CRES) Hospital provides state-of-the-art surgical, imaging, diagnostic, and rehabilitation services to enhance equine health. The hospital is across the street from Belmont Park, the world's premier Thoroughbred horse-racing facility. At CRES, veterinarians aspire to assimilate knowledge gained on all fronts – at the track, in the show ring, at the research bench, and in the hospital – to deliver paradigm-shifting veterinary medical care.
To learn about current career opportunities at CRES, please visit https://hr.cornell.edu/jobs. You can also contact the Office of Human Resources by email or the CRES Practice Manager, Jill Nordberg, directly at jnn25@cornell.edu.
Current Available Positions as of 7/2023:
Customer Service Representative

Immediate opening!
Click on the link for more information!

Rotating Veterinary Internship

Immediate opening!
For more information please email Dr. John Pigott at jhp322@gmail.com
Rewards & Benefits - What's in it for you?
Competitive compensation, with annual increases; health insurance, and a retirement plan with generous employer contribution
Generous paid leave provisions: 3 weeks of vacation, 12 holidays (including end of year winter break through New Year's Day)
Impressive educational benefits, including: tuition-free Extramural Study and Employee Degree Program, Tuition Aid for external education, Cornell Children's Tuition Assistance program
A rich array of services, programs and benefits to help employees advance in their career and enhance the quality of personal life, including: employee wellness, workshops, childcare and adoption assistance, parental leave, flexible work options. For more information, visit hr.cornell.edu/benefits.
Internship
CRES offers three (3), one year internship positions for recently graduated veterinarians wishing to pursue additional training under the guidance of equine specialists. The internship is hospital based where each intern rotates through surgery, medicine/critical care, advanced imaging and anesthesia, and overnight/emergency. Our caseload is a mix of Thoroughbred and Standardbred racehorses, Sport horses of various disciplines, and pleasure horses.
Interns participate in a hands-on program. We pride ourselves on an active teaching and learning process for our interns through case rounds, hospital rounds, collaborative interactive seminars with the faculty and residents in Ithaca, and journal club. The internship has broad exposure to specialists with the goal of providing state-of-the-art care to our patients and a diverse learning experience for our interns. Cornell Ruffian has 2 full time surgeons on site, with clinicians rotating through from Cornell Ithaca. In addition to access to the breadth of faculty at Cornell University, local consultations are frequently performed in ophthalmology and podiatry.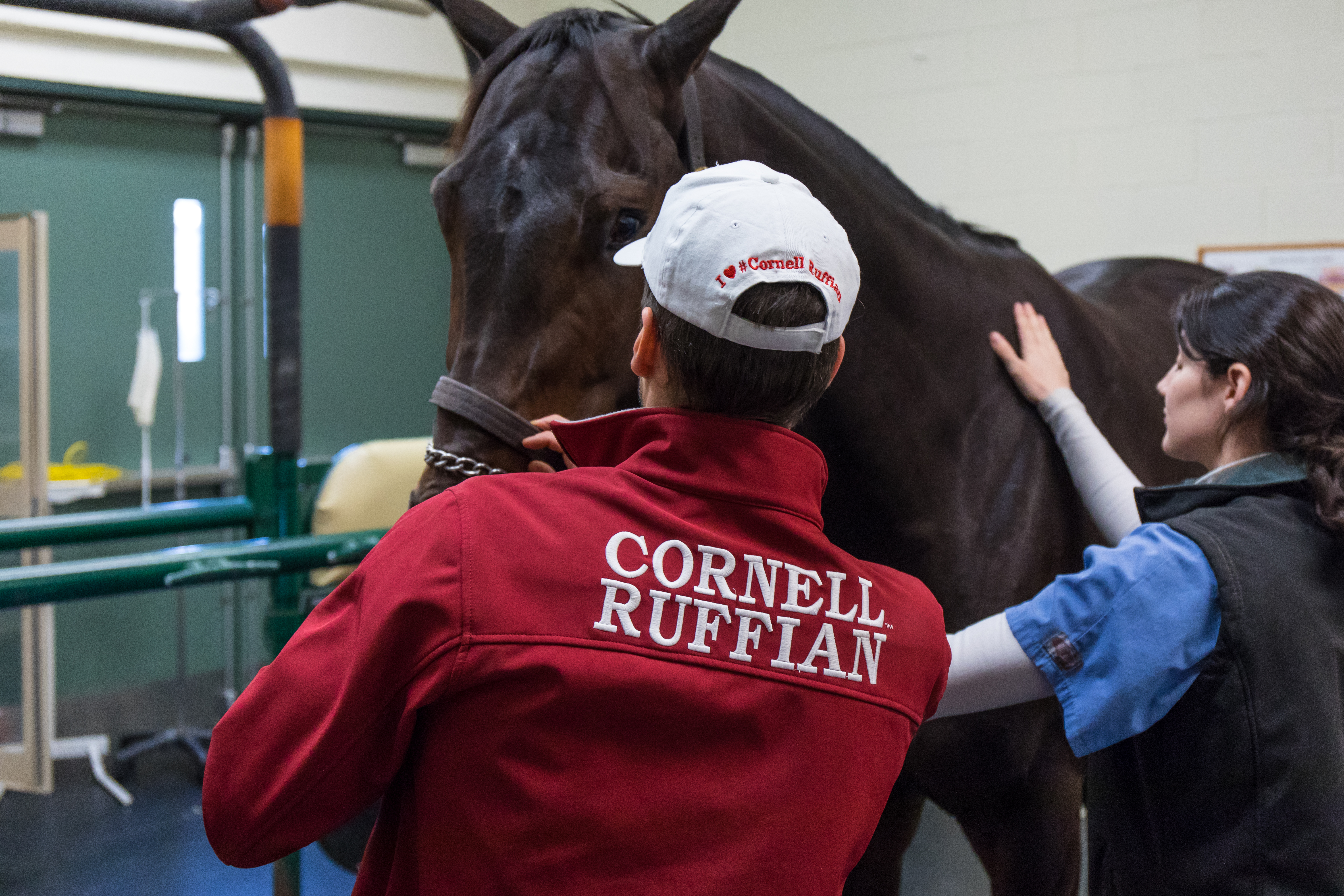 Interns have the opportunity to participate in a clinical research project with the goal of submitting one manuscript for publication. 
We welcome both new graduates and veterinarians who have already completed 1-2 internships. Many of our interns pursue specialty residency training. We are proud to have a high match rate with those interested in residency level training as well as success with those interested in advanced research (PhD programs). 
Applications for first year interns are due November 1 each year. Completed applications consist of a CV, letter of intent, 3 written letters of reference and an official transcript sent from your school registrar. Applications can be sent to Dr. John Pigott (jhp322@gmail.com).
Externships
Goals of the Externship:
We offer an externship program to veterinary students that broadens their exposure to specialized equine surgery, medicine and critical care, lameness, and advanced imaging. As a private clinic the amount of actual "hands on" experience is limited. However, there is considerable information to be gained by observation and exposure to a heavy caseload. Clinicians, interns, and technicians make every effort to explain hospital cases and procedures whenever time permits. Externs have the opportunity to observe equine specialists in surgery, anesthesiology, internal medicine and critical care, sports medicine and poor performance, regenerative medicine, ophthalmology, and acute rehabilitation.
Externship Responsibilities:
Accompany clinicians and technicians on rounds, during clinical assessment, medical or surgical treatments, and postoperative care of horses. Assistance in daily treatments, emergency admissions, imaging, and case monitoring will be expected. Areas of interest will be discussed with the extern and we will attempt to accommodate an emphasis in specific clinical domains.
Estimated Workload:
Responsibilities are moderate. This is a seasonally busy hospital; externs will learn as much or as little as the time they devote to their externship.
Other Information:
Maximum stay of two weeks; no minimum stay. It is the responsibility of the extern to find transportation and accommodation.
Maximum Number of Externs: 2
Prerequisites:
Completed 3 semesters of veterinary school
Availability:
Variable, but many blocks fill up to a year in advance
Costs:
All extern applicants will be charged a non-refundable processing and application fee once a visit is approved. Applicants are responsible for all personal arrangements and expenses associated with their visits . It is important for extern applicants to contact Ms. Pilar Thompson (pav37@cornell.edu) about specific applicable weekly fees. 
Insurance Requirements:
AVMA-PLIT liability insurance
Internship Available:
Yes
Application Process: 
To request an opportunity block externship rotation (for grade) DVM students should apply with resume and requested dates to Ms. Pilar Thompson (pav37@cornell.edu).