Our Doctors & Staff
Full-time Clinician
---
Board Certified Surgery Specialist
Dr. John Pigott is a specialist veterinary surgeon and 2009 graduate of the College of Veterinary Medicine at Cornell University.  He completed his equine surgery residency training at The Ohio State University and has performed research in equine orthopedics, regenerative medicine and upper airway disorders.  Before moving to CRES, Dr. Pigott was employed by a private practice referral hospital in Wisconsin where he worked in both elective and emergency orthopedic and soft tissue surgery, advanced imaging and lameness. Dr. Pigott joined the team at CRES in 2015 and has notable expertise in orthopedic surgery, sinus surgery, complicated lameness, advanced imaging and regenerative medicine.  He has an extensive history as a competitor in the hunter/jumper field, and utilizes this unique knowledge daily as he approaches cases across disciplines.  As a recognized specialist, Dr. Pigott is an invited speaker at both national and international conferences on the topics of regenerative medicine, lameness and orthopedics. 
---
Rotating Clinicians with Cornell Ithaca
Board Certified Surgery Specialist
Chief Medical Officer
Dr. Norm Ducharme, James Law Professor of Large Animal Surgery at the Cornell University College of Veterinary Medicine, is Chief Medical Officer  at Cornell Ruffian Equine Specialists. A board-certified large animal surgeon at Cornell University Hospital for Animals (CUHA) and CRES, he has dedicated much of his clinical and research effort to understanding the equine upper airway. His research has focused on methods of identifying and quantifying dynamic upper airway obstructions, defining the anatomical structures and their function, and developing surgical and other methods for treating equine upper airway diseases. He graduated from veterinary college at the University of Montreal in 1979 and completed his internship and residency at Cornell University's College of Veterinary Medicine in 1982. He received his Master of Science degree from the University of Guelph and became a Diplomate of the American College of Veterinary Surgeons (ACVS) in 1985. Ducharme was medical director at CUHA from 1990 to 2014. Ducharme served as president and chair of the board of the ACVS from 2005 to 2007 and was inducted in the University of Kentucky Hall of Fame for Equine research in 2016.
---
Board Certified Surgery Specialist
Dr. Michelle Delco received her DVM from Cornell University College of Veterinary Medicine in 2002. After completing a residency in Equine Surgery at University of California, Davis to become board certified by the American College of Veterinary Surgeons, Dr. Delco served as an Assistant Professor of Equine Surgery at Kansas State University. In 2008, she joined a private equine referral practice near Seattle, WA, where her primary focus was minimally invasive surgery and the diagnosis and treatment of complicated sports injuries in equine athletes. In 2012, Dr. Delco was awarded a research fellowship supported by the National Institutes of Health and returned to Cornell University to pursue her PhD degree in the Graduate Field of Comparative Biomedical Sciences, with minor fields of study in Biomedical Engineering and Biochemistry, Molecular & Cell Biology. In 2016 she was awarded a 5-year National Institutes of Health Clinical Scientist Career Development Award (K08). After completing her PhD, Dr. Delco was appointed Assistant Research Professor in the Department of Clinical Sciences at Cornell University College of Veterinary Medicine, and also serves as a Large Animal Staff Surgeon for the Cornell University Hospital for Animals in Ithaca, NY, and an Equine Surgeon at Cornell Ruffian Equine Specialists.
---
Edward Earley DVM, AVDC/Eq
Board Certified Dentistry/Dental Surgery Specialist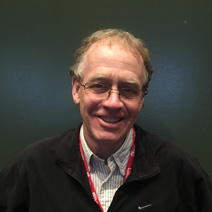 Dr. Edward Earley of Large Animal Dentistry and Oral Surgery at Cornell University College of Veterinary Medicine, provides dental services at Cornell Ruffian Equine Specialties. As a board certified Equine Dentist and Oral Surgeon, he treats a wide range of clinical conditions utilizing orthodontic, periodontal, endodontic, restorative, oral medicine and oral surgery procedures. He promotes minimal, conservative and focal odontoplasty (floating) correlated to a specific oral diagnosis which helps to promote longevity of the equine dentition. Dr. Earley has a developing interest in research for the increasingly prevalent disease of EOTRH (Equine Odontoclastic Tooth Resorption and Hypercementosis). As a graduate from the College of Veterinary Medicine at Michigan State University in 1985, he moved to North Central Pennsylvania and established a veterinary practice in Williamsport. In 2004, he started advanced training in Equine Dentistry through the Alternate Pathway Program of the Academy of Veterinary Dentistry (AVD). In 2008, he completed the program and became an AVD Equine Fellow. In 2010, Dr. Earley started a Non-Species Specific Alternate Pathway Residency Program at Cornell University. In 2014, he became a founding Equine Diplomate of the American Veterinary Dental College (AVDC/Eq). Over the years he has participated in several committees through the American Association of Equine Practitioners (AAEP), AVD and the AVDC/Eq to promote and develop Equine Dentistry within the Veterinary Profession.
---
Board Certified Surgery Specialist
Lisa A. Fortier, DVM, PhD, Dipl. ACVS, is currently a professor of Large Animal Surgery at Cornell University's College of Veterinary Medicine. Fortier received her DVM from Colorado State University, and completed her PhD and surgical residency training at Cornell University. She has received numerous awards from organizations including the International Cartilage Repair Society, the Orthopaedic Research Society, and Cornell's Pfizer Award for Research Excellence. Fortier serves on several scientific journal advisory boards, NIH review panels, the Morris Animal Research Council, and is President of the International Cartilage Repair Society. She has exceptionally mentored numerous veterinary students, undergraduates, graduate students, and surgical residents whom many have gone onto prestigious programs. Fortier continues to strive for excellence in her research, surgical expertise, and mentorship.
---
Board Certified Surgery Specialist
Dr. Alan Nixon has been practicing veterinary orthopedic surgery since 1979 with a focus on cartilage, bone, tendon and ligament diseases. He received his veterinary degree from the University of Sydney in 1978 and completed a surgical residency and research degree at Colorado State University in 1983. After five years in the Department of Surgical Sciences at the University of Florida, he came to Cornell University in 1988. He is certified by the American College of Veterinary Surgeons.
---
2018-2019 Interns
Dr. Patrick Foth, BVMS, MRCVS
Born and raised in Warren, Michigan, Patrick Foth has been an active competitor and trainer of Hunter & Equitation horses for most of his life. He attended Michigan State University where he achieved a Bachelor of Science Degree with a minor in German. Patrick earned his DVM equivalency with Distinction from the University of Glasgow School of Veterinary Medicine. Following graduation Patrick became a Member of the Royal College of Veterinary Surgeons and went on to specialize in equine surgery. His first year in practice was spent at Oklahoma State University where he completed a rotating internship in equine surgery and medicine while actively teaching students. Following this he completed specialty training at Mississippi State University in lameness and surgery. His professional interests include colic, performance injuries in the horse, and teaching students. In his spare time, he enjoys college football and traveling. He is honored to join the team of Cornell Ruffian Equine Specialists and hopes to complete a residency in equine surgery in the near future.
Dr. Santiago Mejia, DVM 
Santiago comes to use from Manizales, Colombia where he grew up riding Paso Fino and Quarter horses and working on his fathers beef cattle farm. He received his Degree in Veterinary Medicine and Animal Science from CES University in 2013. From there he traveled to Kentucky and completed a 2 year equine surgical internship at Hagyard Equine Medical Institute and then completed a one year equine surgery and medicine rotating internship at North Carolina State University. From there he traveled back to Colombia and worked for 2 years in private practice and academia. He joined the CRES team this past July and we are so thrilled with all the experience he brings to our practice. His main areas of interest are Equine Surgery, Lameness, Podiatry and Advanced Imaging. In his free time he enjoys spending time with his wife and son and practicing CrossFit and team roping with his brother.
Dr. Megan Schnuelle, DVM
Megan is a recent graduate of Auburn University College of Veterinary Medicine. While a native of Auburn, Alabama she achieved her undergraduate degree in Biomedical Sciences from Troy University while competing in a division one track and field program. She developed her passion for the equine athlete early in life when she began her riding career at a young age. Her areas of interest are Sports Medicine, Anesthesia, and Podiatry. In her free time she enjoys hiking and is looking forward to exploring more of the northeast.
Dr. Alexandra Radtke, DVM
Alex was born and raised in Hayward, WI where she grew up competing in cross-country skiing, dog sledding, and lumberjack sports. Alex rode barrel racing and western performance horses and worked as an assistant cutting horse trainer throughout high school and college. She attended the University of Wisconsin – River Falls where she earned a Bachelor of Science Degree in biology. Alex earned her DVM from the University of Wisconsin – Madison School of Veterinary Medicine.
Following graduation Alex completed a rotating internship in equine medicine and surgery at Tennessee Equine Hospital. Following this she completed a postdoctoral research fellowship in comparative orthopedics and regenerative medicine with our own Dr. Lisa Fortier at Cornell University College of Veterinary Medicine. Her professional interests include diagnostic imaging, sports medicine, and surgery.
---
Meet our Staff
Jill Nordberg, BS LVT: Practice Manager, Licensed Veterinary Technician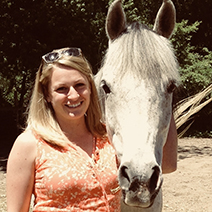 Jill grew up in the thumb of Michigan where she owned and showed Arabians as well as worked on the family cash crop and hog farm. She attended Michigan State University and received her Bachelor's degree in Veterinary Technology. Upon graduation she moved to Lexington, Kentucky and worked at a high volume equine practice where she furthered her interest in anesthesia, surgery and MRI. After getting married she moved to Long Island, NY and started working for Dr. James Hunt at Belmont Park when the opportunity to work with Cornell presented itself after their acquisition of Cornell Ruffian Equine Specialists. She soon joined Cornell's team and assisted with the opening and operating of the facility. She now is the Practice Manager of the facility and also performs technical duties such as anesthesia and patient care. In her free time she enjoys spending time with her growing family and riding her horse.  
---
Kaley Rave: Customer Service Representative
---
Lindsay Conologue: Licensed Veterinary Technician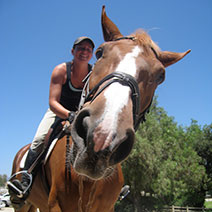 Lindsay grew up riding and showing hunter/jumpers on Long Island.  She pursued horses as a career after graduating in 2009 with her bachelors in both English Equestrian Studies and Animal Science from The University of Findlay.  After graduation, Lindsay moved around filling different working student and training positions at hunter/jumper, breeding and dressage barns in Alabama and California.  In 2011, Lindsay returned to Long Island to obtain her veterinary technicians' license.   She is currently the Lead LVT and has become proficient in many areas of the hospital, most notably surgery and MRI.  Lindsay is very passionate about her job and very excited to have been a part of CRES from the beginning. In her free time Lindsay enjoys spending time with her dogs and staying active through rock climbing and hiking.
---
---
Jennifer Soper: Licensed Veterinary Technician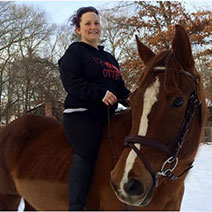 Jennifer starting working with horses when she was 9 years old. She attended Suffolk Community College and graduated in 2003 with her Veterinary Technicians degree. She then started working in the veterinary field servicing both large and small animals. She joined the CRES team in 2015 and primarily works in Imaging and the ICU. She enjoys spending time with her family, dogs, cats and her horse.
---
---
Joann Rinaldini: Licensed Veterinary Technician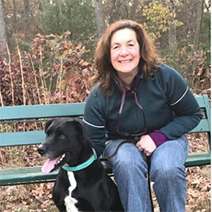 Joann grew up in LI riding and working with horses throughout her teenage years. After managing several show horse and TB breeding farms in LI and upstate NY she then obtained her Veterinary Technician license in 2001. Her interest in mares and foals continued at the University of Pennsylvania working as a technician in the ICU and NICU. She recently moved back to LI joining CRES this summer. In her free time she enjoys skiing, biking and gardening.
---
Katelyn Trzincinski: Licensed Veterinary Technician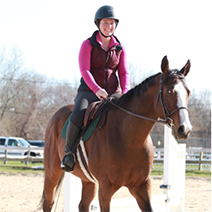 Kate has been involved with horses since the age of six. Horses have always been a calling of mine, so after high school I became a veterinarian technician while working at a barn in Saint James, NY in hopes of using my schooling and knowledge to keep the horses healthy and happy. I wanted to continue a career with horses and medicine, which lead me to the Cornell Ruffian Equine Specialist Hospital. When I first heard about the opening of CRES, I managed to visit during a lecture and was very impressed with the hospital. I am so grateful for the opportunity to work with horses and care for them with the tenacity that CRES offers.
---
Jerome Jackson: Animal Attendant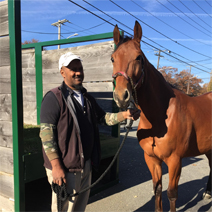 Jack started with CRES in early 2015 as the lead animal attendant. He is a Kentucky native and has worked with horses for decades and is very interested in maintaining the standard of daily care that they require. When not at work Jack enjoys following the racing industry and time with his family.
---
Vladimir Polchaninoff: Animal Attendant
Vlad has been around horses all of his life from frequent pony rides as a little boy to a rigorous lesson schedule as a young man. He has competed in English disciplines - Hunters, Dressage and Combined Training - and spent many years as a riding instructor at several Long Island barns. He's also the Ring Steward for regional USDF competitions – a position dedicated to guarding and preserving the welfare of horses at the show grounds and in the ring. Vlad believes that every time he enters a horse's stall – the two should first have a calm, friendly conversation. That's "patient care" at its primary level. When he's off-duty, Vlad enjoys leisurely trail rides and serious schooling with his personal mount – a young Friesian gelding. He's also an experienced and passionate photographer,  with a focus on horses.
Share this: