MADDIE'S® SHELTER MEDICINE PROGRAM AT CORNELL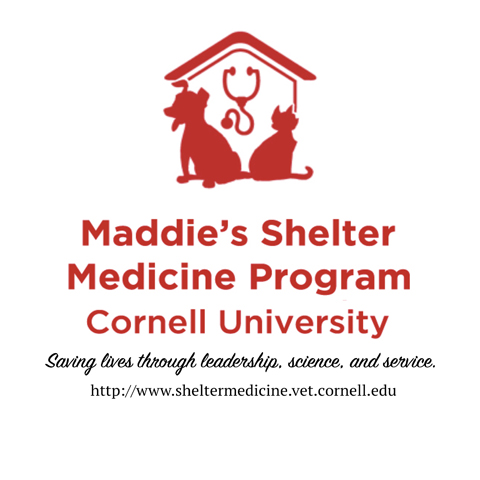 Cornell University College of Veterinary Medicine is a proud recipient of funding from Maddie's® Fund (www.maddiesfund.org), helping to achieve a no-kill nation #ThanksToMaddie. It is also one of few veterinary colleges offering a comprehensive shelter medicine program. Faculty teach classes, offer a rotation for veterinary students in their clinical year, train new shelter veterinarians through an intensive one-year internship, engage in consultations with animal shelter and humane organizations, and conduct applied, clinical research in shelters.  Cornell's students and interns in shelter medicine receive the most comprehensive training in the subject in the world. Since 2010, they have gone on to become leaders in the field, directing shelter medicine programs for national humane organizations, large regional animal shelters and academic programs. Veterinary students with shelter medicine training enter their communities poised to make a tremendous difference for shelter and community animals.
Our team of experts offers a range of consultative services, both remote and on-site, to shelters as requested. Topics include outbreak assistance, dog/cat housing, enrichment, intake protocols, vaccine protocols and infectious disease outbreak. We offer subsidized diagnostic services to registered brick-and-mortar animal shelters and humane organizations in certain states along the East Coast through our Maddie's® Shelter Lab program (made possible by funding from Maddie's Fund®). We also provide outreach services to support communities in need.
Our Mission
To provide veterinary students and practitioners with specialized knowledge of shelter medicine practice and the skills to enhance the medical and behavioral health of companion animals.
This mission is delivered through the following core strategies:
Training of veterinary students and practitioners in the challenges of homeless animals, animal sheltering systems, and provision of medical and behavioral care for individual animals and shelter populations

Advanced training of veterinary students, interns, and fellows who become experts and future leaders in shelter medicine

Outreach consultation services to assist shelters with implementing the industries best practices regarding animal health and welfare

Providing shelters and humane organizations access to subsidized diagnostic services through our Maddies'® Shelter Lab
Our Vision
Our vision is an army of practice-ready shelter veterinarians who have the knowledge, experience, and wisdom to join humane and municipal organizations and make an immediate impact for shelter animals and communities.
Made Possible by Maddie
Maddie's Fund®is a family foundation created in 1994 by Workday® co-founder Dave Duffield and his wife, Cheryl, who have endowed the Foundation with more than $300 million. Since then, the Foundation has awarded more than $208.9 million in grants toward increased community lifesaving, shelter management leadership, shelter medicine education, and foster care across the U.S. The Duffields named Maddie's Fund after their Miniature Schnauzer Maddie, who always made them laugh and gave them much joy. Maddie was with Dave and Cheryl for ten years and continues to inspire them today.
Maddie's Fund is the fulfillment of a promise to an inspirational dog, investing its resources to create a no-kill nation where every dog and cat is guaranteed a healthy home or habitat. #ThanksToMaddie.

Additional Support 
This program is also supported in part by the Cornell Feline Health Center and its generous donors.