Reproductive Medicine
Agricultural Animal
The Theriogenology Service at the Cornell University Hospital for Animals provides reproductive medicine services for farm animals including breeding management, a wide range of assisted reproductive techniques, semen freezing and supervision of high-risk pregnancies, as well as medical and surgical treatment for conditions related to the reproductive system. Our staff includes two board-certified veterinarians who collaborate with other veterinarians across the Northeast.
We offer the latest diagnostic, treatment and reproductive medicine techniques, and we provide emergency services and hospitalization in a state-of-the-art facility. Our hospital provides access to a broad range of specialists including anesthesiologists, radiologists and soft tissue surgeons to ensure our patients received the most comprehensive care possible. Our experienced staff provides nursing care 24 hours a day.
Advanced Techniques
Infertility diagnosis
Embryo transfer
Transvaginal oocyte recovery
In vitro fertilization
Semen cryopreservation
Laparoscopic insemination
Invitro embryo production
What to Expect During Your Appointment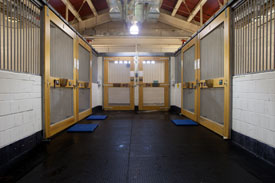 Your scheduled visit to the Theriogenology Service at the Cornell University Hospital for Animals begins when you pull up to the circular driveway in front of the Large Animal Hospital. Please park your vehicle in the driveway, come into the reception area and check in at the front desk. After a small amount of paperwork, a technician or student will help you unload and walk your animal to its assigned stall. 
Often times, you may leave your vehicle and trailer right in the driveway. If the lot is full, the receptionist will provide you with a parking pass and directions to nearby longer-term parking, where overnight parking for trucks and trailers is also available.
After your vehicle is parked, a technician and student will work together to conduct an examination of your animal and ask you questions about the animal's past medical, surgical, travel, vaccination and worming history and current health. The student will leave to report their findings to a resident or faculty member.
The resident or faculty member will return with the student to perform a second comprehensive examination that will include a discussion of your animal's condition and their findings. This evaluation will take about an hour. We appreciate your patience and understanding in allowing our veterinarians-in-training to interact with you and your animal.
Working together, we will discuss the diagnosis and develop a treatment plan for your animal. Patients that require surgery or advanced tests will often be admitted to the hospital at the conclusion of their initial appointment. Patients with conditions that do not require hospitalization will be discharged with detailed written instructions and a summary of the exam findings. A copy will be faxed to your veterinarian.
Reproductive Medicine: Medical Conditions
We provide full service medical and surgical treatment for all conditions of the reproductive tract of male and female animals. 
Obstetrical complications
We are able to monitor maternal and fetal health in high risk pregnancies and provide medical and surgical assistance as necessary.
Investigation of infertility
We provide infertility investigation and treatment for males and females of all domestic species. We offer breeding soundness and pre-purchase examinations. And we provide assisted reproductive techniques including in vitro fertilization, embryo transfer and cryopreservation of embryos and semen.
Related Info