History of the Community Practice Service, 1987-2013
by William E. Hornbuckle, DVM, DACVIM
Emeritus Professor, Clinical Sciences
The Community Practice Service had its beginning within the Cornell University Hospital for Animals (CUHA) in the mid-1980s. Professor Robert F. Playter, who was Director of the Veterinary Medical Teaching Hospital (VMTH) at the time (1985-1990), supported the proposal of the Internal Medicine faculty to create an independent primary care service. This would free up appointments on the medicine service for a growing caseload of referrals and cases requiring secondary or tertiary care. 

Dr. Sharon A. Center with Meryl, 1989
The proposal was championed by internist Dr. Sharon A. Center with the support of Drs. John F. Randolph (Cornell '77), W. Jay Gould (Cornell '76), James F. Zimmer (Cornell '68), and William E. Hornbuckle. Subsequently, Dr. Center, along with Dr. Hornbuckle, was funded by administration to evaluate recognized primary care programs in veterinary hospitals at the University Pennsylvania, University of Georgia, and Michigan State University. With this input, Dr. Playter approved the establishment of a primary care service in the Small Animal Clinic. It would eventually be called the Community Practice Service (CPS) when it became a formal rotation for veterinary students in 1987.
Formal Student Rotations on CPS Began September 1987 
During the transitional period prior to 1987, primary care appointments were scheduled on weekday afternoons and attended by a clinician and student from the Internal Medicine Service. Beginning in September of 1987, Dr. Patricia Tamke was the first of two highly regarded Clinical Instructors who were service chiefs on CPS. When her two year appointment ended in June of 1989, Dr. Lauren Trepanier (Cornell '86) covered the service until 1991.  
Dr. Tamke, as well as Dr. Trepanier, completed a small animal internship and internal medicine residency before joining the hospital staff as Clinical Instructors. Dr. Tamke did so at Cornell and Dr. Lauren Trepanier received her training at the Animal Medical Center in New York City. During their respective CPS experiences as Clinical Instructors, they also sat for the internal medicine boards and became diplomates of the American College of Veterinary Internal Medicine. Dr. Tamke currently practices in the Buffalo area and Dr. Trepanier is on the clinical staff at the University of Wisconsin.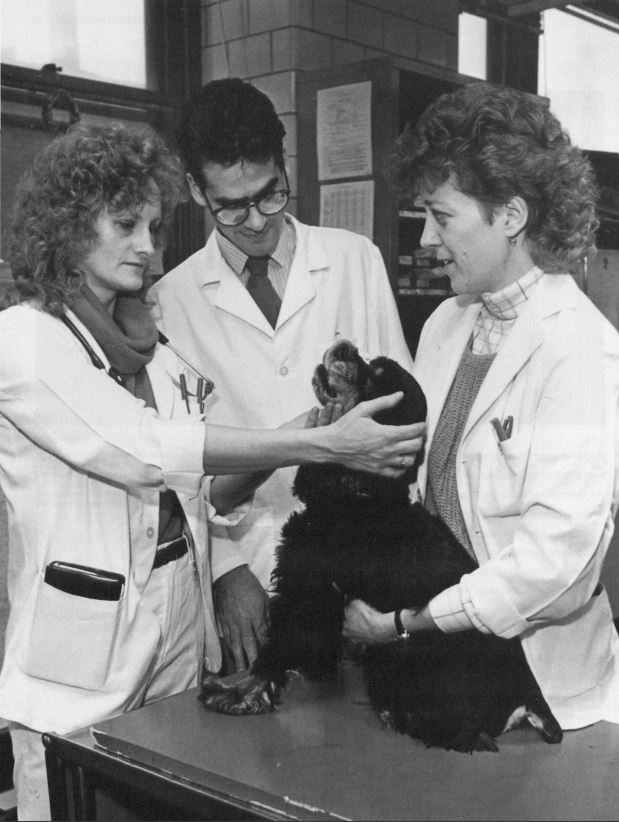 Dr. Patricia Tamke (left) with veterinary student Jeff Rubin and animal health technician Charla Bernard in the newly established Community Practice Service, 1987.
Faculty Appointments in Section of CPS 1990-2018
In 1990, Dr. William E. Hornbuckle, a faculty member of the Internal Medicine staff since 1977, assumed full responsibility of the Section of Community Practice Service (CPS) for two decades before retiring in the summer of 2013. Two primary care clinicians who were particularly important to him as collaborators in developing or modifying training protocols for CPS were Dr. Paul S. Maza and Dr. Brian G. Collins (Cornell '94). Dr. Maza, a Senior Lecturer (Anatomy) in the Department of Biomedical Sciences with a PhD in Science Teaching, was granted hospital privileges in May 2006 and has been participating in the training of CPS students since. Dr. Collins was a primary care practitioner of 10 years before he joined the Section in April 2011; he would become a diplomate of the American Board of Veterinary Practitioners (ABVP) shortly after he succeeded Dr. Hornbuckle as Section Chief of CPS.
Dr. Collins was joined by Dr. Leni K. Kaplan in July 2014 and Dr. Patrick C. Carney (Cornell '06) in February 2017. Dr. Kaplan had a MS in Forensic Medicine and more than 10 years of experience as a small animal practitioner. Dr. Carney was appointed as an Assistant Professor with dual appointments in the Sections of CPS and Internal Medicine; he is a boarded internist (Diplomate, ACVIM) with a PhD in epidemiology.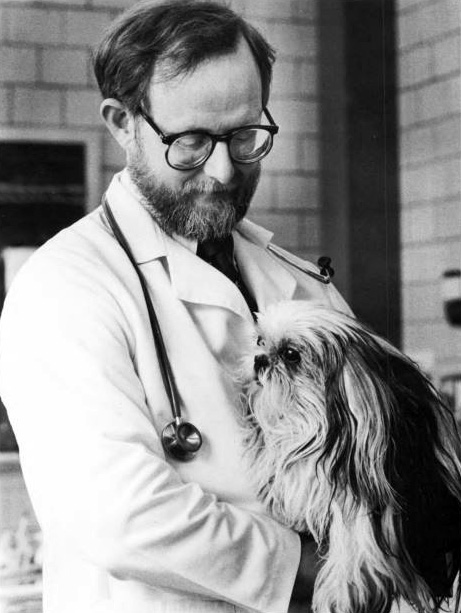 Dr. William E. Hornbuckle, 1987
Volunteer Faculty Appointment
During 1991-2011, Dr. Christine A. Bellezza (Cornell '88) was a volunteer faculty appointee in the Section of CPS, a research associate in the Department of Clinical Sciences, and a staff consultant in the Cornell Feline Health Center; during 2009-2011, she and Dr. Maza were acting co-directors of the Center. Her consultations with CPS students were particularly important because nearly 60 percent of the caseload were cats.
Community Practice Service Moves Three Times (1987-2018)
The Community Practice Service resided within the old hospital in 1987. During the construction of a new hospital in 1990-1991, the service was moved to a small building next to the farrier shop and shared occupancy with the Dermatology Service. When construction was completed in 1994-1995, CPS relocated for a second time and received cases within the existing hospital (CUHA). Blue prints for a proposed veterinary clinic were reviewed by the Section of CPS in 2011, but plans fell through and it wasn't until 2017-2018 that the Cornell Small Animal Community Practice facility was built at 930 Campus Road. CPS made its third move and occupied this facility with Shelter Medicine on June 4, 2018.
Third and Fourth Year Veterinary Students on CPS
Third and fourth year veterinary students were promoted as 'attending clinicians' during CPS appointments and licensed veterinarians served as their consultants, albeit CPS clinicians, Shelter Medicine residents, Block specialists, or visiting practitioners sponsored by the Robert W. Kirk Fund. When students were not managing primary care appointments, they had occasional opportunities to observe/assist an experienced faculty clinician manage a case on the Behavior, Theriogenology, Shelter Medicine, Exotic Medicine or Alternative Medicine Services.
Lunch time rounds for students covered a variety of topics pertinent to primary care issues. Two consistent topics discussed from rotation to rotation were nutrition and behavior disorders. When Emeritus Professors Francis A. Kallfelz (Cornell '62) and Katherine A. Houpt retired, their respective associates –often former trainees- continued to lead round discussions on a weekly basis.   Dr. Joseph J. Wakshlag (Cornell '98), a former trainee of Dr. Kallfelz, is the current Section Chief of Nutrition.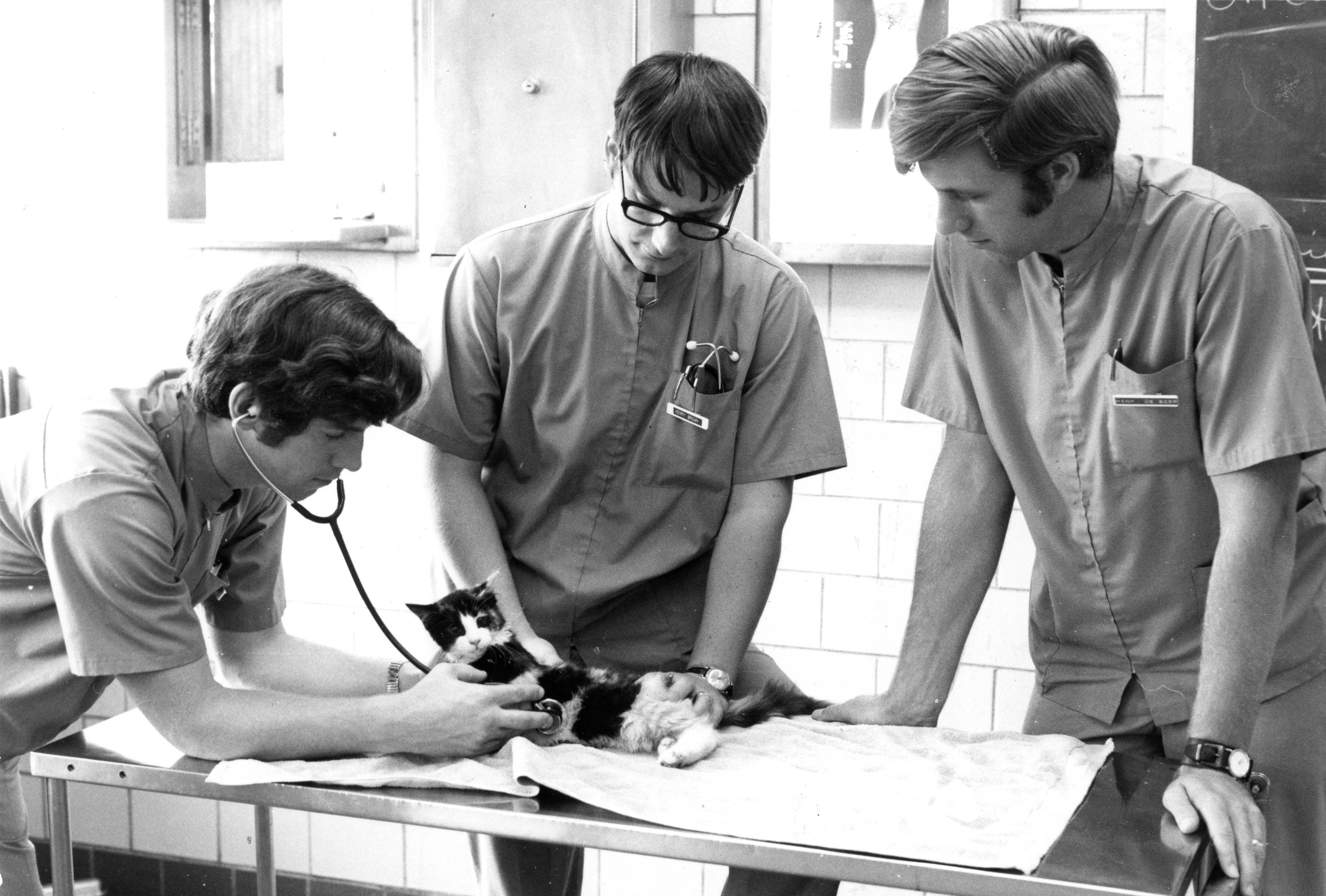 Third year veterinary students perform routine exam on cat.
"Dr. H taught us to always do a full P.E. [physical exam] on each patient, no matter their presenting complaint. One never knew if this would be the only chance for a vet to detect an unrelated or unnoticed condition"

-K. Kahn, D.V.M. '09
Concepts of practice management were introduced into CPS rounds, as well as the foundation/distribution courses, by Drs. John E. Saidla and David Lee (Cornell '94).  Subsequently, the clinical performance of CPS students included a critique of their communication skills, productivity, and quality of service.
Training CPS Students' Basic Surgical Skills
CPS was predominately a medical service during the first decade of its existence and students were limited to performing simple, non-invasive surgical procedures. At the turn of the century, the surgical experience of CPS students was expanded to include neuters and spays because of a collaborative program involving clinicians from the Sections of Foundation Courses, CPS and Surgery. Surgery resident Dr. Leslie Appel (Cornell '94) and Dr. Kathy MacLeod supervised student surgeries in the Sections of CPS and Surgery (1995-2001).  During 2000-2003, Drs. Appel, Jennifer Rawlinson (Cornell '98), Eric Christensen (Cornell '99), and Dr. Maza had rotating responsibility for the CPS Surgery (Surgery III) service. Like Dr. John Saidla before her, Dr. Rawlinson involved CPS students in dental procedures.
During 2008-2009, the Dean of the College, Michael I. Kotlikoff, and the Assistant Dean of Education, Lorin D. Warnick acted on the premise that veterinary students need more training in basic surgical procedures before they graduate. The initiative led to a 2009 contract with Dr. Leslie D. Appel (Cornell '94) of the Shelter Outreach Service (SOS) and the faculty appointment of Dr. Brian Collins in 2011.
A meeting involving Professor Warnick, Dr. Appel and Dr. Maza led to the implementation of the CPS/SOS teaching days. Students on the CPS rotation accompanied Dr. Maza and a CPS technician to a regional shelter to join the SOS team, which was already on site, to perform physical examinations and sterilization surgeries on 5 feral or stray cats. Dr. Maza shared this responsibility with Dr. Collin and Dr. Kaplan when they joined the Section of CPS; coincidentally, all three had logged several years of work experience as staff veterinarians on SOS.
In compliance with administration's expectations following his clinical appointment at Cornell, Dr. Collins established a caseload suitable for CPS students getting more experience in performing routine surgical spays and neuters (dogs and cats), tumor removals, laceration closures, etc. He shared this responsibility with Dr. Kaplan and Dr. Carney when they joined the service.
CPS students also had an opportunity to observe/assist CUHA's Shelter Medicine Service with primary care procedures. Beginning in January 2014, they would rotate on the Primary Care Surgery Service (PCS) where they performed surgical procedures under the supervision of Dr. H. Jay Harvey, a diplomate of the American College of Veterinary Surgery (ACVS).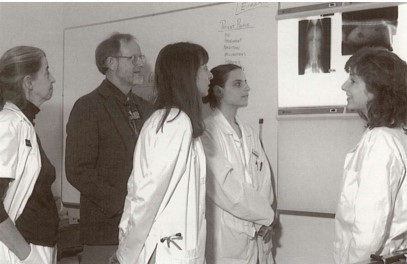 Dr. William Hornbuckle observes as fourth-year DVM student Tracey Trad (right) reviews a case she handled in the Community Practice Service with (L to R) Susan Long, RN & VT, and third-year DVM students Gabrielle Ravina and Rebecca Stronger, 1996.
First and Second Year Veterinary Students on CPS
During the 10 years prior to the late Donald F. Smith becoming the ninth Dean of the College in 1997, he was Chair of the Department of Clinical Sciences and Associate Dean of veterinary education and academic programs. He was very supportive of the development of a primary care program, i.e. the Community Practice Service, in the CUHA which would include the participation of first and second year students, as well as third and fourth year students.
Subsequently, first and second year students were required to participate in a minimal number of CPS appointments and had the option to sign up for more of the same. Their role was limited to observation early on and eventually included restraint of pets and development of patient profiles with clients. They were mentored by third and fourth year students who were promoted as the 'attending clinicians" with primary access to the consulting veterinarian on duty.   
When Rachel Meyer (Cornell '01) was a second year veterinary student, she and Jack Lapointe, a professional photographer out of Ithaca, produced a video of CPS protocol which clarified the varied class roles of veterinary students. A copy of this video should be in the College library.
Foundation Courses Essential to Primary Care Training
Foundation Course staff from Block I, II, III and VII, who were also clinical veterinarians, participated as consultants in primary care activities on CPS. They were appointed as Instructors or Lecturers and identified as 11.
Course Support Specialists.  Drs. Laura Eirmann (Cornell '93), Nichole Birnbaum, Justine Lee (Cornell '97), Eric Christenson (Cornell '99), and Laura Shepard (Cornell '02) were support specialists in Block I; Dr. Jane Shaw in Block II; and Drs. Jennifer Matlow ('00) and Todd Deppe in Block III.  In addition to her support of Block V, Dr. Jodi Korich was associated with a group of Block VII specialists that included former course leaders John Saidla (1993-2000) and Nita Irby (2004-2008), current leader Carolyn McDaniel (2008-), David Lee (Cornell '94), Kevin Cummings (Cornell '96), Jennifer Rawlinson (Cornell '98), Eric Christensen (Cornell '99) and Kathy MacLeod.  Drs. MacLeod and David Lee also tutored in Blocks I and III.
Block VII lectures and clinical laboratories were essential to the primary care training of first and second year students in CPS.  Dr. Carolyn M. McDaniel and the Course Leaders of Block VII before her did a commendable job in preparing veterinary students for transition into formal clinical rotations. Faculty proponents of CPS/Block VII collaboration believed "today's first and second year students will have accrued more primary care experience by the time they graduate than today's seniors."
Two other veterinarians who had a significant involvement in the Foundation Courses and CPS activities were Drs.  Arleigh Reynolds (Cornell '86) and Andrea "Andi" Looney (Cornell '89). Dr. Reynolds was a member of the Nutrition Support Service in the CUHA during 1989-1998. As such he participated in CPS rounds and appointments (1991-1998) and was the Nutrition Coordinator on the Block V design group (1994-1998). He also completed a nutrition residency and PhD in 1992 and would become a Diplomate of the American College of Veterinary Nutrition in 1997.
Dr. Looney completed an instructorship in anesthesiology and participated in CPS activities and Foundation Courses during 1991-1995. In addition to splitting time spent as a CPS consultant and Course Support Specialist, she worked with Dean Donald Smith and a group of College educators to establish problem based learning in the curriculum. She participated in Blocks I, III, V, and VII; Dr. John Saidla was the leader of Block VII at the time.
During 1996-1997, Dr. Looney completed a residency in Anesthesiology and pursued certification in anesthesiology, emergency and critical care, and pain management.
The Southside Community Center Healthy Pet Clinic
Professor Dwight D. Bowman, who is an avid proponent of service learning, and Dr. Hornbuckle established the Healthy Pet Clinic at the Southside Community Center in Ithaca.  The first of monthly clinics was held in 1996. Veterinary students provided primary health care for pets owned by low income residents in the area. Students paired up, with one assuming the role as the 'attending clinician' and the other providing technical assistance. Consultation or assistance was provided by licensed veterinarians; in addition to a CPS clinician, residents from the Shelter Medicine Service or practitioners from local veterinary clinics attended the clinic. Former College Dean Michael Kotlikoff and Foundation Course Leader Carolyn McDaniel frequently participated as consultants.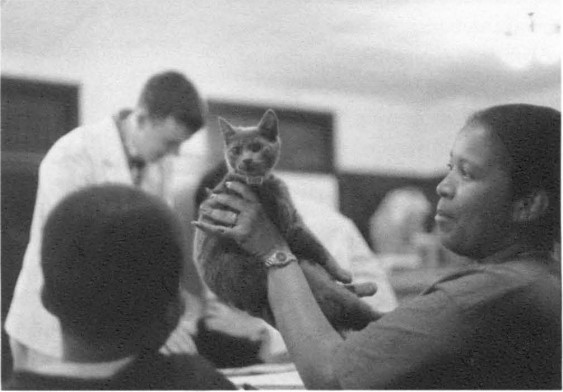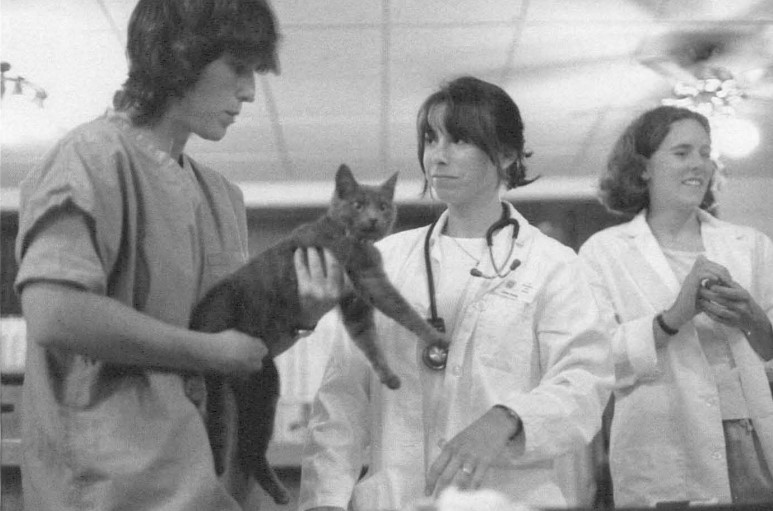 South Side Community Center, 1997
During Professor Donald Smith's appointment as Dean of the College (1997-2013), he attended a Southside clinic with a photographer for the purpose of producing a video which documented the role of students in primary care and featured interviews with pet owners and consultants, as well as students.  A copy of that video is on file in the College Library.
A small group of veterinary students eventually took ownership of the Southside clinic and took responsibility for scheduling clinics, stocking, and recruiting student clinicians.  They elected a director within the group who had direct access to Southside advisors; with the retirement of Dr. Hornbuckle, Professor Bowman and Dr. Collins currently serve that role.
Robert W. Kirk Visiting Practitioner-in-Residence Fund
Four years following the death of Emeritus Professor Robert W. Kirk, Dr. Ernie Smith (Cornell '66) and his wife, Abby Smith, established the Robert W. Kirk Visiting Practitioner-in-Residence Fund in 2007. The purpose of the Fund was to support visitations of small animal practitioners and their inclusion in clinical activities in the CUHA. The stipulation of the Fund required practitioners to spend fifty percent of their visitation as a consultant on the Community Practice Service (CPS) with the remaining time spent on a specialty service of their choice.
Since the implementation of the Fund, several small animal practitioners spent time on CPS for an average of  2-4 weeks and were welcomed consultants at the Southside Community Center Healthy Pet Clinic. CPS students appreciated their input on case management and sought them out for advice related to career opportunities and salary expectations, if not quality of life issues.
Dr. Thomas Munschauer (Cornell '79) of the Middlebury Animal Hospital in Vermont and Dr. W. James Bown (Cornell '86) of the Blue Cross Animal Hospital in Amherst, New York were strong advocates of the practitioners-in-residence program. Several other Cornell graduates were no less enthusiastic about their experience in the program, to include Drs. Robin Solomon ('94), Ada Guzman ('00), Dennis Leon ('01), Rachel Meyer ('01), Elizabeth Wilcox ('05), Michelle Moyal ('05), and, among others, Ryanne Englar ('08).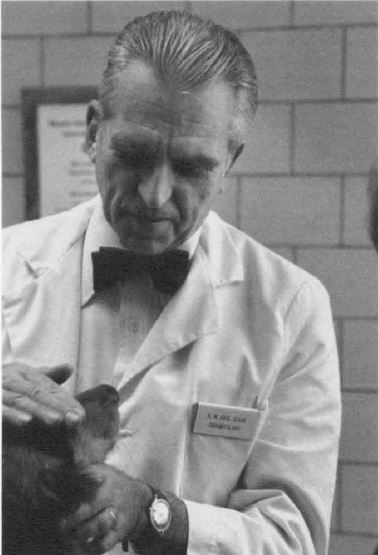 Dr. Robert W. Kirk, 1983.
Technicians on Community Practice Service, 1987-2013
Seventeen licensed veterinary technicians (LVTs) participated in primary care activities on CPS prior to the retirement of Dr. Hornbuckle in 2013. Taking into consideration that third and fourth year veterinary students were promoted as the 'attending clinicians', many of whom were very inexperienced, the presence of experienced LVTs was particularly important.
During 1987-1990 Charla Barnard and then Deborah "Deb" Watrous were the predominate LVTs assigned to CPS. In 1990, Susan M. Long, a licensed RN and LVT, took charge of technical coverage of CPS until her retirement 20 years later. Joanne "Joby" Cowulich was hired by Susan in 1989 and remained on the CPS staff well beyond 2013. Margaret "Maggie" Schnellinger and Paul Ebner attended Dr. Hornbuckle's retirement, having been the most recent appointments since Michelle "Mitch" Whittaker, Amy Childress, Michelle Bezanella, Jennifer VanAlstein, Jill Egglehoff, Rose Galia, Heidi Newton, Emily Tomak, Jennifer Sinceno, Tammy Snyder, Sue Brown, and Susan Garrison.
Nearly 150 work study students were trained by LVTs to perform a variety of technical tasks which made the clinical life of 'attending clinicians' and consultants more time efficient. There were occasions when they covered the absence of LVTs and their proactive interest in training first and second year veterinary students how to prep for appointments and develop patient profiles was particularly helpful.
CPS Collaboration with the Cornell Feline Health Center
Professor Frederic W. Scott (Cornell '62), who was Director of the Feline Health Center (FHC) from 1974-2006, recognized that more than half of CPS's caseload were cats. He reached out and became an important resource for consultation and educational material pertinent to feline health issues. When Dr. James R. Richards joined the FHC staff in 1991, this support was expanded to include presentations during CPS rounds, as well as lectures in the Foundation Courses. As the FHC Director during 1997-2007, Dr. Richards established a strong collaborative bond with the CPS Section which was sustained beyond his passing by Drs. Carolyn McDaniel, Paul Maza, and Christina Bellezza and current FHC Director Bruce G. Kornreich (Cornell '92).