Jessica Grodio, DVM, Ph.D.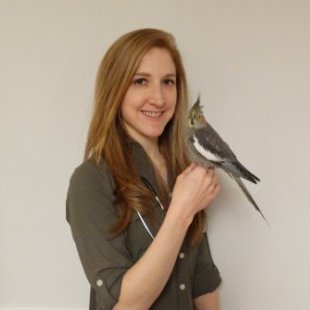 Jessica Grodio

Faculty Mentor: Drs. K.A. Schat and Elizabeth Buckles
Current Position: Veterinarian, The Center for Avian and Exotic Medicine
Brief Biography
Jessica grew up in the Mid-Hudson Valley, New York, and received a B.S. in biological sciences from Cornell University, College of Agriculture and Life Sciences. As an undergraduate, she studied reproductive biology of tree swallows in the Department of Ecology and Evolutionary Biology. She enjoyed her time at Cornell and applied to the dual degree program in hopes of combining both her love of ornithology and interests in veterinary medicine and wildlife conservation. For her thesis work, she is studying house finch antibody response to the pathogenic bacterium Mycoplasma gallisepticum, which causes conjunctivitis in free-living passerine birds.
Education
PhD, Comparative Biomedical Sciences, Cornell University, 2013
DVM, Veterinary Medicine, Cornell University, 2012
BS, Biological Sciences, from Cornell University
Publications and Presentations
Grodio JL, Ley DH, Schat KA, Hawley DM. Chronic Mycoplasma conjunctivitis in house finches: host antibody response and M. gallisepticum VlhA expression. Vet Immunol Immunopathol. 2013 Aug 15;154(3-4):129-37. doi: 10.1016/j.vetimm.2013.05.010. Epub 2013 May 20. PubMed PMID: 23764469.  
Adelman JS, Kirkpatrick L, Grodio JL, Hawley DM. House finch populations differ in early inflammatory signaling and pathogen tolerance at the peak of Mycoplasma gallisepticum infection. Am Nat. 2013 May;181(5):674-89. doi: 10.1086/670024. Epub 2013 Mar 14. PubMed PMID: 23594550.  
Grodio JL, Hawley DM, Osnas EE, Ley DH, Dhondt KV, Dhondt AA, Schat KA. Pathogenicity and immunogenicity of three Mycoplasma gallisepticum isolates in house finches (Carpodacus mexicanus). Vet Microbiol. 2012 Feb 24;155(1):53-61. doi: 10.1016/j.vetmic.2011.08.003. Epub 2011 Aug 7. PubMed PMID: 21885217.  
Cushing TL, Schat KA, States SL, Grodio JL, O'Connell PH, Buckles EL. Characterization of the host response in systemic isosporosis (atoxoplasmosis) in a colony of captive American goldfinches (Spinus tristis) and house sparrows (Passer domesticus). Vet Pathol. 2011 Sep;48(5):985-92. doi: 10.1177/0300985810391114. Epub 2011 Feb 10. PubMed PMID: 21311069.  
Hawley DM, Dhondt KV, Dobson AP, Grodio JL, Hochachka WM, Ley DH, Osnas EE, Schat KA, Dhondt AA. Common garden experiment reveals pathogen isolate but no host genetic diversity effect on the dynamics of an emerging wildlife disease. J  Evol Biol. 2010 Aug;23(8):1680-8. doi: 10.1111/j.1420-9101.2010.02035.x. Epub 2010 Jun 17. PubMed PMID: 20561136.  
Grodio JL, Buckles EL, Schat KA. Production of house finch (Carpodacus mexicanus) IgA specific anti-sera and its application in immunohistochemistry and in ELISA for detection of Mycoplasma gallisepticum-specific IgA. Vet Immunol Immunopathol. 2009 Dec 15;132(2-4):288-94. doi: 10.1016/j.vetimm.2009.06.006. Epub 2009 Jun 17. PubMed PMID: 19581004.  
Grodio JL, Dhondt KV, O'Connell PH, Schat KA. Detection and quantification of  Mycoplasma gallisepticum genome load in conjunctival samples of experimentally infected house finches (Carpodacus mexicanus) using real-time polymerase chain reaction. Avian Pathol. 2008 Aug;37(4):385-91. doi: 10.1080/03079450802216629. PubMed PMID: 18622854.