Jodie Joseph '17 wins Westminster Kennel Club Foundation scholarship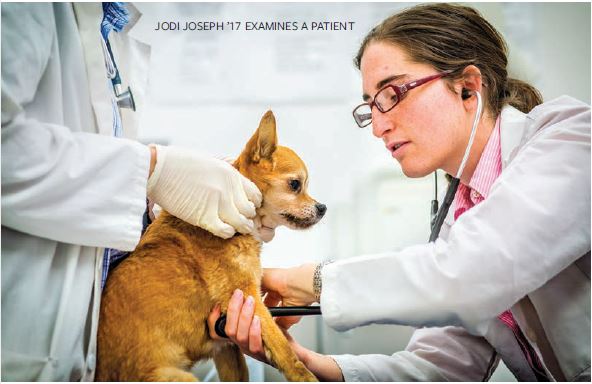 At the annual Westminster Kennel Club Dog Show this February, the College hosted New York-area alumni and friends for a reception and viewing of the Best in Show event, where a German Shepherd took home the top prize. This event also recognized this year's CVM recipient of the Westminster Kennel Club Foundation scholarship, Jodie Joseph '17. She is  one of only six veterinary school students to receive the honor. Kristin Pennock, director of student financial planning, nominated Joseph for her work with Merlin's Kids, a non-profit that rescues and rehabilitates shelter dogs into service dogs for special needs kids.
An honor and surprise
Joseph was unaware of her nomination and was surprised when she heard about the award. "I was incredibly humbled. I had no idea that I was even nominated until I found out I won," says Joseph. "I think the biggest honor and surprise was receiving something I did not even ask for; this showed how others felt about my commitment to dogs, not just my own crazy dog lady words in an essay."
Joseph plans to pursue small animal medical oncology with a focus in integrative medicine, particularly acupuncture and herbs. She has taken courses for the Chi Institute Small Animal Acupuncture and the College of Integrative Veterinary Therapies Essential Western Herbs Introductory Course. "My goal is to offer clients an array of care options for their pets and be there to support them during the most difficult journey of their pets lives," she says.
Allies for purebreds
The Westminster award aligns with these professional interests. "I am fascinated by purebred dogs. As a future oncologist, knowing a dogs breed may predict certain cancers that the dog may be predisposed to," says Joseph. 
She also believes that veterinarians and breeders can and should be allies in working towards purebred health and wellness. "Responsible breeders do what they do to better the breed, through temperament and health. These breeders can be an incredible resource and partner for the veterinary community. If you get breeder clients, consider them as allies working towards the common goal of the best care possible for their animals."