Karla L. Hanson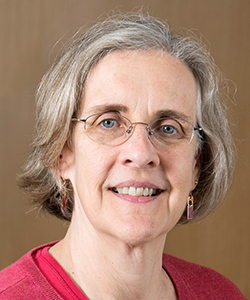 Master of Public Health Program
Department of Population Medicine and Diagnostic Sciences
 
Professor of Practice
---
---
Department of Population Medicine and Diagnostic Sciences
Cornell University College of Veterinary Medicine
Ithaca, NY 14853
 
Office: 607.255.8075
Email: kh289@cornell.edu
Research Interest
Dr. Hanson's research primarily focuses on food security and public policies affecting low-income families with children in the U.S.  Currently, she is co-PI of Farm Fresh Foods for Healthy Kids (F3HK): an innovative community supported agriculture (CSA) intervention to prevent childhood obesity and strengthen local agricultural economies.  F3HK is a randomized controlled intervention trial to examine whether cost-offset (subsidized) CSA coupled with tailored nutrition education and cooking tools improves dietary intake among children and parents and increases food security in low-income households.

Dr. Hanson also is collaborating on an assessment of the Farmers' Market Nutrition Program (FMNP) to understand if the education component influences shoppers' knowledge of, and confidence in, selecting and preparing fresh produce, as well as whether in-market cooking demonstrations are associated with increased sales of the featured produce.

Dr. Hanson recently completed a mixed-methods study of the circumstances of, and coping strategies in, households with food insecure children and contrasted them with households that face substantial risk of food insecurity yet in which children are food secure.  Results from this study were published in the Journal of Poverty.  She also recently completed a systematic review of the association between food insecurity and dietary quality among U.S. adults and children that was published in the American Journal of Clinical Nutrition.
Education
PhD, Public Administration, 1995. Robert F. Wagner Graduate School of Public Service, New York University, New York, NY.  
BA, Economics and Sociology, 1985.  Union College, Schenectady, NY
Biography/Professional Experience
Dr. Hanson is Senior Lecturer in the Master of Public Health Program and the Department of Population Medicine and Diagnostic Sciences, and a member of the Graduate Field of Nutrition. From 2005-2019, she was a Researcher and Senior Lecturer in the Division of Nutritional Sciences at Cornell. Prior to coming to Cornell, Dr. Hanson held faculty appointments in the Department of Public Health and Preventive Medicine at Oregon Health & Science University and the Milano School of International Affairs, Management and Urban Policy at The New School in New York City. Dr. Hanson also has experience working at a federally qualified primary care health center.
Publications
Professional/Academic Affiliations
American Public Health Association
Society for Nutrition Education and Behavior
American Evaluation Association