Karla L. Hanson, PhD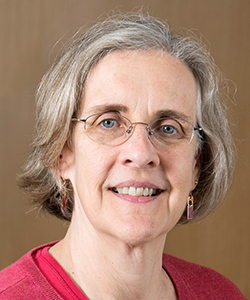 Master of Public Health Program
Department of Public & Ecosystem Health
Professor of Practice
---
---
Department of Public & Ecosystem Health
Cornell University College of Veterinary Medicine
Ithaca, NY 14853
 
Office: 607.255.8075
Email: kh289@cornell.edu
Research Interest
Dr. Hanson's research primarily focuses on food security, food access, and dietary quality in the U.S., with a particular emphasis on public policies affecting low-income families with children. She uses both quantitative and qualitative research methods to explore food security and access to healthy food through farmers' markets, community supported agriculture, home and community gardening, civic engagement, and systems of mutual aid.
In partnership with Mutual Aid Tompkins (MAT), undergraduate and MPH students are working with Dr. Hanson to understand the operations of food sharing cabinets located throughout Tompkins County. Operating under the principle of "neighbors supporting neighbors to meet survival needs," MAT food sharing cabinets are in outdoor locations that can be accessed by residents who have food to share and residents who need food. The research team is using a variety of methods to estimate the flow of food into and out of food sharing cabinets; to assess satisfaction, barriers, and perceived impact of use of food sharing cabinets; and to explore community connectedness.
Dr. Hanson is collaborating on research into food self-procurement strategies (i.e., foraging, gardening, fishing, and hunting) and reliance on locally sourced foods in the context of the COVID-19 pandemic in New York State. Findings from this study will inform both efforts to support people currently in crisis and future food system planning.
With funding from the U.S. Department of Agriculture and partnerships with cooperative extension and 12 farms, Dr. Hanson and collaborators recently completed The Farm Fresh Foods for Healthy Kids (F3HK) intervention trial. F3HK provided a half-price CSA coupled with tailored nutrition education and cooking tools to low-income families with children in rural and micropolitan communities in four states. This randomized controlled trial found that participation in F3HK for just one summer improved fruit and vegetable intake among caregivers by 1 cup and increased household food security by 13 percentage points.
Education
PhD, Public Administration. Robert F. Wagner Graduate School of Public Service, New York University, New York, NY.  
BA, Economics and Sociology.  Union College, Schenectady, NY
Biography/Professional Experience
Dr. Hanson is Professor of Practice in the Department of Public & Ecosystem Health, and a member of the Graduate Fields of Nutrition and Public Health and Planetary Health. From 2005-2019, she was a Researcher and Senior Lecturer in the Division of Nutritional Sciences at Cornell. Prior to coming to Cornell, Dr. Hanson held faculty appointments in the Department of Public Health and Preventive Medicine at Oregon Health & Science University and the Milano School of International Affairs, Management and Urban Policy at The New School in New York City. Dr. Hanson also has experience working at a federally qualified primary care health center.
Publications
Professional/Academic Affiliations
American Public Health Association
Society for Nutrition Education and Behavior