Mason C. Jager, DVM, PhD, DACVP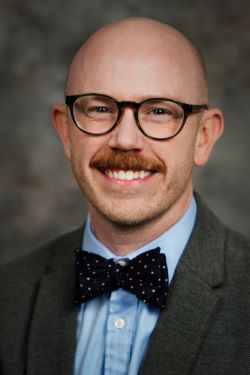 Department of Population Medicine and Diagnostic Sciences
Assistant Research Professor
---
Department of Population Medicine and Diagnostic Sciences
Cornell University College of Veterinary Medicine
T5 010D Veterinary Research Tower, Box 18
Ithaca, NY 14853
Office: 607-253-2057
Fax: 607-253-4447
Email: mcj34@cornell.edu
Research Interest
Research in the Jager laboratory focuses on host-pathogen interactions with a specific emphasis on viral pathogenesis. We are especially interested in the association of novel viruses with clinical disease. We use a combination of traditional pathology, molecular virology, and cell biology to study virus distribution, tissue tropism, and host factors required for disease progression. We are also interested in studying the interactions between viruses and environmental factors, such as naturally occurring toxins. We seek to understand how these two factors can act synergistically to influence the progression of hepatitis and, in some cases, the development of liver cancer. A current focus of my lab is the investigation of the replication dynamics of equine parvovirus-hepatitis, a novel virus associated with hepatitis and fatal hepatic necrosis in horses. Other novel viruses that we work with include equine hepacivirus and skunk adenovirus. As an anatomic pathologist specialized in viral pathogenesis, I also collaborate with researchers that develop novel therapeutics and preventatives for use against viruses such as Ebola virus, Nipah virus, Hendra virus, Influenza, and SARS-CoV-2.
Education
Ph.D. (Biomedical and Biological Sciences, Immunology and Infectious Disease Concentration): Cornell University (2022)
Diplomate of the American College of Veterinary Pathology (2018)
D.V.M: Cornell University (2012)
B.S. (Pathobiology): University of Connecticut (2008)
Biography/Professional Experience
2022-present: Assistant Research Professor, Cornell University
2018-2022: Diagnostic Pathologist, Animal Health Diagnostic Center, Ithaca NY
2015-2018: Resident, Veterinary Anatomic Pathology, Cornell University
2012-2015: Associate Veterinarian, Pieper-Olson Veterinary Hospital, Middletown, CT
Selected Publications
Cruz Otero, J. D.; Jager, M.; Armien, A. G.; Miller, A.; Stokol, T. Granular Variant of a Histiocytic Tumor on the Toe of a Cat: Case Report and Literature Review. Veterinary Clinical Pathology 2022
Shapira, T.; Monreal, I. A.; Dion, S. P.; Buchholz, D. W.; Imbiakha, B.; Olmstead, A. D.; Jager, M.; Désilets, A.; Gao, G.; Martins, M.; Vandal, T.; Thompson, C. A. H.; Chin, A.; Rees, W. D.; Steiner, T.; Nabi, I. R.; Marsault, E.; Sahler, J.; Diel, D. G.; Van de Walle, G. R.; August, A.; Whittaker, G. R.; Boudreault, P.-L.; Leduc, R.; Aguilar, H. C.; Jean, F. A TMPRSS2 Inhibitor Acts as a Pan-SARS-CoV-2 Prophylactic and Therapeutic. Nature 2022, 605 (7909), 340–348.
Bourque, L.; Nielsen, O.; Jager, M.; Ojkic, D.; Provost, C.; Gagnon, C. A.; Lockerbie, B.; Snyman, H.; Stevens, B.; Needle, D.; Nakagun, S.; Cox, S.; Khodadad, J.; Jones, M. E. B. IN SITU In situ hybridization and virus characterization of skunk adenovirus in North American wildlife reveals multisystemic infections in a broad host range. Journal of Wildlife Diseases 2022, 58 (2).
Yeo, Y. Y.; Buchholz, D. W.; Gamble, A.; Jager, M.; Aguilar, H. C. Headless Henipaviral Receptor Binding Glycoproteins Reveal Fusion Modulation by the Head/Stalk Interface and Post-Receptor Binding Contributions of the Head Domain. J Virol 2021, 95 (20), e00666-21.
Jager, M. C.; Tomlinson, J. E.; Lopez-Astacio, R. A.; Parrish, C. R.; Van de Walle, G. R. Small but Mighty: Old and New Parvoviruses of Veterinary Significance. Virol J 2021, 18 (1), 210.
Harman, R. M.; Churchill, K. A.; Jager, M. C.; Van de Walle, G. R. The Equine Mesenchymal Stromal Cell Secretome Inhibits Equid Herpesvirus Type 1 Strain Ab4 in Epithelial Cells. Res Vet Sci 2021, 141, 76–80.
Vengust, M.; Jager, M. C.; Zalig, V.; Cociancich, V.; Laverack, M.; Renshaw, R. W.; Dubovi, E.; Tomlinson, J. E.; Van de Walle, G. R.; Divers, T. J. First Report of Equine Parvovirus-Hepatitis-Associated Theiler's Disease in Europe. Equine Vet J 2020, 52 (6), 841–847.
Tomlinson, J. E.; Jager, M.; Struzyna, A.; Laverack, M.; Fortier, L. A.; Dubovi, E.; Foil, L. D.; Burbelo, P. D.; Divers, T. J.; Walle, G. R. V. de. Tropism, Pathology, and Transmission of Equine Parvovirus-Hepatitis. Emerging Microbes & Infections 2020, 9 (1), 651–663.
Hayes, G.; Devereux, S.; Loftus, J. P.; Jager, M.; Duhamel, G.; Stokol, T. Common Bile Duct Obstruction Palliated with Common Bile Duct Re-Implantation (Choledochoduodenostomy) in a Cat. Can Vet J 2019, 60 (10), 1089–1093.
Edelmann, M. L.; Jager, M.; Espinheira, F.; Ledbetter, E. C. In Vivo Confocal Microscopy for Detection of Subconjunctival Onchocerca Lupi Infection in a Dog. Vet Ophthalmol 2018, 21 (6), 632–637.
Jager, M. C.; Sloma, E. A.; Shelton, M.; Miller, A. D. Naturally Acquired Canine Herpesvirus-Associated Meningoencephalitis. Vet. Pathol. 2017, 54 (5), 820–827.
Awards and Honors
American College of Veterinary Pathologists, 2017 ACVP Young Investigator Poster Award in the Natural Disease Category (second place)
Professional/Academic Affiliations
American College of Veterinary Pathologists
American Association of Veterinary Laboratory Diagnosticians