Cardiologist earns Alumni Association's highest honor
Sunday, September 18, 2011 - 9:06am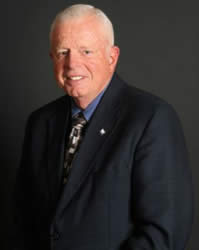 N. Joel Edwards '64 will be recognized with the Daniel Elmer Salmon Award for Distinguished Alumni Service, given annually by the Alumni Association of the College of Veterinary Medicine at Cornell University. To be presented at the New York State Veterinary Conference, on October 1, 2011, the award recognizes and honors Cornell College of Veterinary Medicine graduates who have distinguished themselves in service to the profession, their communities, or to the College. Read Dr. Edwards' acceptance speech.
The award is named in honor of Cornell's first DVM graduate, who is remembered for his pioneering work in controlling contagious animal diseases in the early 20th century. D.E. Salmon was one of Dr. James Law's first students when Cornell University opened its doors in 1868. He received the Bachelor of Veterinary Science degree from Cornell in 1872, and he was awarded the Doctor of Veterinary Medicine degree in 1876, the first DVM degree to be awarded in the United States of America. Dr. Salmon's contributions to veterinary medicine and human medicine were numerous and significant, including private practice, government service, foreign service, food inspection, and identifying significant bacterial diseases, including salmonella.
A native New Yorker, Dr. Edwards is an honor roll member of the AVMA, a life member of the New York State Veterinary Medical Society, a distinguished life member of the Capital District Veterinary Medical Society, and serves on its Continuing Education Committee. He is one of the co-founders of the John W. Whitefield Memorial Scholarship fund, and is a loyal college supporter – both financially and as a former lecturer. A boarded veterinary cardiologist, he is active with a long list of organizations, including the American College of Veterinary Internal Medicine and helped to establish both the American Board of Veterinary Practitioners, and the Capital District Animal Emergency Clinic.
Dr. Edwards began his veterinary career at a mixed animal practice in Vermont, where he treated mostly dairy cattle. After serving in Viet Nam where he was awarded the Bronze Star for his service, he returned to practice small animal medicine in Manhasset, N.Y., where he began nurturing his interest in cardiology. Following 10 years in general small animal practice in Latham, N.Y., and with ACVIM diplomate status in cardiology earned in 1978, Dr. Edwards opened a specialty referral practice and has spent more than three decades diagnosing and treating cardiac conditions.
"I was able to follow my interest and passion in cardiology because of the support I received from my mentors," said Dr. Edwards. "Their help was pivotal in getting me to the position where I could qualify for the exams. Without the love and support of people around you and the devotion of your mentors, you really can't do much on your own. I continually try to repay my mentors' devotion by helping colleagues and students whenever I can." 
Today, although he is officially retired, he continues to provide computer-based services to veterinarians internationally as a consultant for the Veterinary Information Network.
"Really, though, I'm enjoying having no schedule, the chance to play with my children and grandchildren, and the opportunity to share life's journey with the woman I am married to," said Dr. Edwards. "We are best friends."
Dr. Edwards has three children, five grandchildren, and one great-grandchild. He enjoys golf, traveling, yardwork, gardening, woodworking, and is an active volunteer and founding member of Community Caregivers Inc., a non-profit organization that helps people remain in their own homes for as long as possible, avoiding or delaying institutional care.