Faculty member joins national board to set standards of veterinary surgery
Monday, January 7, 2013 - 12:00am
Dr. Susan Fubini, section chief and professor of large animal surgery at the Cornell University College of Veterinary Medicine's Equine and Nemo Farm Animal Hospitals, was appointed to the Board of Regents of the American College of Veterinary Surgeons (ACVS) in November, 2012.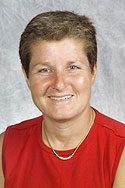 During her three-year term she will contribute her expertise to help craft the future of veterinary surgery by aiding the organization in establishing guidelines for residency training programs, educating and certifying practitioners, and setting the standards for advanced professionalism in veterinary surgery.
"I am honored to have been elected to serve on the Board," said Fubini. "I have been on several other committees but this is special because it is the governing board that sets the standards for veterinary surgery. I hope to contribute to the monitoring of the residency training programs, the changes in the examination procedures, and the continuing education mission of the College. These issues will shape the future practice of veterinary surgery."
Dr. Fubini earned her DVM at University of Georgia in 1980. She then came to Cornell University College of Veterinary Medicine to complete a Large Animal Medicine and Surgery Internship in 1981 and a Large Animal Surgery Residency in 1983. She was certified by the board of the ACVS in 1987, joining its ranks of Diplomates.
The ACVS includes more than 1,636 Diplomates and approximately 70 new veterinarians earn Diplomate Credentials each year, according to its website. Since its founding in 1965 the ACVS has "defined the standards of surgical excellence for the profession, promoted advancements in veterinary surgery, and provided the latest surgical educational programs," according to the site. "By fostering the highest standards of excellence in veterinary surgery, the ACVS helps the veterinary profession achieve its goals of providing outstanding service to the public and care of animals" (acvs.org).