New fellowship gives veterinary students year-long immersion in stem cell research
Tuesday, February 26, 2013 - 12:00am
Owning her first horse at age 13 changed the course of life for Hannah Holmes '16.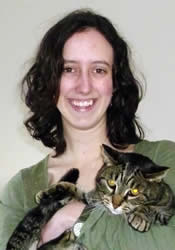 As she bonded with Copper and worked at a horse barn to pay for his upkeep, she realized she wanted to be an equine veterinarian. When Copper injured his legs badly enough to limit movement for the rest of his life, it Holmes' sights turned to regenerative medicine, a field focused on healing injuries like Copper's.
Now at Cornell's College of Veterinary Medicine, Holmes will help further regenerative therapies as the first fellow in a training program that combines veterinary medicine with the stem cell research. With a $ 230,000 grant from the New York State Department of Health, the new Empire State Veterinary Student Stem Cell Research Training Program will fund Holmes and future selected Cornell veterinary students for a year of rigorous laboratory training in stem cell science. After completing the program, Holmes will earn an M.S. in Comparative Biological Science before completing her veterinary degree.
The program aims to develop a new generation of veterinary scientists by immersing students in stem cell projects that will help them develop theoretical excellence, learn investigative skills, and make novel contributions to the rapidly evolving field of stem cell biology. Fellows earn a Master of Science degree in the lab of a mentor chosen from an array of expert Cornell faculty at the forefront of the field.
"Introducing students to stem cell research will enhance their skills as veterinarians and open new career opportunities," said the Dr. Lisa Fortier, stem-cell scientist and associate professor of large animal surgery at Cornell and the program's director. "Biomedical research training expands a veterinarian's options with new tools to contribute to clinical work and research or positions that combine the two."
With a year and a half of veterinary school under her belt, Holmes will spend 2013 working full-time in Fortier's lab researching stem cell migration to determine which techniques are best for regenerative therapies. During this time, she will compare the abilities of three biological materials currently used for regenerating injured tissue to recruit stem cells: bone marrow (from which stem cells are grown in labs then injected into a wound), concentrated bone marrow (which contains enough of its own pre-made stem cells to apply to a wound immediately), and platelet-rich plasma (a component of blood with no stem cells of its own).
"No one yet understands exactly why platelet-rich plasma works for regeneration, but we think it might have to do with its ability to recruit stem cells," said Holmes, whose findings have the potential to contribute to novel therapies for horses like Copper, other animals, and humans with injuries. "My project looks at its abilities, and those of regular and concentrated bone marrow, to recruit pre-existing stem cells and to create environments that spur stem cell growth."
Using microfluidics devices in the lab, Holmes will put the different materials outside a well of stem cells to see where they preferentially migrate and how quickly each agent can recruit. Though she will use cells and agents from horses, the basic findings could theoretically apply to other species, informing treatment options across the spectrum of regenerative medicine.
"Stem cells have direct application to orthopedics as well as lameness evaluation and treatment, the areas I most enjoy in equine medicine," said Holmes. "I've always liked the puzzle-solving of clinical work when a horse comes in with a problem. What I learn in stem cell research can help me and others solve those kinds of problems in real animals."