New summer course teaches horse care through a veterinary lens
Monday, March 11, 2013 - 12:00am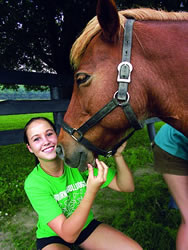 Horses have a special something that sparks many people's curiosity and passion. Whether inspired by their majesty of form or character, love for horses runs deep and often plays the lead role in inspiring people of all ages. Now Cornell University is offering a new summer course introducing young aspiring veterinarians, horse enthusiasts, and curious career explorers alike to the worlds of horse husbandry and veterinary medicine.
Equine Practice: a Veterinary Perspective is a new three-week summer course offered by Cornell's College of Veterinary Medicine, consistently ranked the number-one veterinary school in the nation, in conjunction with Cornell University Summer College. High-school juniors and seniors and undergraduate students from across the world can apply to attend from June 22 to July 13, 2013. Students will receive three academic credits that can be transferred to many colleges.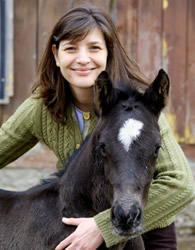 "We will teach all things horse," said Dr. Julia Felippe, a Cornell equine internist and immunologist who will co-teach the course. "There's a lot of interest in this kind of class. Students already involved with horses are always seeking more information and skills, and the horse is a great introduction to veterinary medicine."
The course will show students the basic principles of horse husbandry with a veterinary flavor, emphasizing anatomy, nutrition, preventive medicine, first-aid, common infectious and metabolic diseases, lameness, breeding and foal care, and farrier care.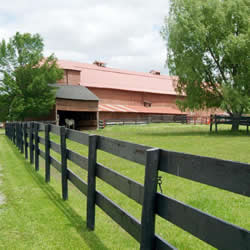 Through morning lectures and afternoon visits to the Cornell Equine Park, students will learn about a broad range of topics related to horse wellbeing. They will meet and work with more than a dozen Cornell faculty experts in nutrition, breeding, medicine, surgery, and more, and learn what is happening at the cutting edge of equine research and medicine.
Dr. Eva Conant '10, a Cornell undergraduate and veterinary alum, equine expert, and avid equestrian, will join Felippe to co-lead the course, aided by two Cornell veterinary students as teaching assistants. Other Cornell faculty from across relevant disciplines will offer labs and lectures, from touring a foal barn to demonstrating live equine athletic performance evaluations on Cornell's equine treadmill.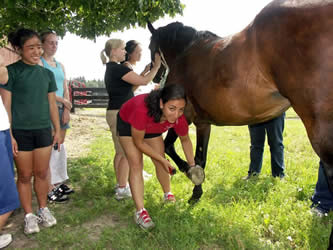 Similar veterinary summer courses for high school and undergraduate students have been offered at Cornell since 2010, with focus topics including small animal practice and conservation medicine.
The latter course, Veterinary Medicine: Conservation Medicine, will take place July 14-August 3, 2013 following the close of the equine course.
To learn more or apply, visit the course site: summercollege.cornell.edu/equine