Veterinary students showcase research projects
Friday, April 12, 2013 - 12:00am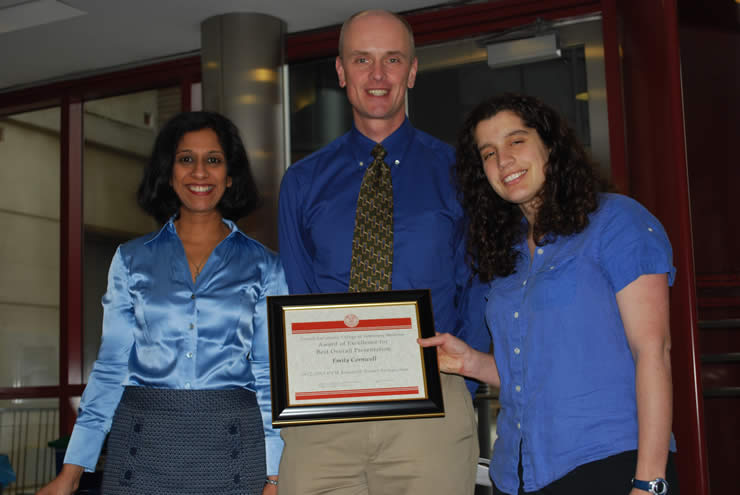 Dr. Emily Cornwell '15 won the prize for the Best Overall presentation at the College's first annual DVM Research Poster Symposium. The event, held earlier this month, attracted more than a dozen veterinary students who shared their research with the potential to advance the health and well-being of animals and people.
Dr. Cornwell is enrolled in the dual degree program and has already earned her doctorate. She is involved with several research projects, including one that developed a non-lethel test to detect a fish virus that was recently published in the Journal of Veterinary Diagnostic Investigation. At the event, Dr. Cornwell discussed a related project that looked for any correlation between the genetic differences in the viral hemorrhagic septicemia virus and functional differences in terms of virulence.

"We found a striking correlation that supports ecological data," said Dr. Cornwell, noting that these results will help to tailor management strategies to contain the virus.

During the awards ceremony, the judges recognized the talent, enthusiasm, and positive contributions the aspiring veterinary scientists would bring to society and additional awards were presented to Dominick Valenzano '15 for the best visual presentation, Terry Iwata '13 for the best data presentation, and Chloe Spertus '15 for the best data analysis.
"Research is an integral part of advancing the veterinary profession," said Dr. Alex Travis, associate professor of reproductive biology. "Our student researchers have a tremendous opportunity to both learn the current 'state of the art' that will enable them to practice what is now known and to actively participate in generating new knowledge that will become textbook material for future students here and elsewhere."
The event was hosted by the College's Office of Student and Academic Services.
Share this: