New director on board at QMPS
Monday, April 15, 2013 - 1:26pm
With thanks
I would like to thank Dr. Ynte Schukken, whose efforts to raise the prominence of the program to an international scale cannot be overstated and Acting Director Dr. Paolo Moroni, who has ably led the program over the past several months. Dr. Moroni will continue as Associate Director, working with Dr. Nydam to continue this extraordinarily innovative program.
Dr. Michael I. Kotlikoff
Austin O. Hooey Dean of Veterinary Medicine
---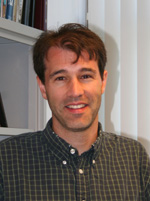 Dr. Daryl Nydam (left) has assumed the position of Director of the Quality Milk Production Service program, effective May 6. A member of the Ambulatory and Production Medicine section at the College, he has extensive experience in all aspects of dairy production medicine, and currently oversees a vibrant research program that centers on the metabolic and infectious diseases of dairy cattle, with funding from numerous extramural sources, including the USDA and several private companies. He has also been extensively involved in veterinary and graduate teaching, leading courses in production medicine, as well as the highly popular Cornell Summer Dairy Institute.
Under the leadership of Dr. Ynte Schukken, QMPS developed into the premier mastititis research and outreach program in the world and provided an important link between the College and the dairy producers of the state of New York, operating in close collaboration with the New York State Department of Agriculture and Markets.
Share this: