Professor receives Career Achievement Award in Canine Research
Wednesday, August 21, 2013 - 12:00am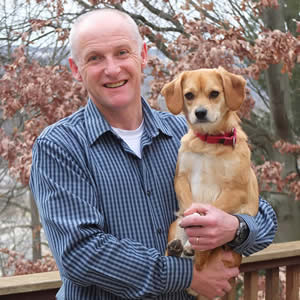 Professor of Small Animal Medicine Dr. Kenneth Simpson was presented in August with the 2013 AVMF/AKC Career Achievement Award in Canine Research for his advancements in understanding gastrointestinal diseases in dogs.
Established in 2009 by the American Kennel Club (AKC) and American Veterinary Medical Foundation (AVMF), the award honors a candidate's long-term contribution to the field of canine research.
"It's an honor to be recognized by AKC and AVMA, the two leading organizations dedicated to health and well-being of dogs," said Simpson. "The support of organizations like AVMF and AKC is gratifying and essential as we continue to improve the health of all dogs."
Dr. Simpson's discovery of invasive E. coli in boxers and French bulldogs with Granulomatous colitis, a severe inflammatory bowel disease typically diagnosed in young Boxers and French Bulldogs for which he received a grant from the AKC Canine Health Foundation, has resulted in these breeds becoming a model for Crohn's disease in humans.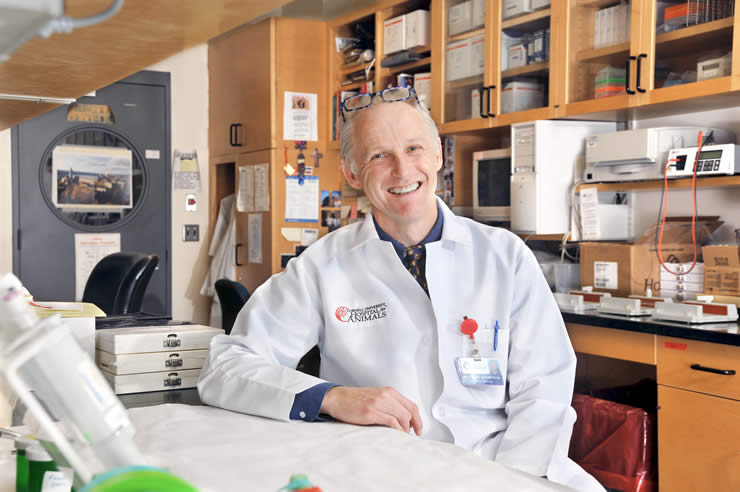 His contributions also include the application of culture-independent methods called fluorescence in situ hybridization (FISH) for the identification of bacteria in tissues, the role of intestinal bacteria in disease, and the function of nutrition in gastrointestinal disease. His developments in FISH analysis for bacteria have now been applied to many aspects of veterinary and human medicine.
"The AKC is pleased to partner with the American Veterinary Medical Foundation, the largest national veterinarian-directed animal charity, to present this award to Dr. Simpson," said AKC's Mari-Beth O'Neill, AVP, Sport Services and Vet Outreach. "His work advancing animal health and welfare is greatly appreciated by the American Kennel Club."
AKC Board Member Dr. Charles Garvin presented the award at the Merial NIH National Veterinary Scholars Symposium this weekend at Michigan State University in Lansing, Michigan.
Share this: